Why Invest in a Workflow Management Software?
A workflow can include any number of steps and can combine people, equipment, and systems. Those who oversee workflows look for ways to remove bottlenecks and enhance flow visibility.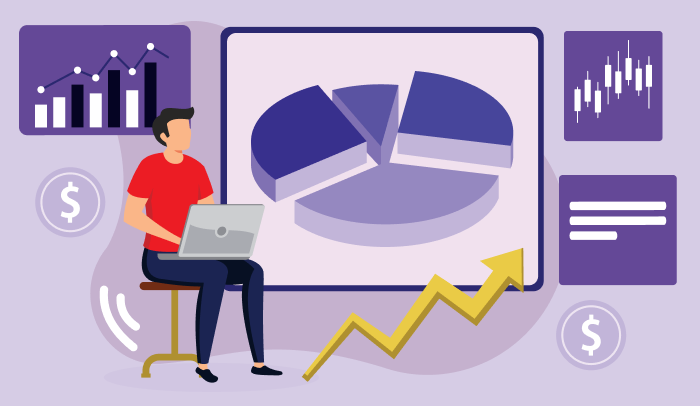 The identification, organization, and coordination of a specified group of tasks that lead to a given result are referred to as workflow management. Workflow management is the process of increasing production, reducing errors, and automating workflows wherever it is practical to do so.
A workflow can include any number of steps and can combine people, equipment, and systems. Those who oversee workflows look for ways to remove bottlenecks and enhance flow visibility.
Organizations can define and manage the repetitive, rote tasks connected to their business processes using workflow management software. The greatest workflow management system available today is software-as-a-service (SaaS) solutions that make automating these processes simple and economical, even when they involve both internal and external stakeholders.
Benefits of Using Workflow Management Software
Because automated workflow management software has the potential to revolutionize business operations, companies invest in it. At 500apps, we help businesses transform manual procedures into repeatable, user-friendly workflows so they can rapidly see meaningful advantages. Once they are operational, the advantages of workflow management software are obvious.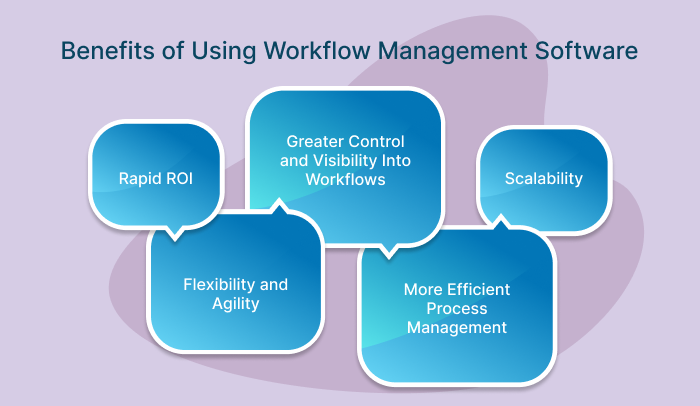 1. Greater Control and Visibility Into Workflows
Workflow management solutions enable businesses to record workflow once in a central repository that anybody can access, as opposed to maintaining institutional knowledge in several papers (or not at all). The knowledge that occasionally gets lost in the shuffle is retained and applied consistently, such as the right approval workflows for each task or the correct version of documents that are frequently used.
2. More Efficient Process Management
Organizations can create workflows once with BPMApp and reuse them repeatedly. This results in processes flowing more quickly and teams working considerably more effectively because The majority of the arduous upfront labor for each activity, such as setting up documents or sending email requests, is eliminated.
3. Rapid ROI
Some workflow management software needs to be extensively engineered to fit the specific workflows of your firm. You can pick a solution that enables you to start with familiar, intuitive workflows rather than wasting time on complex setups and waiting to see a return on your investment. Users that need to customize processes without writing code will find drag-and-drop interfaces to be extremely useful.
To see meaningful benefits, the rest of your team must follow your new procedure. A collaborative element in a workflow management system should make it simple to implement automated procedures across teams or organizations.
4. Flexibility and Agility
Collaboration can be enhanced with the help of a top workflow management tool. For instance, customized BPMApp forms that can be customized allow both internal and external coworkers to submit requests and transfer data to your ERP without requiring your direct involvement. This offers the adaptability and agility required for quicker and more efficient collaboration while enhancing operational agility and protecting sensitive data.
5. Scalability
You may manage services, vendors, HR activities, and finances across many teams by automating procedures and creating a knowledge center with repeatable, collaborative workflows. Customers of BPMApp, for instance, may manage greater complexity and simply update stakeholders on their progress thanks to a consolidated library of their processes and previous work. As a result, you can scale effectively since workflows are well-documented, automated, repeatable, and easily assimilated by new team members.
With the help of BPMApp, several businesses were able to cut the time needed to create and design a workflow process from four months to 15 to 20 minutes, a remarkable 95% reduction. The team can scale thanks to this simplification, providing services to additional clients while using the same resources.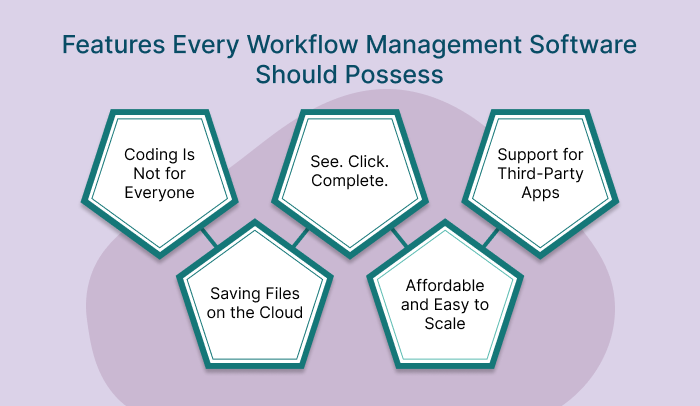 Features Every Workflow Management Software Should Possess
1. Coding Is Not for Everyone
When asked to handle workflow management software that relies on coding, most users will hesitate. Any workflow management solution should at the very least include a graphical user interface or GUI. It enables everyone on your team to manage it, finish approvals, and even construct new procedures without needing assistance from the development team.
They frequently toss complicated information to the side in favor of what they absolutely need. Invoices, paperwork, PDFs, and other files are typically needed to finish a project. To work effectively, all they want is a no-code workflow environment.
2. See. Click. Complete.
A straightforward guiding principle that the design element should follow when it is integrated into a large-scale programme that is intended to be used simultaneously by thousands or hundreds of users. A new user only sees the approve and reject buttons when viewing the workflow.
The formula that should be used in this case is referred to as the WYSWYG formula in technical parlance. The goal is to have everything finished without requiring more technical aid, not to complicate things. It should be simple enough for the average person to use without much assistance from a technically adept person.
3. Support for Third-Party Apps
The ability to integrate your product with other well-known third-party cloud-based apps is the most frequently requested feature ever for increasing productivity. For daily tasks, a number of well-known programmes are necessary, including Microsoft Office 365, Google Suite, Slack, and many others. You can seamlessly integrate with thousands of apps with Zapier.
It would be a fantastic approach to let staff carry on working exactly as they always had. The overall procedure is the same, with the added benefit that all of these dissimilar systems seamlessly integrate thanks to a single source of information.
4. Saving Files on the Cloud
All stakeholders will always have access to the documents if they are saved in the cloud. It is wise to encrypt critical documents so that the data would be safe and unreadable even in the improbable case that someone were to access the document. It barely makes sense in the present digital era to save all of your sensitive information on a single computer or hard drive. Additionally, procedures like invoice approval need the assistance of several teams, and each team must read and approve the documents after verifying them.
Maximum access and a flawless procedure are provided by having cloud access to all of the files uploaded inside the workflow management software. Top management and decision-makers will be able to examine and offer suggestions with ease, and the auditing process will also be made simpler.
5. Affordable and Easy to Scale
Any size firm should be able to afford the workflow management software you choose. In order to serve a big number of users, larger businesses may have to pay more. Similar to that, it ought to be scalable whether the number of users rises or falls.
Start using Workflow Management Software for Free with BPMApp Now! Sign Up 14 Day Trial
Final Words
Small and medium businesses with a global presence use BPMApp, a potent workflow management tool. Everything is incorporated within a small, accessible workflow software application that is supported by a competent technical team to guarantee that the processes of your business are managed efficiently.
Discover Why BPMApp Stands Out
#1
Unlimited Process Automation
#2
No-code Process Modelling
#3
Notifications and Triggers
#4
Auto Execute Capability
#5
125+ Third-party App Integrations
#6
Effective Form Designer
#7
Pre-built Automated Flows
#8
Intuitive, Drag-and-Drop Process Designer
#9
Unbelievable pricing - the lowest you will ever find
#10
Everything your business needs - 50 apps, 24/5 support and 99.95% uptime
Join the SaaS Revolution
All-in-One Suite of 50 apps

Unbelievable pricing - ₹999/user

24/5 Chat, Phone and Email Support