How Low-Code BPM Works?
Many BPM platforms have low-code functionality to strengthen business units and employees who know business processes but have limited technical knowledge.
Low-code platform vendors are often listed as BPM initiatives with many potential applications but do not provide many of the process-centric features found in a BPM platform.
In fact, Workflow Business Process Management platforms pioneered the use of low code because they were the first to offer a business process model that did not require coding to build logic. BPM software can be handled by other cross-breed platforms, but on the other hand, the development of low-code apps has been instrumental in reducing the time and skills required to develop software applications for web and mobile applications.
Plan the setup process in 30 minutes without writing a single line of code. Low-code workflow and BPM platforms allow business users to design their processes.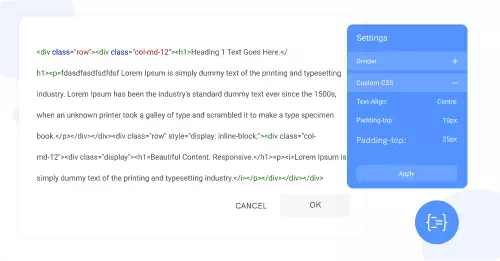 To simplify the process, BPMApp is focused on developing a low-code platform that allows users to create apps with extreme simplicity. BPM software is less aging and more relevant to address workflow and process-oriented application requirements. Apps can be developed with regular employees without special training, and it helps with configuration, integration with APIs, and integration with third-party SaaS software (limited by solution).
Low-code application development platforms enable the creation of business process management (BPM), enterprise content management (ECM), and case management applications using configurable functions, tools, and components through soil coding enabling the rapid deployment of business applications. Advanced low-code BPM platforms such as Ultimus Compose and the Process Solutions Platform leverage innovative generative programming principles to further accelerate application deployment and to reduce the cost and complexity of automating and managing business processes. In short, low-code or no-code platforms make it easy for business users to create applications for themselves without programming and without the involvement of the IT department.
Workflow and Business Process Management(BPM) platforms combine the principles of low-code development with robust BPM capabilities to accelerate the development of automated applications and business structures.
There are a number of ready-made applications for a particular industry, company, or species that are required to implement the work, from simple customizations to daily management. What defines an enterprise is the way in which it conducts strategies and processes depending on its specific characteristics. The methods and tools used can include coding tools that consist of complex code, or your typical BPM flow for controlling business processes.
Low-coded BPM, CRM, and BPM platforms allow business analysts, process owners, and project managers to develop their own processes and results. They can make adjustments as needed without relying on IT companies, who have too much to worry about with the explosion of mobile BYODs, new cyber-security concerns, and demand for other new services from companies.
Start Automating Your Business Processes Now in One Spot Sign Up 14-day Trial
The development of customizable applications to accelerate the digital transformation of your companies is becoming the way of the business world. The trend is that more and more companies are trying to find simpler and more effective ways to develop applications without the need for teams of experts. With application development platforms and accompanying business process management solutions, companies are able to develop enterprise-class solutions with low-code tools.
Instead of relying on costly and time-consuming manual code, you can create with minimal effort your own industry or organization-specific applications. Instead of relying on professional developers to manually code the app, non-technical users can drag and drop existing blocks of code to design the app and process everything with ease. Low code is based on simplicity and is a tool for the development of businesses, users, and citizens, but the reality is that complex applications require support for low code.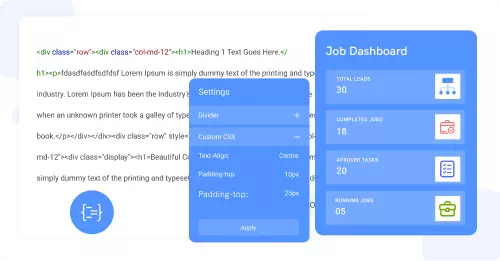 If you choose a low-code BPM platform, seek one that offers integrated connectors and libraries to integrate popular applications into your processes. BPM software platforms enable business leaders to monitor, evaluate and maintain their processes. Lay BPM on the foundation of an app platform, turn it into a digital transformation enabler and align with the best low-code APAs and solutions BPM has to offer.
There are many low-hanging fruit solutions that can be created without the need to write code. Low-code technologies have made development more accessible to business users, and many companies let their employees develop simple solutions, such as lunch-break parking apps, to make office life a little easier. Instead of bloated and complicated software suites, platforms such as Kissflow provide configurable tools, resources, and components that allow you to develop your own BPM solution with little or no programming knowledge in a short time.
Such platforms provide IT departments with powerful solutions that deliver an infinite number of business applications. Business users get a single digital workplace with easy access to all their tasks and information, while senior management enjoys the freedom to make urgent decisions.
At first glance, it may appear that the increasing popularity of low-code solutions and application platforms for businesses has made software developers obsolete. However, continued innovation in low code and its close integration with the Business Process Management (BPM) suites helps organizations to match the speed of app creation with the performance required to support transformative enterprise applications. If we dig deeper and analyze the vendors who claim to offer platforms for developing low-code applications, you will find that a significant number are actually developing BPM legacies.