Why is Workflow Automation Important?
Workflow automation is the process of automating a collection of manual processes or activities based on a pre-defined set of rules or criteria.
Workflow automation is a method of enabling the flow of tasks, documents, and information across work-related activities to operate autonomously in line with established business rules. When done, this form of automation should be a simple operation that is carried out on a regular basis to increase overall productivity. It assists you in reducing the usage of resources and time, as well as the likelihood of human-made errors. As a result, it boosts a company's overall efficiency, visibility, and responsibility. Although many business owners recognize the importance of workflow, it frequently takes a second place to more urgent and essential business activities. This is possible because most business owners believe they are working efficiently enough without a well-defined workflow.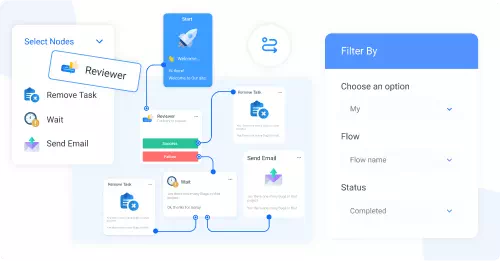 The Significance of Process Automation
Workflows should be automated wherever feasible for a variety of reasons, including increased efficiency and accuracy and quicker operations. Among the other enhancements are the following:
This is due to enhanced job efficiency, which allows staff to work on non-automated activities.
The cost reductions are the result of improved productivity.
When workflow mapping is used, automation processes should become more visible, providing an organization with a top-down perspective of its workflows.
Communication is becoming better. Employee communication can be more accurate if visibility is enhanced.
Improved client service. This can be achieved, for example, by automating answers to consumer concerns.
Possibility of increasing consumer involvement. Customers may reply more quickly if automation technologies are used.
This can be improved with more and better-planned resources.
How Can Workflow Automation Help Your Company?
1. Enhance Efficiency:
Internal workflow automation aids in the simplification of job processes. Furthermore, human touchpoints are decreased, boosting efficiency by performing activities in a short period of time employing human intelligence.
2. Increase your Productivity:
When business operations are automated, teams no longer have to waste time doing repeated activities or waiting for approvals from higher-level management teams. Processes and their progress may be watched in real-time, allowing for better time management and higher performance and productivity for your business process management.
3. High Precision:
It is natural for humans to make mistakes while doing manual procedures that require the processing of large amounts of data, especially when performing repetitive activities. With process automation, there will be no or fewer mistakes, enhancing the accuracy of customer data being handled.
4. Audibility:
Results are also automated via workflow automation, which improves response time in the case of follow-ups or status updates. This increases communication and collaboration across various teams in various areas inside the organization.
5. Increased Accountability:
Workflow automation defines multiple tasks and assigns the stages that each team member must complete. This increases employee accountability for their involvement in a given procedure.
6. Job Fulfillment:
By automating soul-crushing, dull, and labor-intensive procedures, the manual worker may focus more on creative projects that will help them enhance their skill set. It also fosters a more collaborative and accountable workplace atmosphere.
Adding Value with Workflow Automation: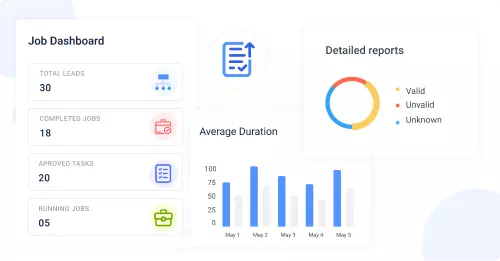 One of the most significant reasons why workflow is crucial is that it provides you with more insight into your processes. From there, you may apply the aforementioned insights to enhance your operations and boost your company's bottom line: make more money. Every day, thousands of needless and repetitive actions are performed in many organizations. When you have a better understanding of your processes, you can evaluate which tasks are actually required. Identifying and removing duplicate work has several advantages - it adds value to your organization. Instead of wasting time on a pointless activity, your staff will be able to concentrate on what is vital and contributes to the success of the firm. Micromanagement may generate a slew of issues in the workplace: employees despise being micromanaged, and (most) managers despise having to do it. According to studies, one of the most common reasons for leaving a job is micromanagement. In extreme situations, though, there may be no other option than micromanagement. There is significant work to be done, but not everyone is as enthusiastic about it. By explicitly outlining your workflow, everyone understands what tasks must be performed, who will execute them, and when they must be completed. Managers can spend less time micromanaging their staff when the workflow process is clearly spelled out in this manner.
Have You Ever Had the Impression That Your Employment Is a Game of Telephone? Everyone is talking, but the message becomes confused somewhere along the line. Poor communication is a prevalent workplace issue that is frequently ignored. In certain situations, misunderstanding is the root cause of organizational conflict, with employees and management ostensibly "disagreeing," even though both are pursuing the same goals. This brings us to another major reason why workflow is important: process visibility and responsibility may significantly improve workplace communication. This communication will help to decrease staff turnover and make day-to-day operations run more smoothly.
Conclusion:
There is no way to run a firm without consumers. As a result, it is critical to continually seek methods to improve the client experience. Unfortunately, when you rely on obsolete manual processes, client requests or complaints might be easily missed. Customers are unsatisfied as a consequence, and they will take their business elsewhere. Workflow, on the other hand, can assist you in providing better customer service and responding to client concerns more swiftly. Employees are frequently picked for projects based on who is available rather than who has the best skill sets to do the task. Another reason workflow is essential is that it helps you to consider and select the people most equipped to fulfill the available jobs. You may also decrease the chance of human mistakes by automating operations and procedures. This will increase the quality of your products or services over time.
Small and medium-sized businesses throughout the world are projected to embrace business process automation on a big scale, providing a US$ 1,600 million market potential between 2017 and 2026. Multipurpose workflow software, such as BPMApp, may help you reach your company goals by boosting efficiency, productivity, and other success factors with its great built-in automation tools and solutions.