A Complete Guide to BPM Business Process Management
Business Process Management (BPM) is a structured method for enhancing the procedures that firms employ to complete tasks and produce a profit.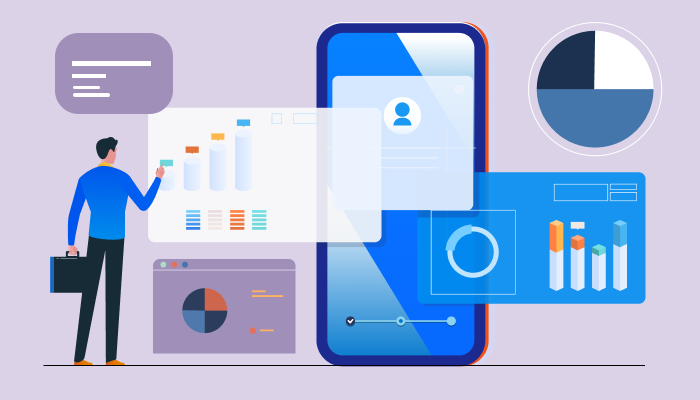 A business process is an action or series of actions that aid in achieving the objectives of an organization, such as boosting revenue or fostering diversity in the workforce. The business Process Management tool employs a variety of techniques to enhance a business process, including analysis, modeling of how it functions in various circumstances, adjustments, monitoring of the new process, and continuous development of its ability to deliver the necessary business outcomes and results.
Life cycle of BPM Business Process Management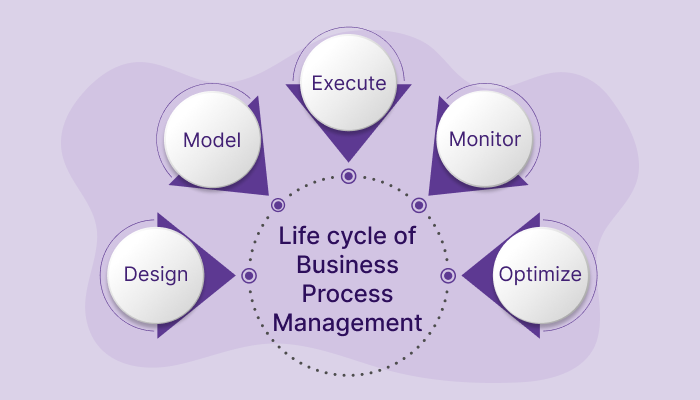 1. Design
There are fewer stakeholders and processes when you first start. Laying out and carrying out your daily company activities will be simple for you. However, as you grow, your procedures start to follow recognisable patterns. Your teams are no longer able to control the processes because they are now disorganized and ready to fail at any moment. Errors can occur when labor is concentrated on such extensive and repetitive tasks. With the aid of business process management, you may divide a process into smaller, more manageable jobs and allocate each duty to a particular stakeholder. Business Process Management is an all-in-one solution for managing business processes since it has the ability to gather data at each stage and grow it throughout the process lifespan. It enables you to follow corporate regulations while running processes flawlessly.
2. Model
For teams to perceive the workflow sequences and for the workflow engine to comprehend your instructions, the process must be represented digitally. Pen and paper cannot be used to conduct a process. It must be digitized in order to be executed or automated within the system. Another definition of Business Process Management modeling or process modeling is the graphical representation of a process's steps. You must have a comparative grasp of how things are now and how you want them to be in order to improve the process framework. You may accomplish this with the use of BPM modeling and greater insight into your workflow.
3. Execute
You must carry out your procedures after you have planned and visualized them for easy consumption. However, you are unsure at this time whether your workflows are error-free. Before making them live, you must try them out on a limited set of users or in a testing environment. How does a Business Process Management BPM tool determine how to carry out a process? Which data from the CRM should it retrieve? To have the tool follow specified business rules, you must define them. All of the rules that apply before, during, and after the process completion are carried out by the tool.
4. Monitor
You must continuously monitor procedures to ensure process compliance. You can identify areas for improvement and avoid potential bottlenecks by monitoring and reviewing processes in real time. The benefits of business process monitoring go beyond effective problem prevention, making it a crucial component in the Business Process Management lifecycle. The smooth operation of organizations depends on a great number of processes across all functions. The process cannot be put in place and left alone. Business Process Management monitoring makes sure that every process in your organization is aware of what is happening on a daily and minute-by-minute basis and accurately turns that information into final business processes.
5. Optimize
You may steer activities toward process optimization by putting a good monitoring system in place. Business process optimization is the act of reviewing and improving existing processes using crucial data and measurements. When your processes are properly optimized, you decrease wasted labor, improve output quality, achieve process compliance, shorten execution time, and remove any process friction. Siloed processes can never help you achieve your corporate goals since they get caught in a never-ending circle of problems. With ongoing improvement efforts, Business Process Management software optimization helps you increase the alignment of specific processes to your larger company objectives. A process is essentially a collection of actions carried out in a particular order to generate a result. You will have better control over sporadic errors and inefficiencies by holistically enhancing your business operations one step at a time. Most often, a variety of business process automation and process management tools are used to perform the optimization.
Start using Workflow Management Software for Free with BPMApp Now! Sign Up 14 Day Trial
Types of BPM Business Process Management
Business process management comes in three main flavors:
1. Integration-centric BPM
Existing software systems like CRM, ERP, and HRMS are used in conjunction with this sort of Business Process Management BPM. When there is less human participation, it is also employed. These solutions typically contain connections and API access to speed up the procedures.
2. Document-centric BPM
When a document, such a contract, serves as the foundation of the process, this sort of BPM is employed. Things like formatting, verification, routing, and getting documents signed will be made possible by document-centric Business Process Management BPM.
3. Human-centric BPM
When processes are carried out by people, this sort of BPM is utilized. Such procedures typically require employee consent. Here, the procedure includes a user-friendly interface, straightforward notifications, and tracking.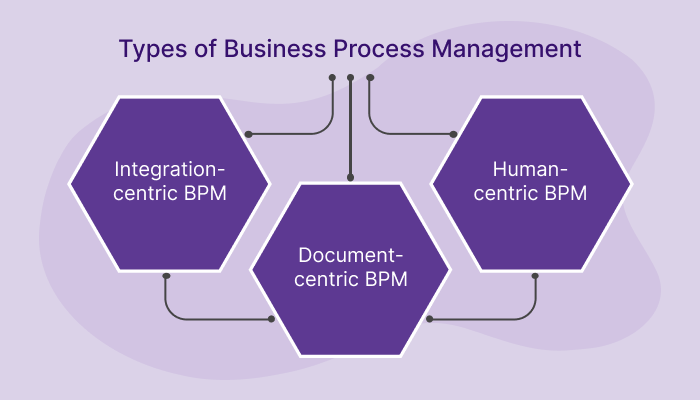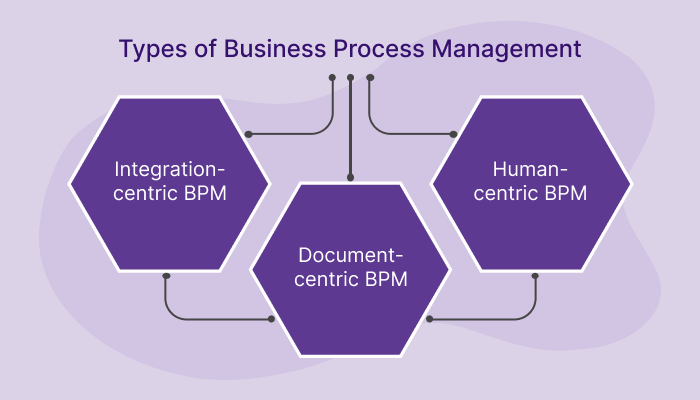 Benefits of Business Process Management
1. Business Agility
Companies need to be able to respond to change. These adjustments could be from new regulations that influence a particular component of the organization's commercial operation, disruptive competitors, or technological breakthroughs. Changes, regardless of their cause, necessitate a prompt response in order for the business to stay competitive. Companies may respond quickly and effectively to these needs by implementing BPM. When a problem arises, a well-integrated Business Process Management enables a firm to halt its operations, make necessary changes, and resume operations as soon as possible with the least amount of downtime. Users of BPM can keep track of these changes in business processes and modify them as necessary to meet the needs of the organization thanks to its flexible designs. Managers can monitor and predict the impact of changes on the broader business process as procedures change thanks to precise documentation.
2. Efficiency
The problem of improving the effectiveness and efficiency of business operations is one that all firms must address. While wasting important time and money, inefficient procedures are frequently difficult to spot and difficult to alter. BPM techniques are created to identify these inefficiencies and get rid of the delays they cause. Business Process Management enables managers and employees to comprehend each phase of the company process better. By avoiding workflow bottlenecks and other unnecessary redundancies, new process solutions may be developed as a result of this improved understanding. Ideally, BPM may assist in determining how the process might function under ideal circumstances, enabling users to modify the process with that objective in mind. Additionally, BPM can automate manual operations to boost efficiency and reduce the possibility of human error.
3. Visibility
BPM tracks and keeps an eye on business processes from start to finish using sophisticated workflow software. BPM enables the continuous recording of automated procedures, allowing for real-time evaluation of each step's efficacy. Without utilizing time-consuming manual procedures, automated monitoring displays each company's process performance. By analyzing the performance of each step in the process and improving their grasp of the entire business activity, management is better able to adjust or modify the flow of each business process.
4. Compliance and Security
Rules and regulations that have an impact on corporate efficiency can lead to pointless hassles and expensive fines. A business that uses BPM is better able to design a workplace that complies with evolving standards and is safe from the threats of fraud or theft. Managers and users can make sure that the relevant documentation is in place to meet compliance standards because each stage of the process is mapped out with a clear workflow. The meticulous documentation of the workflow can act as a foundation for increased security in addition to helping with compliance. Business assets, personal data, and physical resources are prioritized by the organizational structure built into BPM procedures, protecting them from theft and loss.
5. Business Knowledge
A trustworthy method of sharing business knowledge becomes more important as a company's personnel changes and increases. Companies much too frequently rely on a single employee to fully comprehend any given procedure. But this paradigm is ineffective and could be expensive because of changes in the workforce. The expertise that employees have acquired leaves the organization as they retire, move, or accept jobs elsewhere, leaving a sizable gap.
Final Words
Growing startups frequently believe it is unnecessary to invest in a business process management system. They frequently attribute failures to a lack of hustle or a lack of funding for a larger team, but the underlying cause is skipping a well-mapped business process and its advantages in process durability. To improve your processes and maximize business output, BPMApp offers a powerful BPM suite of capabilities powered by digital transformation.
Discover Why BPMApp Stands Out
#1
Unlimited Process Automation
#2
No-code Process Modelling
#3
Notifications and Triggers
#4
Auto Execute Capability
#5
Integrate with over 8 Apps Including Gmail
#6
Effective Form Designer
#7
Pre-built Automated Flows
#8
Intuitive, Drag-and-Drop Process Designer
#9
Unbelievable pricing - the lowest you will ever find
#10
Everything your business needs - 50 apps, 24/5 support and 99.95% uptime
Join the SaaS Revolution
All-in-One Suite of 50 apps

Unbelievable pricing - ₹999/user

24/5 Chat, Phone and Email Support