How Process Automation Helps in Improving Productivity?
Integrating automation into your business can help increase efficiency and productivity and inspire employees to innovate more.
Process automation can also improve the management of the company, which leads to growth and profitability. The data shows that automation at the organizational level can improve productivity in many ways.
Productivity and efficiency increase when organizations focus on innovation and growth by improving workflows and internal processes. With process automation, employees have time, resources and freedom to focus more on manual tasks and more on strategy, innovation and technology.

Once the societal impact is assessed, we can say that automation is one of the key factors in improving productivity. Manufacturers around the world are integrating automation as a new technology into their operations, and the results are promising. The bottom line is an improved company, higher efficiency and higher productivity of employees.

-
Why is Process Automation Required for Efficient Business Operations?
Process automation enables employees to avoid insignificant, repetitive tasks and shift their focus to vital corporate functions such as innovation and the development of new ideas and processes. Organizations that automate business processes are changing their workflows by reducing mundane tasks and increasing employee productivity. By automating business processes, companies can improve their processes, shorten cycle times, and maximize efficiency. The automation of processes completes tasks that were previously manual processes.

The right strategy for automating business processes can help an organization maintain control over its processes, reduce confusion and errors, improve communication, free up time and resources and prevent employees from performing repetitive and boring tasks that can be frustrating. The use of automated processes in your manufacturing processes can help a company improve its productivity level, increase efficiency, produce higher quality products and increase profits. For this reason, using technology to control automated processes can help you increase efficiency, increase productivity, and produce work with a fantastic level of quality and control.

Here are four concrete ways in which automation can increase productivity, reduce risks and strengthen your employees. Find ways to automate tasks that help you increase your productivity and effectiveness in the workplace and in life. Use these questions when considering how automation can help you achieve this and increase productivity and how to identify the tasks and processes in your life that can benefit the most.

Business Process automation can save your company time and eliminate costly errors, streamlining your processes and helping employees to complete them faster. By using workflow automation, you can reduce workload and ensure that your employees work more efficiently. Another advantage of process automation is that it can help improve management and increase consistency across the company.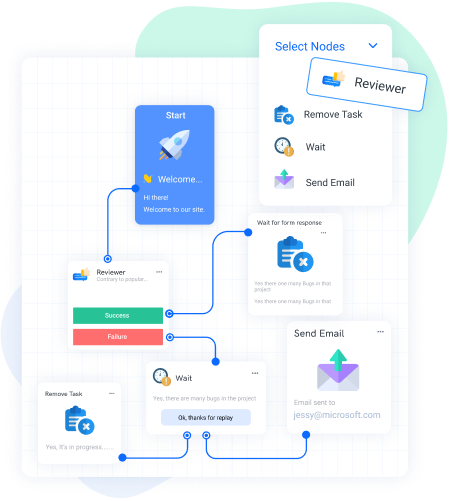 As a manager, it is easy to review the workflow of your company and track the progress of tasks. Process automation can track tasks that progress with built-in rules, controls, and alarms that you have automated.
With process automation software, companies can manage all their processes in one place, and employees can see what they are doing every day. All stakeholders involved in a task can access the entire automated process and gain visibility.

Executives do not have to monitor every step of the process or check in with every employee. Process automation teaches employees their precise role, the processes and tasks for which they are responsible, how to manage their work and take responsibility when something goes wrong.

Finally, the aim of automation for companies is to improve the efficiency of workflows, to minimise errors and to increase the productivity of the company. Automation has a direct impact on employee well-being and thus on employee productivity by automating repetitive and boring tasks. Automatization allows employers to automate minor and repetitive tasks that do not add much value to the organization and allow time for more valuable work.

Workflow automation increases efficiency and productivity in the workplace by using software tools to manage and organize large amounts of information and streamline daily operations. The introduction of process automation helps to reduce operating and labour costs in small and medium-sized enterprises, to save resources and time and to achieve higher profit margins.

Industrial automation is the process automation of tasks that reduce physical labor, such as the assembly of products. Most companies use some form of self-service automation to replace one repetitive or labor-intensive process with another.

Workflow automation software uses rules-based logic to automate many of the common business processes, including those in finance, marketing and human resources. In human resource management, process automation software enters employee information into payroll systems, insurance policies, expense accounts and other official systems that you use for human resources tasks. Tasks related to paper processes can also be automated.
See How BPMApp Helps in Improving Productivity with Process Automation - Start for Free! Sign Up 14-day Trial
Conclusion
Today, companies have a variety of automation tools at their disposal to help them increase productivity using Business Process Management. Today's automation has opened up new avenues to help companies streamline their work processes and increase productivity.
Business process automation software can handle more tasks and processes than robotic process automation (RPA). With BPAs, companies can automate small but important tasks and put more of their human resources and time into more important processes. Automation can help sellers streamline simple tasks and increase their productivity and company profits.
We offer business process automation solutions with BPMApp designed to 500apps to increase the efficiency of workflows for businesses of all sizes and reduce the total work time needed to complete repetitive processes. With Starting Point, businesses can automate key tasks in their workflow to ensure that they are done on time and in accordance with the right standards. Startingpoint offers a variety of business process automation solutions to help organizations save time and reduce the need for team members to take on administrative tasks.