While they may appear to be the same thing, BPM and project management are not the same thing. They hold a key place for an organization trying to simplify its internal systems and processes when used together. As a result, a solid understanding of the fundamentals of business process management and project management, as well as their inherent differences, is critical.
Let us look at what business processes management and project management software exactly into and how they differ.
Business Process Management Software
Although the terms "process management" and "project management" are frequently used interchangeably, there are significant differences. Understanding the distinction will help you take the appropriate steps to attain your objectives.
In essence, processes are ongoing, whereas projects are one-time occurrences with a definite beginning and end. Projects are one-off activities that allow for innovation, whereas processes are your company's roadmap for getting the work done. Both are necessary for a company's success.
Consider what your employees do on a daily basis. They often perform the same tasks over and over. Class schedules are designed the same manner each year in an educational setting, from balancing instructor availability with student needs to receive the necessary administrative clearances. A process manager strives to make this process as efficient as possible by recognizing chances for improvement and removing roadblocks. Process managers ensure that each stage of the process is documented so that it may be repeated as needed, regardless of workforce changes.
Other examples of procedures are the steps used by staff to order office supplies, submit an engineering change order, or ensure that equipment is properly maintained in manufacturing. These workflows are managed by process managers, who ensure that work is completed precisely and efficiently. They're always looking for methods to cut down on the amount of time it takes to finish a task.
They also keep an eye out for cost-cutting opportunities. Process managers place a premium on consistency, which allows them to maintain and improve quality over time. Customers know what to anticipate as a result of well-managed processes, and firms can consistently fulfill or exceed those expectations.
Project Management:
Projects, on the other hand, aim to achieve a specific goal that will alter or improve the business's basic operations. Unlike processes, which allow you to repeat the same tasks over and over, projects aim to generate new products, strategies, and ways of doing business. In some cases, efforts start with a question like this: how can we improve our reputation in the community? In other cases, plans are designed with a specific goal in mind, such as developing and implementing a vocational training program. All initiatives have one thing in common: they begin with a concept and, if successful, end with a finished result.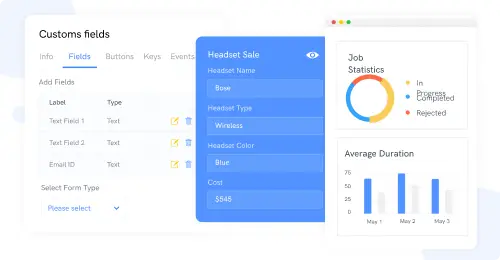 Project managers have the responsibility of organizing ideas and devising a strategy for achieving the goal. They create and manage the project budget, assemble a project team, and identify what actions are required to complete the project from beginning to end. Project managers assign work, oversee task fulfillment and detect risks that inhibit goal achievement. They are in charge of mitigating those risks in order to assure the project's success.
The outcomes of the project could be turned into a business procedure once it is completed. A project that successfully creates and implements a new customer service model, for example, will result in new customer service processes that are repeated by employees in each customer service interaction.
Relationship between Project Management and Process Management:
Despite the fact that process management and project management are two separate sets of responsibilities, they complement each other in order to achieve organisational success. By creating a space for innovation, process management covers project management. Micro-processes can be determined by the correct process for your business, which will eventually dictate the flow of your projects. Projects that lack specified processes frequently become chaotic and ultimately fail in organisations that lack established processes.
Understanding the differences between business process management (BPMApp or BPM Software) and project management (PM), as well as their relationship, ensures that your strategy is optimised for success.
business Process management software is continual, with the goal of improving efficiency and uniformity at all times. Project management is time-bound, and optimization comes mostly after the project is finished. Projects are meant to bring about process change, whereas processes are meant to eliminate any variation in results. Project management requires innovative thinking. Process management entails ensuring that the desired outcome is achieved by following all of the necessary steps. Adopting the right mindset for process work vs. project work is critical to your success. This is dependent on your preferred result.
Your initial priority, no matter where you are in the life span of your company, should be to manage your processes. Your clients want you to create a trustworthy, high-quality product or service, whether you're a start-up or a multi-generational company, and your procedures make that possible. Project management, which is essential for bringing your company to the next level, is only possible if your current procedures are well-managed. Fortunately, modern technology has made process management easier than ever before.
Differences between the Process Management and Project Management Software:
Let us look at the differences between the business Process Management software and Project Management Software considering some essential factors.
1. Focusing Point
Project Management is primarily concerned with the management of project activities on an individual basis until the project is completed. Business Process Management software is primarily focused on process management and streamlining complex workflows.
2. Management Method
Project Management is a temporary management method, and once the project is completed effectively, the management work is completed. Process Management is a never-ending process, sometimes known as a permanent process.
3. Project Manager's Responsibilities
In the project management type, Project managers are in charge of more tasks than process managers. Whereas in the business process management software case, the responsibilities of a process manager are smaller than those of a project manager.
4. Activity
In the project management scenario, Configuration management, estimation management, risk management, resource management, and other project management operations are among them. In business process management software, process synchronization, process communication, deadlock handling, process suspension, and resumption are all examples of process management activities.
5. Types
Kanban management, Lean management, Six Sigma management, agile management, and more types of project management exist. And, document-centric process management, human-centric business process management software, integration-centric process management, and more types of process management exist.
6. Processes
In project management, Planning, implementing, monitoring, managing, and closing projects are all part of this busines management process software. And, in process management, Designing, evaluating, improving, monitoring, and optimizing processes are all part of this management process.
7. Benefits
Project Management has a number of advantages, including improved team cooperation, better planning and scheduling, increased customer satisfaction, and accurate scheduling and budgeting. Increased efficiency, productivity, cost-efficiency, and revenue are just a few of the advantages of business process management software.
Conclusion:
Overall, both business process management and project management offer major benefits to any organization—as long as you select the correct solution for your requirements.
Processes are best suited for tasks and objectives for which a plan for completion has been established. When you have or involve a cross-functional team in the early stages of a project, it is definitely superior.