Business Process Management (BPM) tools stand between the IT and business departments of an organization. They aim to improve corporate performance by providing a systemic approach to managing an organization's business process.
Business tools facilitate the designing, modeling, implementation, and measuring of workflows and business rules, helping companies fine-tune and optimize processes involving human interaction. They automate tasks during a business process by improving order, perception, and functionality of the business workflow.
Using BPM in a workplace aims to eradicate chaos, reduce human error, and reduce inefficiencies and miscommunications.
Best BPM Platforms you Must Consider in 2022:
It is 2022, and the innovation functionalities and usability of software have changed. We compare the latest BPM tools, and this list is a result of our research.
1. BPMApp:
A product of the 500Apps software studio, BPM has been sandwiched with aesthetic features that make it the leading BPM platform. It is available for Cloud, Windows, and Linux.
BPMApp has all the range of functionalities you need to optimize processes and keep a pulse on all the businesses' operations to run your business more smoothly. You can easily create and manage flows exactly how you want them by using nodes to automate workflows. Also, you can create customized forms and preview them in real-time.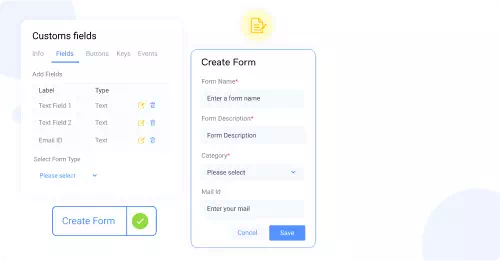 Another feature that makes the BPMApp popular is the ease with which it manages your contacts. You can easily organize your contacts and automate flows.
The software gives you full control over all the responses to your Form by using an Ultimate Response Management System feature.
500Apps offers a 24/5 Live support service to attend to all your issues and queries.
For BPMApp and 39+ Apps, you can enjoy one pricing of just $14.99. you can select several Applications relevant to your business and enjoy a one pricing system.
If you are only interested in our BPMApp, you will enjoy free usage for up to 10 users, and you can take up one of our other pricing options for more extensive use.
2. Kissflow Workflow:
Kissflow is available for Cloud, iPhone, iPad, and Android. The software is designed for companies of all sizes and industries.
Kissflow Workflow is a top-rated workflow management software that helps to automate work and reduce chaos. More than 10,000 companies trust the software to allow businesses and their teams to create an unlimited number of automated business applications. The software comes with more than 50 pre-installed applications that you can use for employee onboarding, action requests, and many more.
In addition, the application features a simple drag-and-drop interface for creating and customizing forms, a centralized dashboard, and integration with leading business tools.
Kissflow offers a free trial version and also a free version with limited capabilities. You can enjoy other pricing plans, including the $10/month/user Basic plan, the $9.90/month/user Advanced plan, and the $19/month/user Fully Loaded plan. Each plan is different in terms of usability, the number of users, and validity length.
3. Kriya:
Kriya is a robust BPMS tool with an advanced integrated document management system that is too easy to use. It simplifies and automates the most complex of your business workflows.
The Kriya BPM software is web-based and streamlines all your business processes, and provides you with smooth control of overall business operations. You do not need any coding or technical skill to use the Kriya software. Its mobile digital workplace helps users access and update records, approve payments, and track process performance remotely at any time.
Kriya has a wealthy database of best practices and free process templates that you can initiate in seconds and get your system running. The software output analytics includes charts, graphs, and dashboards; that help you regularly track your business progress.
Pricing for the Kriya software starts at $9 per month per user, and you can enjoy a brief free trial period. Kriya is available for Windows, Mac, Android, iPhone, and iPad devices. You can also use it for software as a service.
4. FlowWright:
FlowWright is used by companies who need workflow, forms, compliance ad automation routing support. Its low-code options make creating and editing workflows simple. FlowWright best-in-class forms capabilities allow it to build forms logic and workflows for forms-driven workflow processes quickly.
FlowWright business process integrations across systems are loosely coupled and intelligently integrated. When you use FlowWright to automate your business, you gain access to standard metrics you can define.
BPM analytics is a key part of the FlowWright BPM workflow management software solution. The software can be deployed as a cloud solution or deployed in an on-premise or .NET hosted environment.
FlowWright enjoys a free trial period and a variety of pricing plans.
5. Flokzu:
Flokzu is a powerful BPM and Workflow Suite that is made agile and user-friendly. It is a no-code/low-code SaaS to define and automate business processes and workflows between people involving electronic forms. It enhances the collaboration between people who perform different tasks in an organization or team. You can easily access all your Form records, documents, or files, search through them, manage pending tasks, define alerts, and integrate with other systems all in one place. Hence, eliminating the need for complex spreadsheets and endless emails.
Flokzu offers a free trial period and affordable pricing plans starting with $15.00/month/user to the $21/user/month Premium package. Also, there are custom pricing plans for per usage use and corporate/high volume plans.
6. Wrangle:
Wrangle is designed as a solution for companies that need to automate and track every work operation to know where work is getting stuck.
Wrangle manages processes and approvals in Slack or email and kicks of methods from 1500+ of the apps you use every day. It allows collaboration with colleagues to map out your business processes where everyone can see them. It possesses a simple drag-and-drop workflow builder interface that can easily be used by anyone with little or no technical skill.
Another feature that makes Wrangle quite popular is its automatic trigger for workflows, tasks, and approvals directly from Slack and email. It notifies the right person at the right time, in the right order, with exactly what needs to be done.
You can also capture and track human to-dos and add process tracking to your team's existing systems. With Wrangle, you give superpowers to your operation pros across every team.
Wrangle's pricing plan starts with a $12 per user per month pricing package. You can also enjoy a free trial and a free version.
7. HighGear:
HighGear is used by several digitally competitive industries such as banking, insurance, and energy to build custom workflow applications that radically improve efficiency and visibility.
HighGear is a leading no-code automation platform that enables everyday business users to build enterprise-level workflow applications without coding knowledge. Companies use it to do work, improve visibility, streamline operations and meet compliance requirements.
HighGear helps create forms, design processes, and automate workflows with an intuitive platform trusted by management and approved by IT.
Some of the support services by HighGear include 24/7 contact support, email helpdesk, FAQ, etc. HighGear supports Cloud, Mac, Windows, Linux, Android, and iPhone operating systems.
HighGear offers a free trial, and pricing starts at $59 per month.
8. Asana:
Asana is a leading no-code automation platform that helps teams manage work from day-to-day tasks to strategic initiatives. With Asana, you can connect all your work in one place and bring your team together from anywhere.
Asana, organize your work your way from lists to boards, to calendars and Gantt charts. Asana implementation includes Cloud, SaaS, Web, Android, Windows, Mac, iPhone, and iPad.
Other features of the Asana software include easy API integration, backlog management, email management, third-party integrations, Kanban interface, project workflow, real-time updates, scrum support, term monitoring, etc.
Asana has a free version and a paid version. The paid pricing plan starts at $13.49/month; however, you can enjoy a brief free trial period to ascertain if the software is what you need.
Conclusion:
The range of what we think and do is limited by what we fail to notice. And because we fail to notice that we fail to notice there is little we can do to change until we notice how failing to notice shapes our thoughts and deeds. - R. D. Laing
BPM software is used by organizations to coordinate, plan and synchronize cross-departmental workflows. The tools can also test the effectiveness of new strategies and design best practices for future projects.
The list above considers several industries and weighs the functionality of each software in this regard. However, the list is not exhaustive but a strong indicator of what you need for your business.