7 Steps to Choose the Best BPM Solution for Your Business
BPM solution can help you analyze and optimize every process within your team's daily workflow. Learn more about business process management and how the right software can help.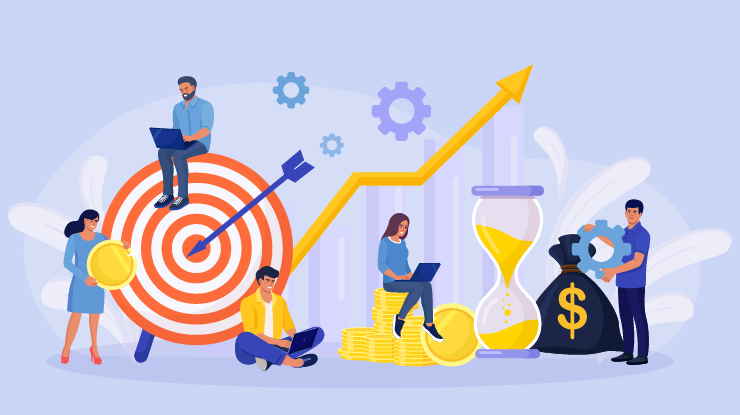 Your day-to-day operations consist of hundreds, or perhaps thousands of tasks. Each task serves a purpose that helps promote a process. To boost productivity and efficiency, Business Process Management, or BPM for short, visualizes each process and provides a birds-eye-view of a company's workflow. This insight enables managers and business owners to measure, analyze, and optimize workflow processes in order to achieve the most output and efficiency while mitigating bottlenecks and human error.
While the concept is as old as time, the real power of BPM has only recently been explored with the help of powerful automation and AI assistance. As a result, the market for BPM solutions has taken off in recent years.
Managing Processes can be Daunting- The idea of dissecting and analyzing each task in a company's operation can seem daunting. Indeed, without the help of a BPM solution, this process is too timely and costly for many small businesses to take part in. Fortunately, the selection of viable BPM solutions has never been more vast, and the benefits provided by these apps help to simplify an otherwise complex and tedious undertaking.
You probably don't know much about how ERP and BPM systems actually work. @Shama @Shama SEO Spider 13.0 - https://t.co/fILaERUTkF. Update includes -

😱 Near Duplicate Content Analysis

🐸 Spelling & Grammar Checks

🕷️ Improved Link Data (Link Position, Path, Target)

🍻 Security Checks

& loads more. Enjoy! pic.twitter.com/Lc7yhq8NVS

— Screaming Frog (@screamingfrog) July 22, 2020
Every Task Involves a Process -- Processes come in a Variety of Sizes In order to truly grasp the importance of the BPM solution, you must first realize that every task, no matter the size, consists of one or more processes. Even a menial task like checking emails involves a process. Busy managers and business owners hoping to maximize their time and that of their employees benefit most from BPM solutions, as they allow you to analyze every task and optimize its route from start to finish.

The More Management you Implement, the Better your Business Will Run Finding the perfect solution that addresses your team's unique needs and challenges is hard enough, without having to worry about how your growth will impact its effectiveness. One of the things that makes the BPM solution such an asset to small and medium-sized business (SMB) owners is its scalability. These apps are able to grow with your business.
How to Choose the Best BPM Solution?
A quick Google search returns thousands of possible BPM solutions to choose from. To make this process a bit easier for you and your team, our experts at BPMApp have compiled a list of seven of the most important features to look for when deciding which BPM solution is best for your team.
Start Automating Your Business Processes Now in One Spot Sign Up 14 Day Trial
1. Easy-to-Use Graphical Modeling for Processes and Web Forms
Graphics and models comprise the core of effective business process mapping tool. They provide the foundation for the very concepts behind BPM. A graphical model enables managers and business owners to better analyze business processes. Graphical models work well for shareholders who otherwise wouldn't understand the intricacies of a process.
The key is to find a solution that provides graphical modelling with an easy-to-use dashboard. Simple functionality helps your team learn the new software and makes the transition much smoother.
2. Enterprise Modeling Capabilities
It's important to find a BPM solution that enables you to conceptualize processes across your entire company. What's more, some processes may transcend simple tasks or projects. You should only use a solution that can handle the size, scope, and shape of your particular workflow.
3. Collaboration Functionality (document sharing, messaging, approvals, ETC)
It's hard to promote enterprise level modeling without features that facilitate collaboration. Things like document sharing, messaging, and approvals should be accessible to all of your users. These features help your team maintain and boost productivity and efficiency by encouraging teamwork and communication across department lines.
4. Data Collection and Analysis Functionality
Without hard data, any optimization you perform on processes, tasks, and projects would be weak and speculative at best. Your BPM solution should facilitate data collection and storage. With this data at their disposal, your employees will be able to optimize workflows and make data-driven decisions going forward.
5. Seamless Integration
As previously stated, processes oftentimes transcend simple tasks. Projects, marketing campaigns, sales initiatives, and other crucial business elements all consist of underlying processes. Being able to share data between key elements of your workflow is important. Find a BPM Solution that can integrate seamlessly with third-party solutions, including project management apps, Customer Relationship Management (CRM) solutions, Content Management Systems (CMSs), and more.
6. Customizable and Scalable
No two companies are identical. No two processes are, either. Moreover, no two employees are the same, and your BPM solution should be flexible enough to overcome this fact. Look for customizable options like custom dashboards, interfaces, and pricing plans & features, among others. What's more, it's important to select an app that will be able to handle growth should your business grow in size, reach, scope of mission, or base.
7. Cloud-based Opportunity (or both cloud and on-site)
While there are viable options for on-site BPM solutions, the benefits of using cloud-based software almost always outweighs the costs. And in most cases, the costs are much lower for cloud software anyway.
Cloud-based programs are not installed on your device(s). Therefore, your team is able to use the solution right away. What's more, the provider of your cloud-based BPM solution provides automatic software upgrades, saving you the time of manually updated software installed on your device.
There are a number of other benefits of using a cloud-based BPM solution, but suffice it to say that there are almost no instances where a cloud-based app is not preferred over an on-site installation.
Conclusion
Despite the banter and outright rejection of BPM in some circles, the BPM market is still very much alive.
"Business process management (BPM for short) gets a bad wrap. Some consider it industry jargon, others an ineffective management "hack", and almost all see it as boring. However, there is no better way to increase efficiency and consistency in your business than by managing your processes effectively." (process.st)
According to Statista.com, $198 billion was spent on BPM worldwide. No matter what industry, niche, or vertical you're in, there's a good chance your competition is taking advantage of BPM solutions to get the most out of every process.
The key to finding the right app for your company is to do your homework. Talk with your staff. They'll be the ones carrying out these processes in most cases, and so their input should be valued. Additionally, consider your budget. BPM solutions come in a variety of shapes and sizes. It's important that you choose an app with features you'll use. Avoid the bells and whistles that frequent promoted results and ads on Google.
If you're in the market for a new BPM solution, we encourage you to try BPMApp by 500apps. BPMApp is the perfect BPM solution for small to medium-sized businesses. It provides an intuitive dashboard, automated workflows, advanced reporting and data, job management, and more. It's customizable and scalable, so you don't have to worry about outgrowing it anytime soon.
Learn more about BPMApp and to start your free 30-day trial. Click here to learn more about 500apps and view their selection of powerful business productivity apps.
Did we miss anything? Let us know in the comments below!"
Discover Why BPMApp Stands Out
#1
Unlimited Process Automation
#2
No-code Process Modelling
#3
Notifications and Triggers
#4
Auto Execute Capability
#5
Integrate with over 8 Apps Including Gmail
#6
Effective Form Designer
#7
Pre-built Automated Flows
#8
Intuitive, Drag-and-Drop Process Designer
#9
Unbelievable pricing - the lowest you will ever find
#10
Everything your business needs - 50 apps, 24/5 support and 99.95% uptime
Join the SaaS Revolution
All-in-One Suite of 50 apps

Unbelievable pricing - ₹999/user

24/5 Chat, Phone and Email Support