13 Best Business Process Mapping Tools in 2022
Business process mapping lets organizations improve process efficiency by automating regular operations. Here is the list of tools that helps for the same.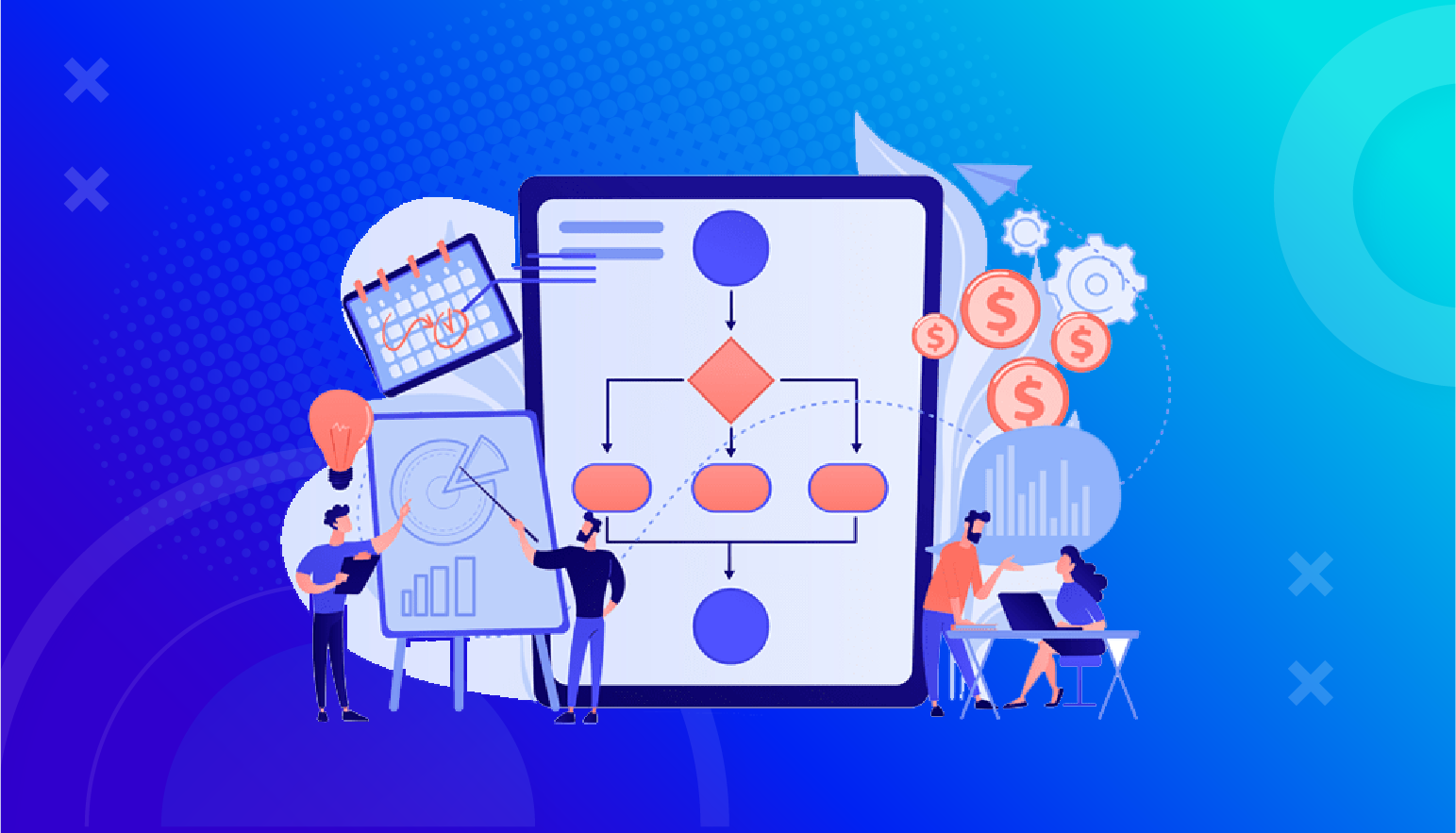 When trying to bring about change to business process management, you need to have all the team members on the same page. They need to all view the process the same way to be able to repeat it correctly. Repetition is a key aspect of business processing. It means teams are able to coordinate properly and that automation is achieved.
With the right business process mapping tool, it becomes possible to achieve better visualization. Laying out processes visually allows everyone to understand and operate from the same viewpoint. Business process mapping tools are flowcharts that show the relationship between tasks and inputs that all go into creating a product or service. By detailing every step along the way, greater transparency is achieved. Over time, these visual models can be adjusted to better optimize operations and achieve organizational goals.
List of Best Business Process Mapping Tools for Business Efficiency
1. BPMApp
This simple business process mapping tool supports users in the creation of visualizations using drag and drop nodes. The automation software can develop smooth workflows with tasks that can be better monitored and controlled for enhanced productivity. An easily navigable and customizable dashboard makes it possible to access filtered views of jobs.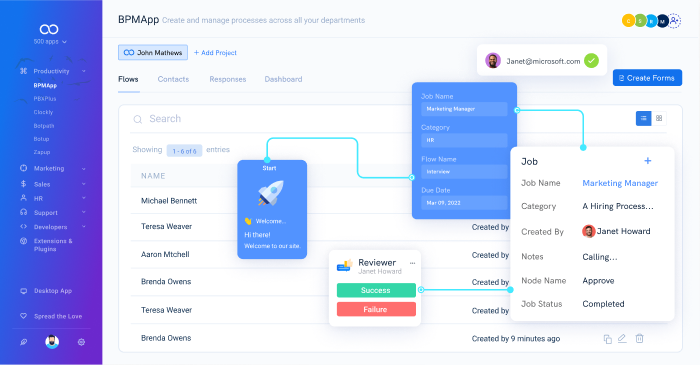 It allows for user-friendly workflows that automatically make it simple to build, modify, and track customized workflows for a range of business processes. Job management features allow for transparency of tasks while automated workflows give detailed insights into business performance. Make use of advanced report features on BPMApp to track progress and discover productivity status.
2. Nintex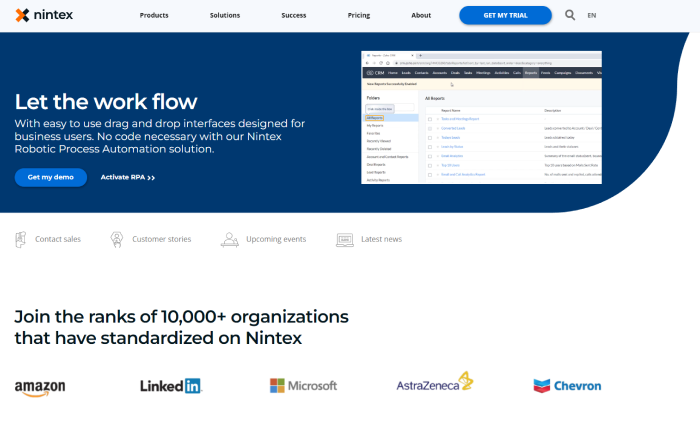 Another low-code process platform that offers user-friendly workflow and intelligent process automation. This is a widely used business process mapping tool that provides workflow automation, digital forms, and robotic process automation software solutions. It is a scalable product suited to whatever industry or department.
It offers plenty of room for customization and an enhanced ability to identify bottlenecks. Users can easily automate any business process, building simple or complex designs. Features like the Nintex Promapp help enhance visibility and control over processes thanks to their simple yet intuitive tools. You can boost engagement and collaboration through the use of automated changelogs and stakeholder email notification tools.
3. Pega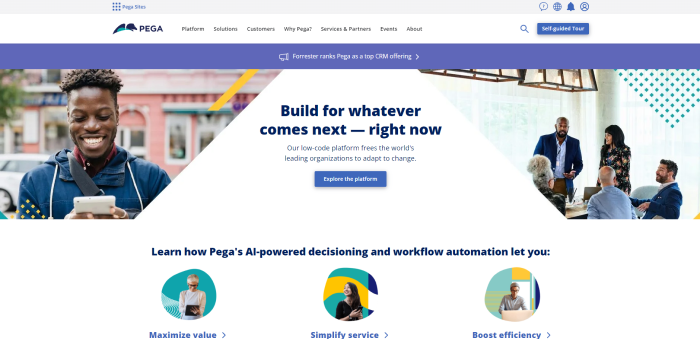 The Pega platform enables users to simply build processes in a low-code app environment that can be scaled up or down through comprehensive management tools. These models are highly useful in strategy development and decision-making thanks to AI support and automation.
Its variety of visual tools with which to model business processes is a representation of how businesses can benefit from collaboration with developers and IT. It also offers Robotic Process Automation (RPA) that aids in integration with legacy systems and improves response times for better customer engagement.
4. BonitaSoft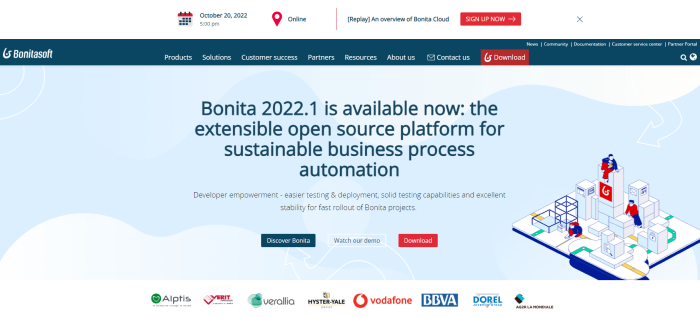 Their BPM platform fosters consistency and smooth workflows through tools that enable users to develop graphical diagrams of business processes and turn them into process-based applications. It also features drag and drop tools ideal for introducing human and automated tasks, detailing sub-processes, and establishing decision rules.
Thanks to its Business Process and Modeling and Notation Standard 2.0, users can more precisely design models. A clearer framework can also be developed for better communication across teams. The applications provided quickly respond to real-time changes. This is also useful for pinpointing errors before models are saved.
5. K2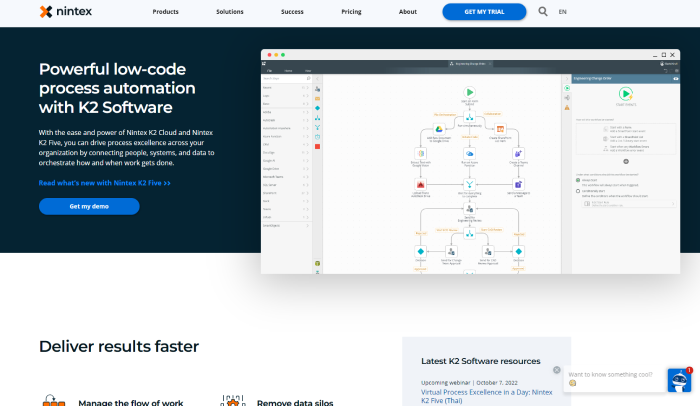 The K2 platform is highly versatile. It allows users to build and run a variety of applications. This includes forms, reports, workflows, and data. It offers scalable process automation for both complex and simple processes across various departments. It is a no-code application that integrates a variety of apps and mobile solutions.
It is a useful business process mapping tool that creates a bridge between people and information. The visual tools are easy to master and feature reusable components for faster delivery. Develop powerful workflows featuring rules, policies, and escalations. A customizable dashboard helps make navigation easier and prioritized. Note that this platform may soon be integrated into Nintex.
6. TIBCO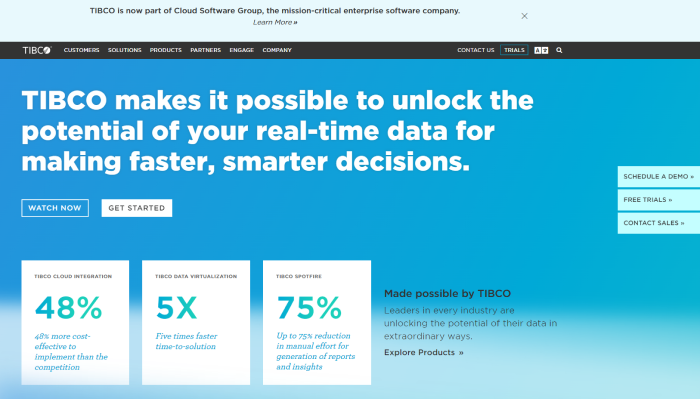 Run off of the TIBCO Intelligence platform, the BPM Enterprise offers an effective means of coordinating and monitoring business performance and developing insights that can lead to process improvement. Their business process mapping tool allows for easy process configuration and visibility. Users can track process performance against SLAs and utilize business intelligence tools for analysis.
Great for providing transparency on all business processes, the people involved, and the infrastructure. With valuable insights into tasks being undertaken and the impact of certain actions, decision-making is made faster and better. Business transformation is built on data and optimizing operations. This developer offers tools that aid digitization, standardization, and optimization. Take advantage of the predictive operations dashboard that supports intelligent work and resource allocation.
7. Agiloft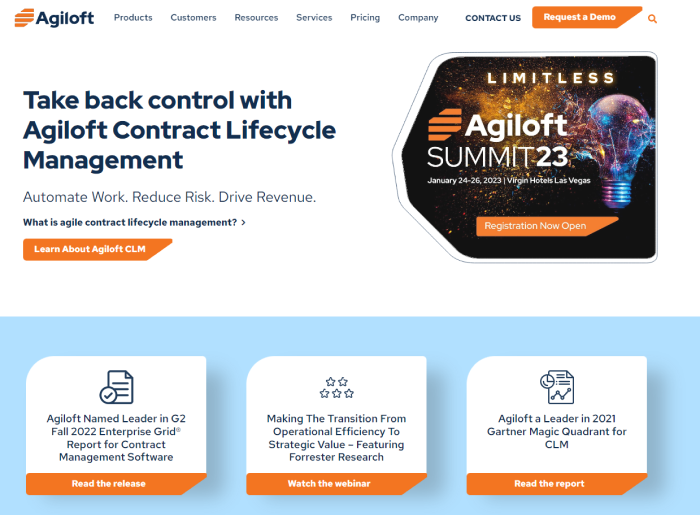 This versatile BPM solution is highly adaptable to various types and sizes of businesses. It aids in enhancing efficiencies, optimizing processes, and boosting overall performance and productivity. It offers a no-code environment where users can easily map complex business structures and processes. No need for programming expertise.
Precise Access Permissions help ensure security controls for whatever users in the organization with access. Historical snapshots and comprehensive audit logs help ensure auditability and promote compliance.
8. Bizagi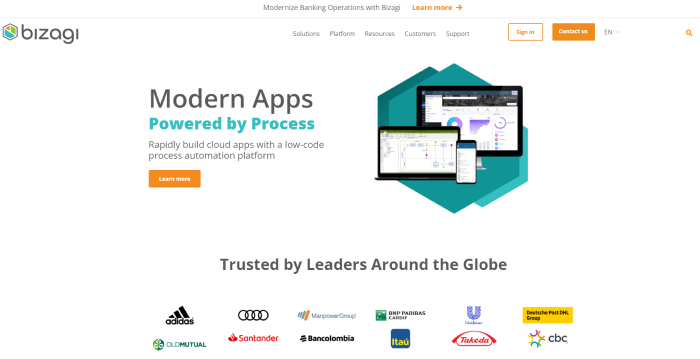 This platform offers both on-site and cloud services for intelligent process automation. This tool is a big help in improving customer experiences and developing competitive process applications. This suite is made up of 3 services including Bizagi Modeler, Bizagi Studio, and Bizagi Automation. As the names suggest, they facilitate modelling through to the execution of applications.
It is ideal for both simple and complex process building and automation. It is a powerful and intuitive software that manages to achieve digital transformation rapidly. The mapping software is configured for workflow creation, simulation, and optimization. It also allows for tracking of revisions and easy viewing of chain diagrams. This is a scalable service that can accommodate businesses of various types and sizes.
9. Kissflow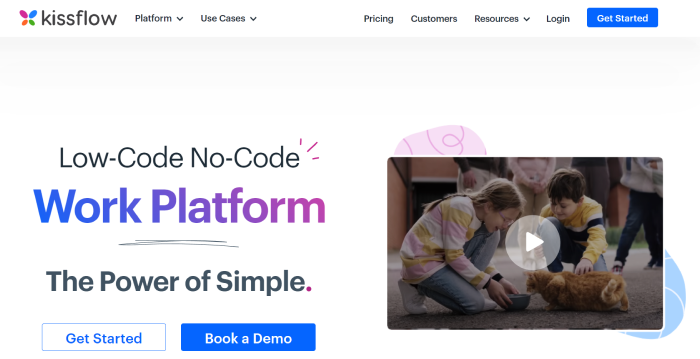 Kissflow is an all-in-one digital and cloud-based solution that makes the development and optimization of workflows easier done. The end-to-end workflow platform can be used to boost productivity through the design of fluid forms, visual workflows, access control, and analytics. This business process mapping tool offers a range of customizable features that can be scaled to whatever level and support integration with legacy systems with APIs.
The flexible workflows help enable agile case management where users gain better control and monitoring of interactions with customers. Clearer overviews of processes aid in realizing insights, tracking progress, and making informed decisions. This platform also fosters collaboration between people for better productivity, onboarding, and job satisfaction. It also offers scalable services to businesses of all sizes. A business process mapping tool that is ideal for automation and monitoring of key performance factors.
10. Zoho Creator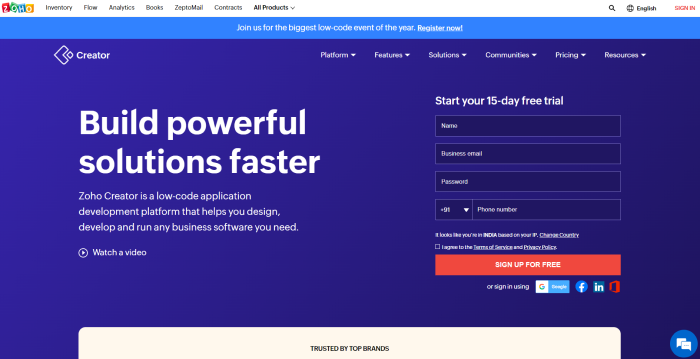 This is another low-code and online application with an easy drag and drop interface that allows users to effortlessly develop processes on desktop or mobile devices. It offers ample and scalable features that can be easily mastered without coding experience. Its customizable applications can be simply integrated with legacy systems. Enjoy the use of pre-built templates, intuitive visual builders, and code editors.
Users can configure and automate workflows in just a few steps. Develop a high-functioning system using prebuilt connectors that enable applications to connect and operate seamlessly. With Zoho Creator data collection, automation of workflows, collaboration, and data analysis are easily achievable.
11. Appian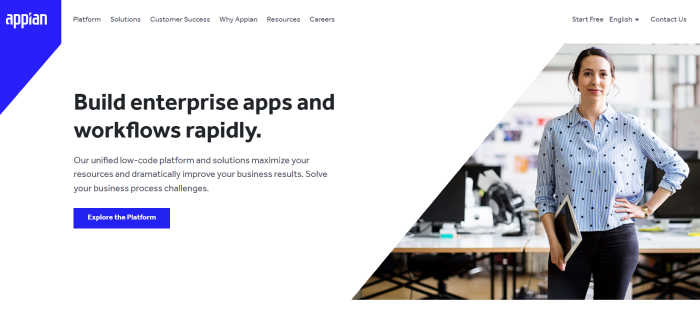 This low-code application is highly responsive to change, enabling users to easily build and manipulate process models. Ideal for both newbie and seasoned developers, it is suitable for the creation of case-centric and process-centric models that make it easy to gain an overview of processes, monitor them, and make changes for improvement.
Built on the idea of intelligent automation, it combines that automation with AI. Appian's BPM platform features the use of drag and drop tools to help in the design, managing, and optimization of processes. Discover and create various applications that can be applied to completed designs, allowing users to easily bring processes to life. Make use of their Native Mobility features to gain better insights into tasks and enable better collaboration and access on mobile devices.
12. Process Director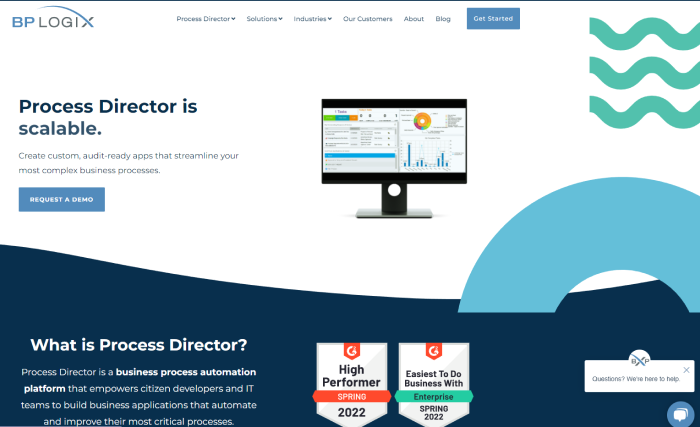 A product of BP Logix, this software enables users to build clear workflow automation and customizable forms without coding. Customizable applications make this system adaptable to various types of businesses and departments. Rapidly create workflows and configure business rules that will guide application behaviour and user experience. A handy form builder tool makes it possible to customize electronic forms for better data collection.
It also has built-in compliance features that ensure government and organizational regulations are being adhered to. Auditable forms and logs allow for effective tracking and reporting of changes. This platform also offers strong administrative tools that make managing your applications more effective. It can be integrated with various digital payment platforms. It is available for cloud-based or on-premises deployment.
13. Signavio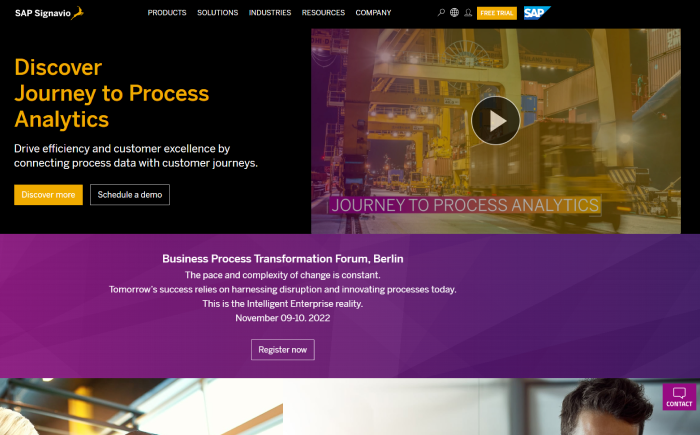 Under the Signavio Business Transformation Suite, you will have access to their Process Manager. This professional process modelling tool uses standardized modelling language to allow even newcomers to BPM to adapt to its use. Using BPMN 2.0, users can easily document their workflows. Other users can also add comments to diagrams, providing feedback that can aid in optimizing processes.
This intuitive BPM platform encourages collaboration through the ability to allow multiple users to work on designs. It is a business process mapping tool ideal for modelling, analyzing, optimizing, and executing processes. It is flexible, scalable, and transparent. Can be adapted to introduce new processes as the business grows and relationships change. Try out Signavio's QuickModel tool for beginners and later upgrade to their Enterprise-class functionality. This service is available via cloud-based BPM software or self-hosted.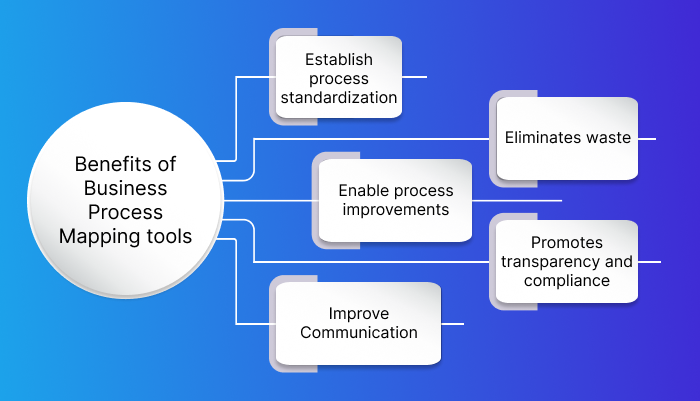 Benefits of Using a Business Process Mapping Tool in your Business
Promotes shared understanding of how business processes work – As said, a common viewpoint helps to create a better understanding amongst team members. Visual aids make this easier than long-winded technical documents.

Establish process standardization – Once you have properly mapped out processes, achieving standardization becomes easier. Everyone knows their role and how it contributes to the overall process.

Enable process improvements – When a process is fully analyzed and understood it becomes possible to figure out changes that can improve efficiency. And with an overhead view of the process, you can better understand the impact of these changes on other aspects of the process and achieve business agility.

Identifies process leaders and users for accountability – By narrowing down the details of each task, it becomes clear where responsibilities lie. Identifying process leaders help in ensuring accountability and creates ownership.
Transparency is one of those subtle things that can make a dramatic impact on a business. Yes, it will impact your bottom line. But that's not the whole point. The point is that it helps everyone do business better–you, your clients, and your team member. A culture of transparency is the way business ought to be done. -Neil Patel
Eliminates waste – Good visualization of processes achieved through the use of a business process mapping tool aids in understanding areas where there may be gaps and resource wastage. This provides an opportunity to correct these problems, ensuring that resources are better allocated and making contributions where the best impact can be achieved.

Promotes transparency and compliance – With a clearer understanding and documentation of processes comes more motivation to ensure work is done in accordance with company policies. This visibility also promotes proper controls and compliance with government and industry standards.
Creating a standard #onboarding process is just one way to create actively engaged employees. Read on for more criteria to keep in mind as you move forward. #EmployeeEngagement https://t.co/7ZjVjYpktB

— Michael Brenner (@BrennerMichael) October 18, 2019
Achieve better quality management – When you understand processes that go into the development of products and services, you can establish guidelines that will ensure the output is consistent with the desired standards.

Encourage employee onboarding and training – When you document processes down to their minute details, it makes mastering the tasks easier. It can shorten the training period for new employees and make them better able to achieve consistent performance that enables automation.

Enhance communication – Identifying the process leaders and users means less scrambling around when there is a need to collaborate between teams. Having a clear view of who is who and their responsibility allows for quick action and decision-making.
Start Mapping Your Business Processes for Free with BPMApp Now! - No Credit Card Required Sign Up 14 Day Trial
Conclusion
BPM software's features and capabilities are evolving in combination with the world's digital transformation. Apart from process modelling and automation, most BPM software has evolved into comprehensive platforms that are user-friendly, accessible as a SaaS service, and integrate seamlessly with other applications.
Discover Why BPMApp Stands Out
#1
Unlimited Process Automation
#2
No-code Process Modelling
#3
Notifications and Triggers
#4
Auto Execute Capability
#5
Integrate with over 8 Apps Including Gmail
#6
Effective Form Designer
#7
Pre-built Automated Flows
#8
Intuitive, Drag-and-Drop Process Designer
#9
Unbelievable pricing - the lowest you will ever find
#10
Everything your business needs - 50 apps, 24/5 support and 99.95% uptime
Join the SaaS Revolution
All-in-One Suite of 50 apps

Unbelievable pricing - ₹999/user

24/5 Chat, Phone and Email Support