Check Out the Top Workflow Automation Tools for 2022
Workflow automation refers to launching a set of tasks that operate without humans. workflow automation tools can send emails, set up reminders, etc., in a single button.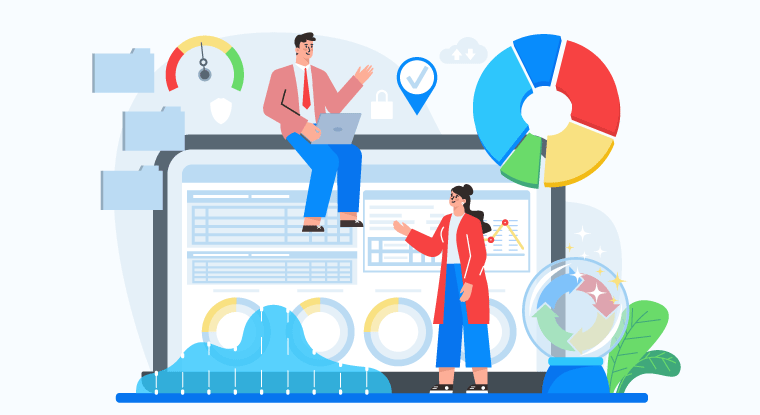 Workflow automation refers to making work-related tasks, documents, and information flow independently according to defined business rules. Implementing this type of automation on a regular basis should improve productivity when it is implemented.
Identifying the tasks that make up a job is the first step in automating a workflow. In the next step, rules and logic are created to guide the execution of those tasks. At the end, the software is programmed with the predefined business rules and logic.
List of Best Workflow Automation Tools to Look for in 2022
1. BPMApp
The BPMApp, developed by 500apps, aids in managing and optimizing the workflow process. It is the software you require if you want to streamline business processes and keep track of all tasks that go into them, thus ensuring smooth function.
Business process management allows you to construct and manage bespoke processes using nodes, create forms to collect data, maintain contacts, and regulate form replies. BPMApp has over 30,000 active users, and the software is available globally thanks to its strategically situated 6 data centers. Pricing: BPMApp does not have a free plan. However, it provides a free trial period. BPMApp provides a per-user plan at the rate of $14.99 per month.
2. Nintex
Nintex uses sophisticated and simple workflow automation tools to simplify the operations at the heart of your organization. You can use the Nintex visual design experience to create simplified business processes based on real-world circumstances. You can send automatic messages wherever your team works, collaborate and use built-in business logic and state machines to create a more advanced and productive automation solution.
3. ProcessMaker
ProcessMaker is a sophisticated low-code automation software and business process automation platform for enterprises that demand scalability. You may rapidly create personalized charts and reports using its filtered search tool. In addition, you can also assign specific end-users to your charts and reports.
ProcessMaker includes a scripting engine that supports JavaScript, Java, C#, and other languages. It supports Business Process Modeling Notation (BPMN) syntax checking and process error validation to verify syntax. Consequently, you may increase overall visibility and orchestration of end-to-end automated operations.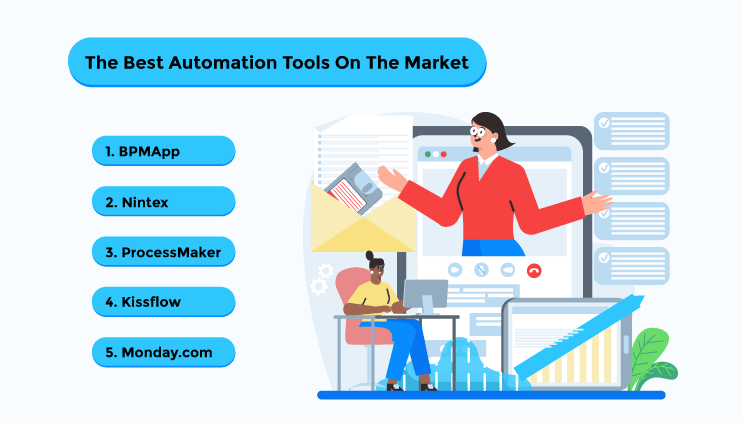 4. Kissflow
Kissflow is software that is meant to cause as little disturbance to work as possible. Kissflow provides the ease, efficiency, and administration of all your work, including workflow management, case management, project management, and collaboration. Therefore, kissflow allows you to create your ideal workplace.
5. Monday.com
Monday.com management software allows you to design your own processes. It includes templates that you can use for specific use cases. Furthermore, it has content planning, content calendar, blog planning, and other features.
On the application, you can invite clients as guests to monitor the development and provide comments. You can also share materials and obtain comments by using creative requests. Monday.com provides customizable creative request forms to assist you in easily sharing files and obtaining statements. Lastly, you can utilize its Event Management capabilities to handle both small and large events.
Top Factors to Consider Before Buying Workflow Automation Tool
All good workflow animation tools have some key features that make it attractive to consumers. Here are three such factors:
1. An Easy-to-use, Code-free Workflow Designer
A good workflow management system allows you to think in basic linear loops while handling all the complicated things in the background. Thus, you must be able to create a straight line with critical phases in the process, each needing input, permission, or refusal.
2. Cloud Computing Technologies
A cloud-based tool can help you to access data from everywhere. Therefore, if you want to make your workflow management solution helpful for your team, it must be hosted in the cloud.
3. Integration with Other Cloud-based Applications
Workflows never function in isolation from other processes. Documents, sales reports, cash flows, calendars, and contact information should all flow seamlessly from your workflow tool to your calendar, email, financial software, and other applications.
If your workflow management system isn't able to link with other applications, it's already out of date.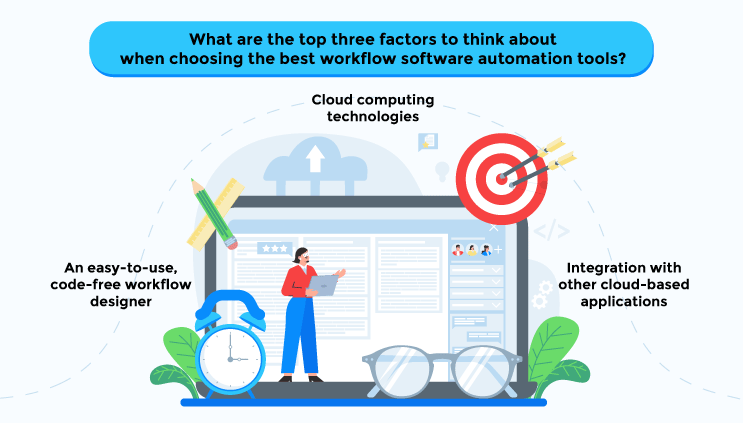 What do Workflow Automation Tools Involve?
Workflow management systems require a form that contains the data and the automation of a sequential route of activities for the data to follow until it is completely processed.
Let's look how this works.
For example, setting up a workflow automation tool for a drip campaign.
Step 1: You fill out a form, after which the application generates a new contract with the status "New."
Step 2: The application receives the first email in the drip campaign, which requests a meeting.
Step 3: The application then navigates the meeting scheduler and makes an appointment. It also sends thank you emails if required.
Step 4: The workflow automation tool generates a new assignment and assigns it to a sales representative. The sales agent then contacts the customer directly, thereby halting the automated cycle.
Benefits of Workflow Automation Tools for Businesses
1. Reduced Errors
It is impossible to operate with no mistakes. However, being proactive in finding and correcting problems is something you can work on. Your workflow automation solution can pinpoint their precise position. Therefore, you can iron out the kinks and avoid making the same mistakes in the future.
2. Efficient Integration
A workflow software collects data from various software tools and executes processes amongst them. However, most tasks need the usage of more than one application by employees. Workflow tools serve as facilitators, passing the baton.
3. Enhance Workflows
As you use a workflow management system more frequently, data on how work is completed gradually accumulates. The data may be used to enhance workflows, prevent mistakes, and strengthen the bonds between people and software.
Summing it Up
Workflow automation helps you save time, minimize the chance of errors, and boost the productivity of your staff. We recommend you to use the information in this article as a starting point to determine which of your team's procedures can be automated, allowing you to work more effectively and on higher-level tasks.
Business Process Automation is the best among the many workflow automation tools that may be used for any process that requires rule-based workflows. It includes an easy-to-use interface that allows anybody to develop and automate workflows. Furthermore, you may tailor your procedure to your specific requirements and conduct smooth workflows. Visit 500apps, take a test drive and see for yourself!
Discover Why BPMApp Stands Out
#1
Unlimited Process Automation
#2
No-code Process Modelling
#3
Notifications and Triggers
#4
Auto Execute Capability
#5
Integrate with over 8 Apps Including Gmail
#6
Effective Form Designer
#7
Pre-built Automated Flows
#8
Intuitive, Drag-and-Drop Process Designer
#9
Unbelievable pricing - the lowest you will ever find
#10
Everything your business needs - 50 apps, 24/5 support and 99.95% uptime
Join the SaaS Revolution
All-in-One Suite of 50 apps

Unbelievable pricing - ₹999/user

24/5 Chat, Phone and Email Support