Ultimate Guide to Handle Business Processes With BPM Software
This article explains the difference between BPM software and workflow software and few ways how a good BPM software solution can enhance your business.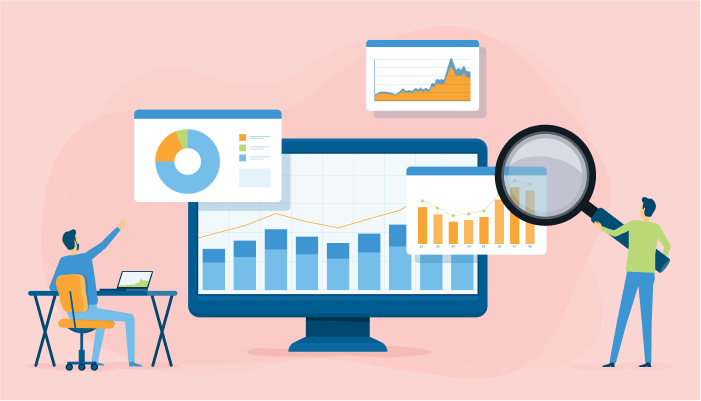 Business Process Management is more than corporate jargon used to justify training days, restructuring, and promises of internal reforms that never materialize. In fact, only 4% of the companies track and manage their processes. Due to this lack of awareness or trust in it, the first stage in implementing it as a strategy is frequently gaining internal employee buy-in by demonstrating how BPM works for organizations of all shapes and sizes. This is something this blog talks about.
What is BPM Software?
BPM Software (BPMS) is a tool for process automation. It enables you to map out your daily operations in order to detect and eliminate bottlenecks, regulate your company's expenses, make your day-to-day procedures as efficient as possible, and assure the efficacy of the employees involved.
A BPM-based foundation enables the entire lifecycle management of business processes, technology integration, and embedded efficiency among people, processes, and technologies.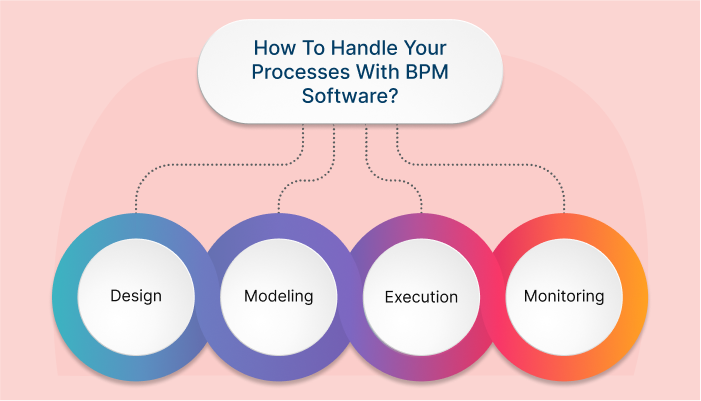 How to Handle Your Business Processes With BPM Software?
The Business Process Management Life Cycle is comprised of the following major categories: design, modeling, execution, monitoring, and optimization.
1. Design
Performing with current processes or creating new ones from scratch is a part of the process of designing a business process. How business workflows are working and where changes can be made are also a part of this step. This is the beginning of the BPM life cycle, and it focuses on how workflow operations are monitored and escalated. Using BPM software, businesses can build visual flowcharts, either manually or with software, to guide the entire BPM journey.
2. Modeling
After the design stage, the business process modeling step is when BPM processes are put to the test using BPM software via simulated scenarios that can include changes in financial circumstances or any other variable that might affect a business and demonstrate how BPM works. If the new procedures are solid and nimble enough, they will be able to handle these scenarios; if not, they may be adjusted to be more purpose-fit.
3. Execution
This is the step at which BPM is put into action by software that automates processes, often utilizing one of two computer languages. These were established to give a common ground for process development and automation between business and IT, enabling the simple invention of new processes that can be automated and all of the advantages that this provides. A BPM software can help at this stage as businesses can use it to create a common platform for communication between the business and IT teams as well as use software to automate business processes.
4. Monitoring
Monitoring is an important component of how BPM works, and it is not so much a step as it is a continual requirement. Each individual process should ideally be evaluated to see how effectively it is working and to discover any patterns that might be of special concern or provide a development potential. Depending on the process and the business objectives, it can be done in real-time, which can be done via BPM software.
What's the Difference Between BPM Software and Workflow Software?
Workflow management solutions automate corporate operations so that work may be efficiently channeled to the staff members who are most suited to handle it. On the other hand, BPM software focuses on automating repeated company operations and services.
Workflow management is related to business process management in that it addresses the more direct process of job automation. Business process management is substantially more difficult since it requires continuous improvement throughout the whole firm.
If you want to automate or organize a single process in your department, workflow software is the way to go. For example, if you're primarily concerned with how a new consumer is introduced to your product, a good workflow platform may assist you in determining the ideal approach. However, if you're in charge of a department with several interrelated processes, you should check into BPM software. This allows you to handle various processes, forms, notifications, reports, and other features.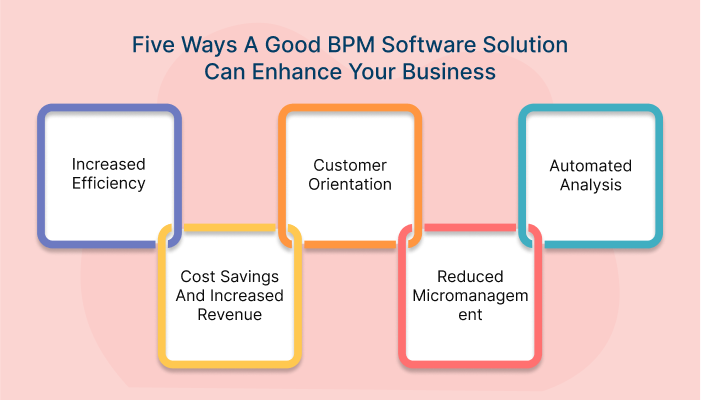 5 Ways a Good BPM Software Solution Can Enhance Your Business
1. Increased Efficiency
The integration of BPM software has the ability to increase process efficiency from beginning to end. Process owners may closely monitor delays and deploy more resources if necessary with the correct information. Automation can eliminate repetitive processes, thus contributing to increased efficiency in the business process.
2. Customer Orientation
Business process management enables firms to mix people and technology in order to gain and maintain pleased consumers. The software enables enterprises to incorporate any desired user with simple-to-implement security responsibilities. This allows continuous, real-time cooperation with clients that demonstrates responsiveness, personalization, customization, and information availability.
3. Automated Analysis
An essential technique to maximize a BPM software product is to automate process analysis. Organizations frequently waste time and effort describing their workflows just to discover that it is inefficient and sub-par. This might result in large volumes of information going unmanaged and unmeasured, lowering overall corporate productivity.
A BPM system has the benefit of first assessing your present business processes before establishing what the best workflows should be. It then automates your existing workflows to minimize the phases that are limiting productivity after determining, mapping, and centralizing digital processes. By automating your workflow analysis, you may ensure regulatory compliance and effectively examine each part of a work process.
4. Cost Savings And Increased Revenue
BPM technology eliminates bottlenecks, resulting in considerable cost savings over time. This can result in shorter lead times for product sales, offering consumers faster access to services and products, which in turn leads to increased sales and income. BPM systems may also allocate and track resources to decrease waste, lower costs, and increase revenues.
5. Reduced Micromanagement
Micromanagement might get the work done right away. However, in the long term, it is always detrimental to a corporation. One of the main reasons CEOs micromanage their staff is to keep to their techniques in order to reduce mistakes.
Micromanagement is no longer required, thanks to BPM software. All standard operating procedures are well recorded by the platform, and staff are trained on their responsibilities. Therefore, when it's time to carry out a certain step, employees do it with clarity, without any hand-holding or directions.
Summing It Up
Business process management software enables managers to get valuable insights into their business processes. This improved understanding can result in cost savings, revenue increases, and improved work efficiency. With all of these advantages, it's no surprise that more and more businesses are turning to BPM software to help their companies flourish.
BPMApp by 500apps is a robust software that can help you manage your business processes with ease. BPMApp can be used to automate processes, construct flows, trigger actions, and create new workflows using a drag-and-drop interface. You can also analyze your business processes, assign tasks, and design workflows to achieve your company objectives.
To learn more about the features offered by BPMApp, visit the 500apps website today!
Discover Why BPMApp Stands Out
#1
Unlimited Process Automation
#2
No-code Process Modelling
#3
Notifications and Triggers
#4
Auto Execute Capability
#5
Integrate with over 8 Apps Including Gmail
#6
Effective Form Designer
#7
Pre-built Automated Flows
#8
Intuitive, Drag-and-Drop Process Designer
#9
Unbelievable pricing - the lowest you will ever find
#10
Everything your business needs - 50 apps, 24/5 support and 99.95% uptime
Join the SaaS Revolution
All-in-One Suite of 50 apps

Unbelievable pricing - ₹999/user

24/5 Chat, Phone and Email Support