Assessing Processes Using BPMN: The Complete Guide
This article contains an overview of BPMN and the goals of Process Mapping along with its benefits and relevant examples.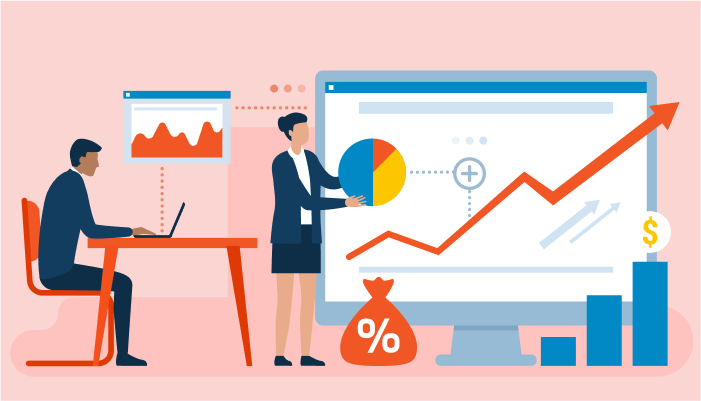 Business Process Modelling Notation (BPMN) is an open standard method that helps model a planned business process's steps from end to end. BPMN acts as a visual modeling language for business analysis and specifies process workflows. Software developers, data architects, business analysts, business users, and stakeholders can understand BPMN's intuitive graphics.
BPMN is the key to process business management, and it depicts a detailed sequence of information flows and business activities to complete a process. The method's purpose is to model multiple ways to improve efficiency, gain competitive advantage, and account for new circumstances. BPMN acts like a flowchart and uses multiple standardized graphics to represent participants, choices, and process flows.
Process mapping helps outline individual steps and identify task owners and expected timelines. The system aims to communicate processes among business stakeholders and reveal the areas for improvement. Process mapping starts at a macro level and provides necessary details to enhance workflows within organizations.
Process maps are visual diagrams and significant components of an organization's business process management. So, the process mapping system works in sync with BPMN to enhance workflows and businesses.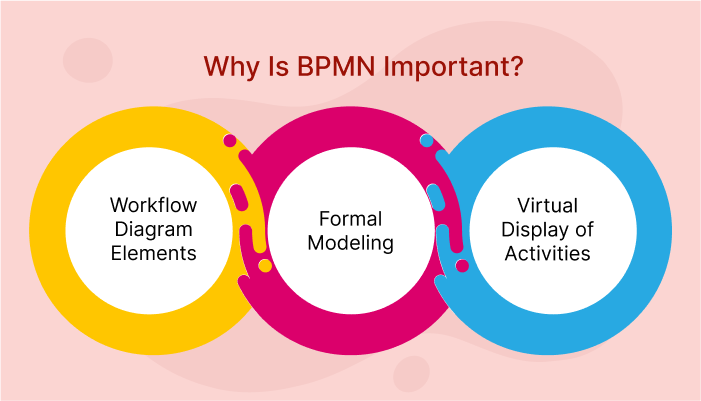 Why Is BPMN Important?
BPMN is a standardized notation to create visual models of organizational processes or businesses. BPMN includes multiple elements like connecting objects, flow objects, artifacts, etc., that get used by workforces. Here is why BPMN holds importance in the business process management of organizations.
1. Workflow Diagram Elements
Team members may find themselves stuck using multiple workflow diagram elements to represent particular concepts. So, BPMN can help them selectively draw unique elements and model the workflow processes efficiently.
2. Formal Modeling
Every organization requires formal modeling that gets implemented in business process management. BPMN helps fulfill this larger organizational objective and helps complete business activities efficiently. The software uses multiple features to enhance workflows and improve business processes within a short period.
3. Virtual Display of Activities
BPMN helps display a detailed sequence of multiple business activities and the information required to complete workflow software processes. The process helps organizations understand internal procedures and communicate them in a standard manner so that all parties involved can understand the gist of the system.
7 Benefits of Process Mapping With BPMN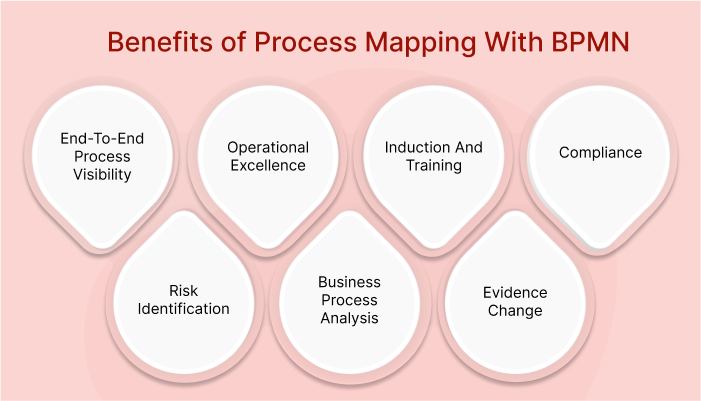 BPMN helps deliver a substantial return on investment in money, time, and effort. The method can become one of the most valuable improvement tools in process mapping and helps enhance business processes and workflows.
Here are the benefits of process mapping with BPMN.
1. End-To-End Process Visibility
Process mapping portrays the end-to-end processes of organizations using BPMN that gives employees visibility on the tasks they conduct, the areas of improvement, and how they impact the other business areas and the customers. The process helps employees understand where they fit within the organizational process and contribute to the business.
2. Operational Excellence
Process mapping and BPMN help team members find answers themselves without depending on their seniors or other colleagues for assistance. Process maps depict what the organizational workforce must be doing and link detailed information like procedures, work instructions, forms, videos, etc., that they share via BPMN.
3.Induction And Training
Organizations that conduct process mapping with BPMN can use the methods as sources for training and induction. The process provides the best way to communicate practices through new starters and approved flowcharts. Sharing maps via BPMN also enables new employees to search for processes depending on their job role.
4. Compliance
BPMN can get used to showing compliance with regulatory standards and serves as a resource for internal and external organizational audits. You can also get specific about the rules and use the data and information stored against process maps to display where an organization is compliant with specific clauses or evidence controls in place.
5. Risk Identification
BPMN works with process mapping to show how risk gets identified within a business and what controls need to be incorporated to mitigate the risk. The process also helps share visibility and educate employees about risk areas and controls so that they get proactive about mitigating the problems.
6. Business Process Analysis
A process map acts as more than a diagram of process steps and helps capture meta-data against each step for an enhanced business process analysis. BPMN works with process mapping to ensure that the organizational workforce gets access to all information related to the business processes and works towards enhancing them.
7. Evidence Change
You can use process mapping as a baseline to improve ways of doing things in the workflow. Moreover, the team members can use BPMN for pieces of evidence like cost, efforts, waiting time, etc., and calculate if changes can be proposed to add value to the business and reduce risks.
Why Do You Need BPMN Software?
BPMN software is the best-standardized system for business process modeling and management. The software is of great help in the alignment and definition stages of multiple business products. An organization needs BPMN software because it provides the workforce with a unified set of notations and elements to enhance business processes and work towards mitigating risks related to the organization. BPMN software ensures efficient business process management within organizations and helps deliver products and services in the market.
What Are the Best Examples of BPMN Software for Your Company?
You will find multiple BPMN software in the marketplace, which makes it obvious for you to get confused regarding the one that best suits your business. We have curated a few examples of BPMN software that can work well for your company's success.
1. BPMApp
BPMApp is an efficient business process management software that helps design reliable workflows for organizations. Here are the features of BPMApp.
It has a visual flow builder that helps optimize business processes.
It helps you create unlimited form sequences for approvals.
It enables integration with multiple apps and services.
Pricing: $14 .99/month
Start Automating Your Business Processes Now in One Spot Sign Up 14 Day Trial
2. KissFlow
KissFlow is a reliable no-code BPMN software that helps establish a digital workplace. The software helps streamline and automate multiple work processes, cases, projects, and collaborations. Here are the features of KissFlow.
It provides a unified platform for business and IT apps.
It helps automate workflows through drag-and-drop interfaces.
It provides task management tools and services for business processes.
It allows you to use the same platform for production, development, and testing.
Pricing:
Small Business: $10/month
Corporate: $20/month
3. Pipefy
Pipefy is a BPMN software that helps design and automates business workflows within a short period. Here are the features of Pipefy.
It helps increase efficiency and integrate operations on a secure platform.
It provides low-code workflow and business process automation (BPA) for enhanced business processes.
It helps build a sales channel and engage leads for improved customer experience.
Pricing:
Business: $18/month
Enterprise: $30/month
Summing It Up
BPMN is the best visual flowchart for business analysis applications and enterprise workflows. The process helps team members of an organization to understand and analyze business systems and mitigate risks to enhance workflows. If you are looking for efficient BPMN software, BPMApp is your answer. It helps you design reliable workflows within organizations and helps them incur profit and revenues in a short period. The good thing about the application is that it is affordable and integrates with apps and services.
Discover Why BPMApp Stands Out
#1
Unlimited Process Automation
#2
No-code Process Modelling
#3
Notifications and Triggers
#4
Auto Execute Capability
#5
Integrate with over 8 Apps Including Gmail
#6
Effective Form Designer
#7
Pre-built Automated Flows
#8
Intuitive, Drag-and-Drop Process Designer
#9
Unbelievable pricing - the lowest you will ever find
#10
Everything your business needs - 50 apps, 24/5 support and 99.95% uptime
Join the SaaS Revolution
All-in-One Suite of 50 apps

Unbelievable pricing - ₹999/user

24/5 Chat, Phone and Email Support