Top 5 Business Process Management Solutions to Buy for Your Business
Choosing the best business process management software is at the heart of business success. Here are top 5 business process solutions to look for.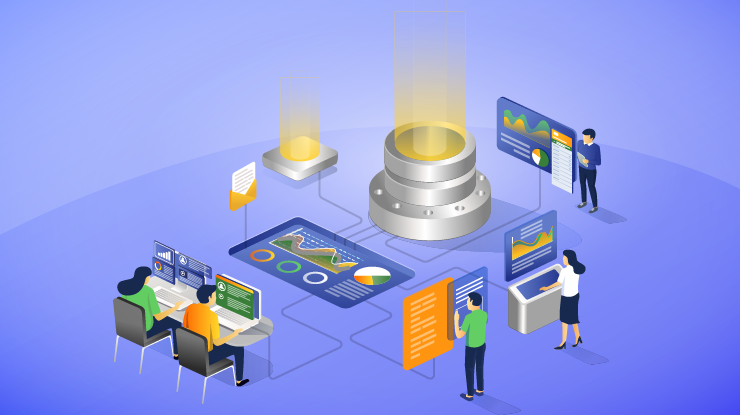 Business Process Management is defined by Gartner as a discipline that involves methods to discover, model, analyze, measure, improve, and optimize business processes. In order to do effective BPM, you need the right strategy, the right team, and the right tools. We've gathered the list of the top BPM solutions to consider if you are interested in improving processes through BPM. But, first, we'll take a closer look at what BPM is and the features of BPM solutions available on the market.
A Closer Look at Business Process Management:
Businesses need processes to operate everything they do. Different departments have to perform their own processes for the organization. Each need to take data and transform it to perform whatever processes they need to and either complete them or move them to another department.
BPM enables organizations to discover those core processes(and not-so-core ones) and model, analyze, measure, and improve them in order to automate and optimize them. There are several factors that go into successfully implementing BPM, including:
Know your goals before beginning BPM
Obtain buy-in from all stakeholders and users
Consider BPM to be a whole new mindset, not just a project
Find the right software to ensure successful BPM implementation
The processes that can be designed and improved by BPM are nearly endless. However, to give you an idea of some of the processes numerous organizations find BPM to be beneficial for, here are some examples: - Account management - Expense reports - Employee onboarding - Customer service requests - Invoice management - Compliance processes - Project management - And so many more
Of course, in order to find the right workflow software solution, you'll want to do you research into the best possible tools on the market. Fortunately, we've started this research for you by putting together this list of the best BPM solutions to choose from.
Top 5 Business Process Management Solutions:
BPMApp:
BPMApp is the 500apps solution to Business Process Management. It offers all the tools organizations need to optimize processes and keep a pulse on all tasks going into the business processes that go into operating the business.
BPMApp offers the following features:
BPM Dashboard: - With real-time data and job status overviews, all information is available on the dashboard at a glance.

Create Unlimited Projects: - Create Unlimited Projects with automated workflows as you want for your company or organisation.

Flow Automation: - Create customized workflows with drag-and-drop nodes.

Customized Forms - Create forms with custom fields to suit any need and preview in real-time as they are created.

Advanced Reports: - Advanced Reports help in keeping track of all of your time and expense of your overall productivity.
Start Automating Your Business Processes Now in One Spot Sign Up 14 Day Trial
Comindware Tracker:
Comindware is software that focuses on both workflow and business process management. The Comindware Tracker is workflow software that does not require coding for business process management and workflow automation to boost productivity. Features include:
Quick and easy workflow set-up
Change workflows, forms, and data with ease
Outlook-style interface
Document and data management
Analytics and reporting
Cloud or on-premise options
Bizagi Digital Business Platform
Bizagi:
Bizagi is a rapid process automation platform that helps you model, build, and run processes on its intelligent process automation platform. The steps are as follows:
Step 1: Model Using the Bizagi Modeler feature, users are able to model the processes by simulating, collaborating, and publishing the workflow diagrams.
Step 2: Build Bizagi Studio allows you to build processes for digital process automation with a drag-and-drop interface for personalized experiences.
Step 3: Run Finally, the Automation feature allows you to execute your process applications for any device across the enterprise.
Zoho Creator:
Zoho creator helps organizations build applications on any device with features such as custom form creation, configurable workflows, page builders, and rapid app deployment. Features include:
Visual Application Builder Drag-and-drop elements will help build applications as if you have powerful coding capabilities.
Automation Automate routine processes and perform multiple tasks with one click.
Multi-device Launch Capabilities Applications built for the web will automatically be available on mobile devices as well.
Bonita BPM:
Bonita is a business process and workflow management platform with both free and subscription versions to encourage both professional and citizen developers to deliver automation projects quickly.
BPM features include:
Rich feature set and tooling for fast delivery and continuous improvement
Out-of-the-box building block services
Graphical tools, tools, and frameworks combined with custom coding
Open, extensible, customizable APIs, and extension points
Conclusion:
Business process management software can be the key to your organization's ability to align all of your business operations with the needs of your customers so that you can be more efficient and productive while saving on costs.
Finding the right BPM solution is one of the most important factors of your BPM. Starting your research here will help.
If you would like to consider BPMApp for your business process management needs, give it a try for free for 30 days.
Discover Why BPMApp Stands Out
#1
Unlimited Process Automation
#2
No-code Process Modelling
#3
Notifications and Triggers
#4
Auto Execute Capability
#5
Integrate with over 8 Apps Including Gmail
#6
Effective Form Designer
#7
Pre-built Automated Flows
#8
Intuitive, Drag-and-Drop Process Designer
#9
Unbelievable pricing - the lowest you will ever find
#10
Everything your business needs - 50 apps, 24/5 support and 99.95% uptime
Join the SaaS Revolution
All-in-One Suite of 50 apps

Unbelievable pricing - ₹999/user

24/5 Chat, Phone and Email Support