7 Key Benefits of Using Business Process Automation Software
Business process automation software streamlines processes to achieve a specified business goal by using business rules and automated activities. It is the use of software to automate repeated, multistep business processes.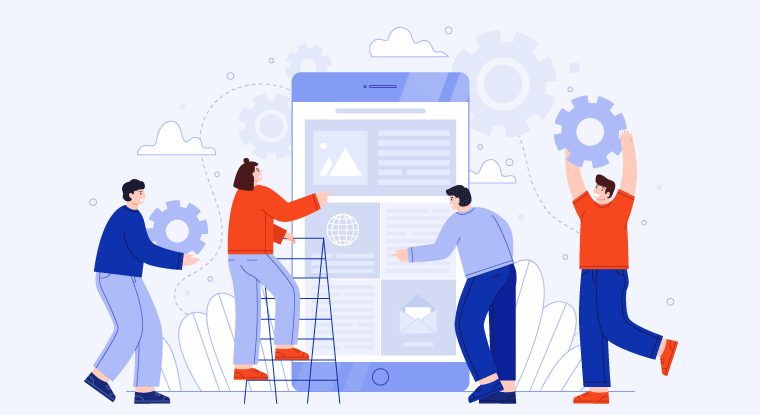 BPA assists you in focusing on process excellence simply and efficiently. More than 50% of the tasks could be done without human intervention. This should give you a sense of how much more work your team could do if half of their present workload were automated, thus improving the scalability and productivity of your company.
BPA solutions tend to be a little complicated, linked to various business information technology systems, and suited to a company's individual needs. BPA is frequently used as part of a digital transformation plan to help businesses simplify their operations and function more efficiently.
BPMApp is a Business Process Automation Software that is used to assist with a variety of tasks. For starters, it is used to increase organizational efficiency by assessing how it operates and assisting in the streamlining of some of these activities. It can also be used to boost customer satisfaction. Customers who receive prompt replies from your team as a result of automated technologies are more likely to return or refer you to others who may want your product or service. You can create workflows to help the employees through important activities with solutions like this, increasing productivity and reducing errors.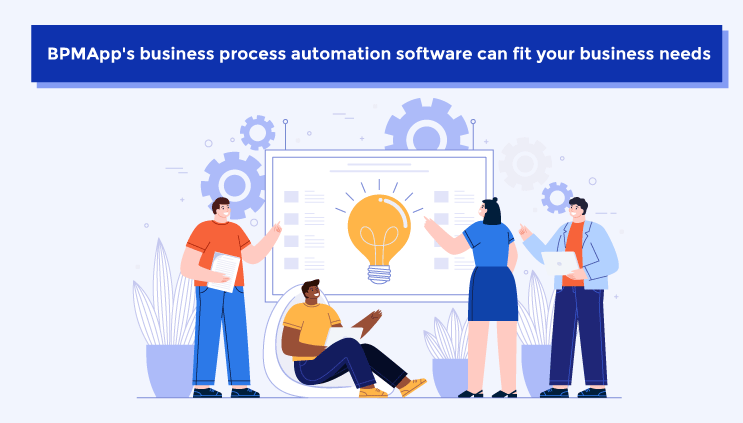 Top Benefits of Business Process Automation Software for Your Business
Business process automation comes with several advantages. Most of these advantages can be evaluated in terms of cost savings, time saved, and performance, but many others go deeper and impact every aspect of a company from the ground up. Let's dive deeper into some of the most significant benefits of incorporating automation into your company's everyday operations.
1. Streamline Your Activities
The key advantage of automation in business is that it saves a lot of time. According to a survey, office workers spend 2.12 hours a day on administrative chores, including looking for information, approving paperwork, and processing documents. These processes can be completed significantly more quickly and without errors with business process automation tools. In the end, process automation allows people to make better use of their time at work.
2. Cost Optimization
There is generally always a major waste of resources when business operations are carried out manually. The cost of operations is reduced by business process automation, resulting in higher profit margins. Resources are used to their full potential, and wastage is avoided. Automation also assists in the effective management of vendor contracts and the favorable renegotiation of conditions.
The fact that organizations that automated their operations reduced overall expenses by 10% and improved overall profits by 8% demonstrates the lowering of operational costs by business process automation.
3. Enhanced Productivity
One of the most obvious benefits of process automation is the increase in productivity that results from delegating monotonous activities to robots that can work longer and faster than humans.
The business can guarantee that its greatest talent is put to the best use by using software tools to finish detailed and labor-intensive work. This contributes to the organization's overall operational performance, resulting in more deliverables and improved profit margins.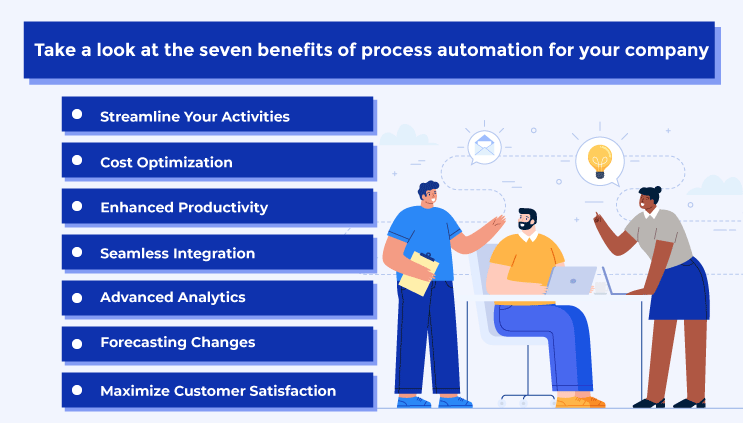 4. Seamless Integration
Process automation software is easy to integrate with any other software your company uses. It is designed to scale easily so you can focus on developing your business without being distracted. These kinds of software usually offer flawless integrations with third-party apps that your company needs to improve workflow management. It just takes a few minutes to set up these integrations, and generally, an experienced team will be there to assist you every step of the way.
5. Advanced Analytics
Developing and implementing a good strategy is essential for long-term organizational success. Maintaining your competitive edge includes continuous monitoring, evaluation, and modification of your approach, all of which are dependent on quick and reliable business data.
Start Automating Your Business Processes Now in One Spot Sign Up 14 Day Trial
Automated processes are guided by well-defined workflows that ensure everything runs smoothly and on schedule. Important metrics can be captured and reported on to give you the key information you need, depending on the process you've chosen to automate (finance, billing, collections, sales, and/or support). BPA software gathers data on everything it does and organizes it into reports with relevant analytics that you can study and utilize to find problems in your operations. This aids in the detection of common process flaws such as bottlenecks, inefficiencies, and slow areas.
6. Forecasting Changes
Before automation, companies had to rely on guessing to forecast future activities since there was insufficient manpower and resources to create reliable estimates. Business automation now gives you the tools you need to keep track of all your processes at all times. Automation enables software systems to create future projections and forecasts based on previous data. This saves money since more precise projections and data are used to make financial decisions.
7. Maximize Customer Satisfaction
When evaluating multiple providers, customers are always looking for convenience and quick access to a service. Thanks to automation, customers can benefit from faster, more accurate, and higher-quality services. Plus, rather than waste hours chasing paperwork, it's far easier to help customers when you can quickly obtain their information. Meeting the promised level of operational excellence leads to happiness and satisfaction, which leads to increased trust, loyalty, and competitive advantage.
Summing it Up
BPMApp is a great option if you're seeking the right process automation solution for your company. BPMApp is a no-code platform that can help you automate business operations quickly and efficiently. Its drag-and-drop form builders and visual workflows make it simple to create processes of various levels of complexity. Powerful reporting and analytics options give useful information that can help you enhance your processes. In addition, role-based conditional access can help you protect your data.
BPMApp is simple to integrate with any other software your company employs. It's designed to scale easily so you can focus on developing your business without being distracted. Sign up for BPMApp now for a seamless business project management experience.
Discover Why BPMApp Stands Out
#1
Unlimited Process Automation
#2
No-code Process Modelling
#3
Notifications and Triggers
#4
Auto Execute Capability
#5
Integrate with over 8 Apps Including Gmail
#6
Effective Form Designer
#7
Pre-built Automated Flows
#8
Intuitive, Drag-and-Drop Process Designer
#9
Unbelievable pricing - the lowest you will ever find
#10
Everything your business needs - 50 apps, 24/5 support and 99.95% uptime
Join the SaaS Revolution
All-in-One Suite of 50 apps

Unbelievable pricing - ₹999/user

24/5 Chat, Phone and Email Support