10 Best Business Process Management Software in 2022
List of the best business process management software based on 2022 market research to help businesses to streamline redundant processes.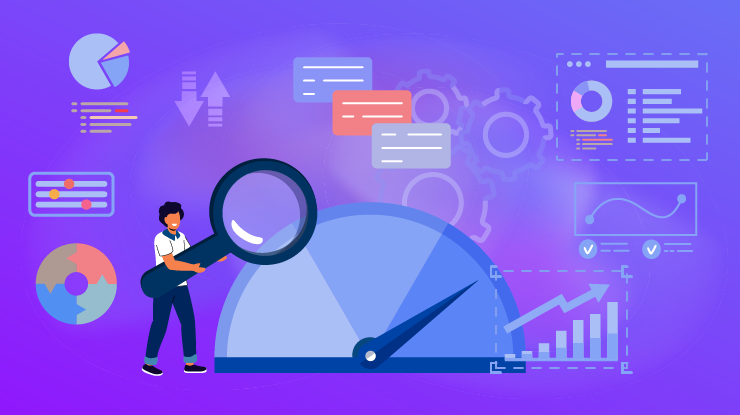 Business process management (BPM) refers to the process of executing operations by taking advantage of effective management. The goal here is to ensure that business objectives are met, errors reduced, and inefficiencies dealt with. To achieve this, using the best BPM software is important.
There are many business process management software online, and finding the best tool can be challenging. To simplify your process, we evaluated ten tools that can help you streamline your BPM needs.
Let's define further what business process management means. Well, this is a tool that maps out your business workflow to provide you with a way of optimizing your business's daily activities to identify and deal with challenges. Doing so helps to improve efficiency in your organization. Depending on your company's needs, you can use an on-premise BPM or a cloud-based system.
List of Best Business Process Management Software
Now that you know what process management software is, here's a rundown of the top ten ideal platforms you should consider using in 2022.
1. BPMApp
A reliable BPM tool is usually gauged by its functionality and features. BPM is a powerful business process management software that stands out because of its unique features. With this tool, you can supercharge your company's workflows. Its features guarantee that you manage your business processes in the most effective way possible.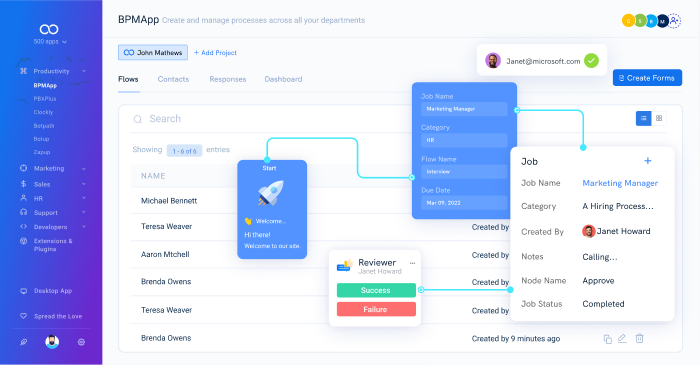 BPM allows you to manage and delegate activities with just a few clicks. The drag and drop feature of the tool makes it easy to manage workflows effortlessly. What's more, the best part is that you need no coding experience to use BPM software. The software comes at an attractive offer of just $14.99.
2. Bitrix24
Bitrix24 is also another recommended tool that you can use to achieve your BPM goals. This software provides you with an ideal platform to track and organize your interactions with your prospects, partners, and customers. Bitrix24 gives you the freedom to log into your dashboard, manage your customer interactions, generate sales reports, capture and store data leads, and segment your audience.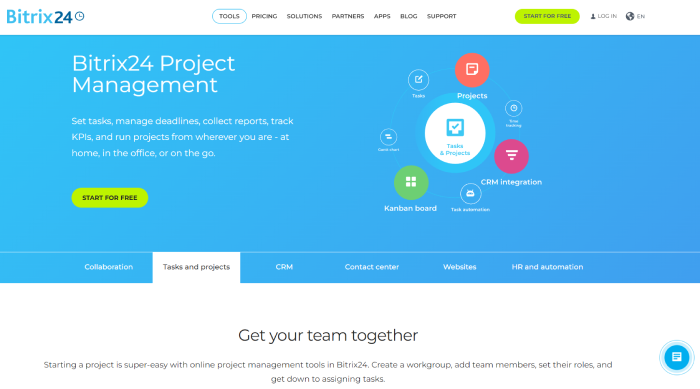 Leads generated from a given website can be redirected to the CRM solution your business is using. Bitrix24 also allows you to use message templates to curate engaging messages with your leads.
3. Intellect
Intellect also has a no-code platform dubbed Enterprise Quality Management Software (eQMS). This tool is designed to comply with ISO and FDA legal requirements. eQMS is a well-integrated tool to meet your organization's quality demands effectively.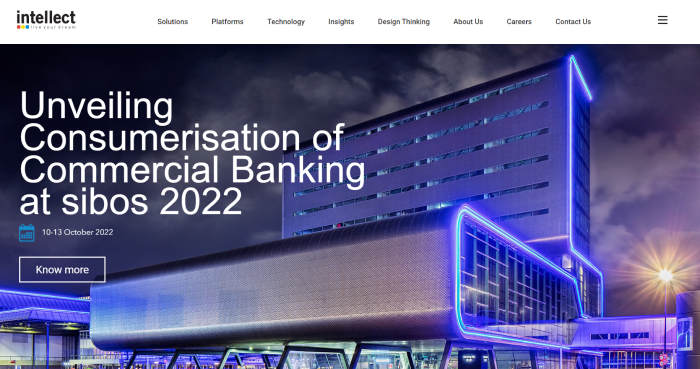 The advantages of using this software include its ease of use and exceptional customer service. However, if you are not well-versed with process management, eQMS might be challenging to use.
4. Metatask
Metatask software is another great tool if you are looking to boost your business workflow. One unique aspect of this tool is that it organizes your company's tasks using to-do lists instead of the usual complex flowcharts and diagrams. This makes it easy to use even without any coding experience. Managers, admins, and entrepreneurs can use Metatask to keep track of daily activities within the organization.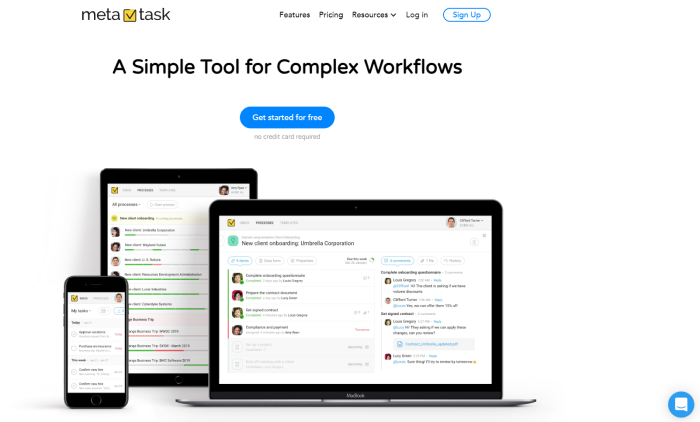 The simplified way of managing tasks using Metatask prevents confusion, limitless email threads and minimizes paperwork in your workflow. The tool also makes it easy to share project details among your employees. Moreover, email attachments can quickly be extracted with a few clicks. However, one downside of this tool is that you may find it annoying since you have to handle too many email notifications.
5. Kissflow Workflow
Kissflow ranks among the top five business process management software that performs well in automating and tracking performance. Small and large businesses can take advantage of this tool. With this software, you can initiate process requests, approve pending tasks, and preview items that might require user actions.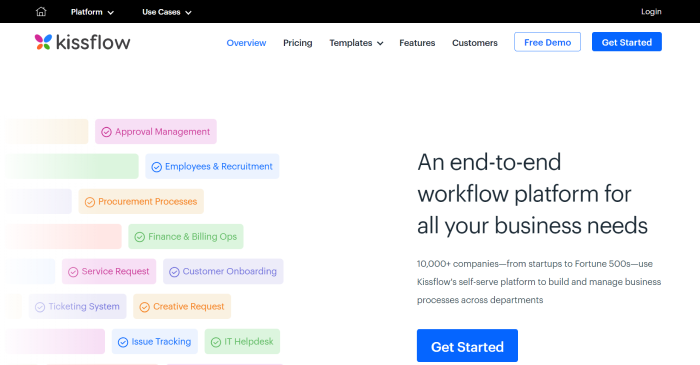 You may find this tool helpful since it also supports HR process management, such as onboarding. Besides, you can use this tool to carry out purchase order management and process payments.
6. Jira
Jira software might be handy, especially to agile teams, as it helps plan, track, and release specific software. This tool supports Kanban and Scrum as well as other unique workflows. When using Jira, you can design project roadmaps to help you track your project's progress at different stages.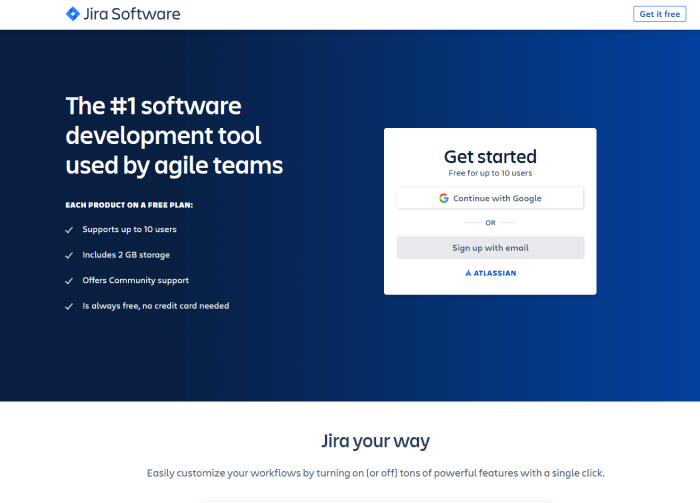 This tool also comes with a drag-and-drop feature that makes it easy for you to manage the various project details. Similarly, you can use this software to craft user issues and stories, distribute tasks and plan sprints. Jira offers a mobile application you can install on iOS or Android devices if you are looking for convenience. A major downside of using Jira is that it's not easy for newbies to understand how to use it.
7. Asana
Asana is a common name on the internet, and there are good reasons behind it. Your company can use this software to manage tasks – from daily activities to strategic initiatives. One thing that makes Asana a reliable tool is that it gives users the confidence to work on pending or assigned tasks.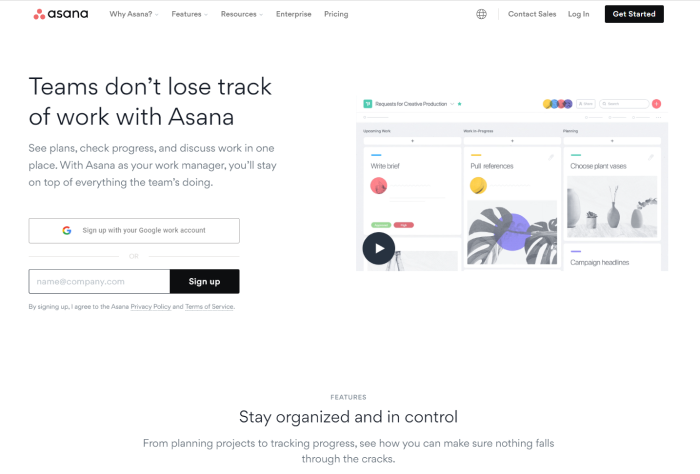 This is because they can move faster, thanks to the software's increased engagement capability. Asana is suitable for small and large companies. They can use the tool for collaboration purposes and more. The problem with Asana is that you may struggle to clean up your working space, especially when you've completed numerous tasks.
8. Monday.com
Monday.com is yet another reliable project management software. This tool allows for increased collaboration among teams. You can plan tasks and achieve more in less time. The software offers an easy-to-use interface. Anyone without coding experience can navigate from one end to another when using monday.com.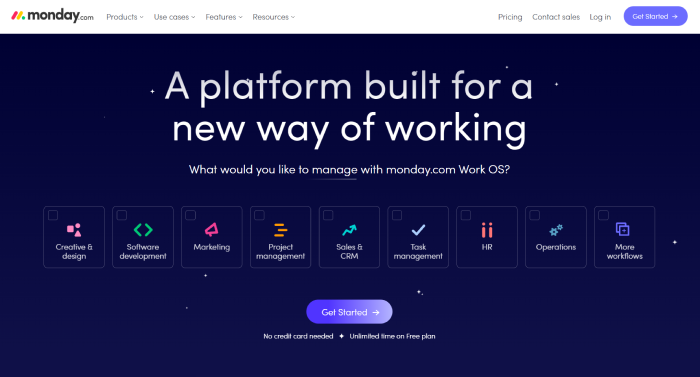 You can also expect to give your business a productivity boost with exciting features such as an integrated KanBan board, time tracking, workflow automation, calendar integration, multiple views, and dependencies. This is also a great tool for communicating with your teams on what needs to be done.
9. Smartsheet
As the name suggests, Smartsheet has an interface that looks like a spreadsheet. The familiarity of this interface will help your team to find it easy to use the platform. Your team can plan, manage, and track running or pending projects in real-time. Handy project management tools that this software offers include file sharing, project reporting, resource management, timeline tracking, and document management. What's more, you can maximize productivity using automated workflow options.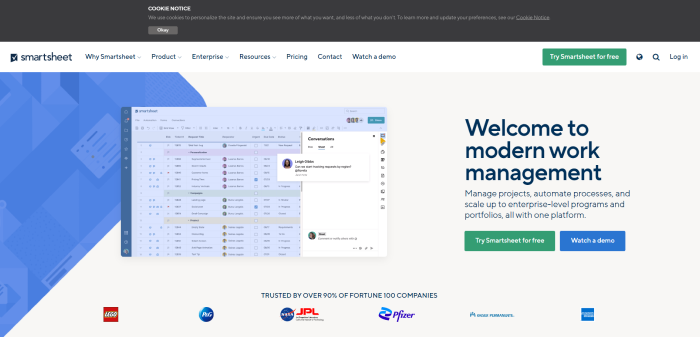 However, Smartsheet might not be ideal for large businesses because the software tends to hang when loaded with bulk data. So, a large business should consider using other alternatives discussed herein.
10. Lucidchart
Lucidchart software is a cloud-based project management solution that small and large businesses can use. Apart from managing projects, you can use this tool for diagramming processes and data visualization. The Lucidchart system is centralized in a way that all users can access visual diagrams created by different people. This speeds up the implementation of proposed workflows in the organization.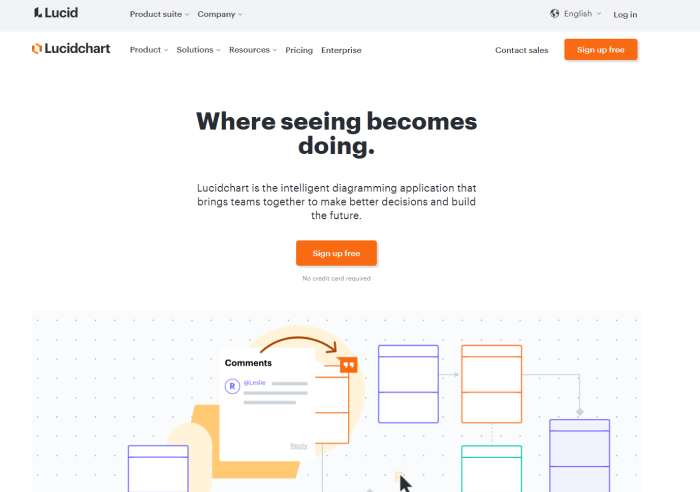 Key features that make this tool worth trying include process mapping, data import, customizable templates, and feedback management. You can effectively integrate Lucidchart with other third-party apps like CRM.io, Salesforce, Slack, and more. Communication with your team might be a challenge with Lucidchart because you might have to consider other convenient communication tools.
Start Your Business Process Management with BPMApp for Free! - No Credit Card Required Sign Up 14 Day Trial
Features to Look for in Business Process Management Software
To simplify finding a reliable business process management software online, here's a list of the common features a good tool should have.
Analytics
Comprehensive reporting
Drag and drop capability
Real-time monitoring
Integration
Mobile support
Project management tools
These distinguishing features should help you narrow down your search to a few best tools to help you with your project management needs.
Conclusion
If you've been managing processes manually in your organization, it's time to upgrade. Settle for a good tool that suits your business needs. Evaluate the software you choose based on the features outlined above. You can also settle for the best tool that we recommend – BPMApp by 500apps. This is the leading business process management tool in the market today.
Discover Why BPMApp Stands Out
#1
Unlimited Process Automation
#2
No-code Process Modelling
#3
Notifications and Triggers
#4
Auto Execute Capability
#5
Integrate with over 8 Apps Including Gmail
#6
Effective Form Designer
#7
Pre-built Automated Flows
#8
Intuitive, Drag-and-Drop Process Designer
#9
Unbelievable pricing - the lowest you will ever find
#10
Everything your business needs - 50 apps, 24/5 support and 99.95% uptime
Join the SaaS Revolution
All-in-One Suite of 50 apps

Unbelievable pricing - ₹999/user

24/5 Chat, Phone and Email Support