Discover the Benefits of Powerful Process Mapping
Processes are at the core of every business. Team members need to move the data around an organization in specific sequences. However, a team member may find it tough to draw an exact process workflow.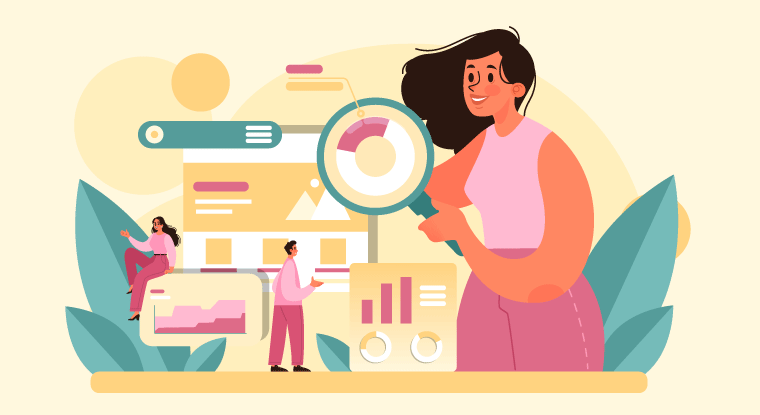 It is where business process mapping comes in handy. usiness process mapping is a technique that comes under BPMApp to depict each process step visually and show how it performs from the beginning to the end. Business processes get laid out visually using the BPM tools for every stakeholder to understand and adhere to the functioning rules of an organization.
Business process mapping includes flowcharts, charts, and symbols to let you know the tasks involved in a process, the employees who perform the activities and the time period in which they occur. The best part about mapping is that it can take place on any medium – from a whiteboard to a piece of paper.
How is Process Mapping Used to Optimize Task Performance?
Business process mapping can help optimize task performances and achieve business goals from training, internal auditing, and improving processes to workflow clarification and regulatory compliance. Here are the steps to use mapping for optimizing task performances.
1. Identify the Process
Experts identify and pick the process critical to the business and may require improvement for tracking the sales or revenue numbers. They identify the scope, objectives, team members, and work areas that must get the focus during the process mapping. The experts conduct the process identification on three levels.
Reactive: A failed or underperforming process requires mapping to identify and fix the bottlenecks.

Strategy Level: A process integral to business strategies and organizational goals requires mapping as a part of a high-level strategic overhaul.

Customer-focused: A process ensuring improved customer satisfaction requires mapping to deliver a visible boost to fixing inefficiencies within the customer management system.
2. Assemble the Right Project Team
Most experts cooperate with the field employees and someone from senior management to work with the process and improve it through mapping. Employees get involved in the process mapping initiative and often help with approvals when changes are asked for or requested.
3. Gather the Required Information
The experts gather the information required to create a process map after identifying the process and selecting the project team. They record and identify each significant step, capturing all details to deploy a comprehensive map for better task performance.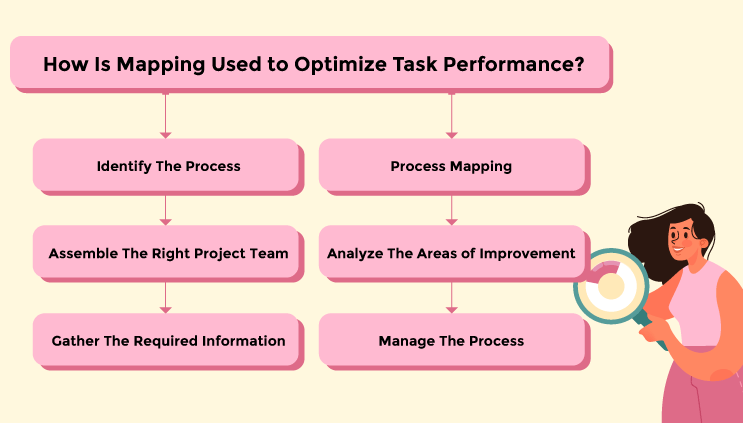 3. Process Mapping
Experts gather all the information collected and turn them into a process map flow diagram that includes the overall process or workflow. The experts include three elements in their workflow diagram – tasks, events, and participants.
4. Analyze the Areas of Improvement
Experts use the process map to identify and analyze the various areas within a process that require improvement. They can start implementing new processes on a similar scale once they get an idea of how to work out to improvise the task performances. The experts also rearrange or create new steps to improve the efficiency of tasks.
5. Manage the Process
Experts use various business process management tools to store and maintain business processes. They also review or monitor them frequently for changes and further improvements.
Advantages of Business Process Mapping
Business process mapping includes multiple benefits related to businesses. You can use a process map to visualize how a business works, and what are the people's roles and responsibilities. Here is a breakdown of the advantages of business process mapping.
1. Visibility of End-To-End Processes
Process mapping gives visibility to the employees of an organization of the tasks they perform, how the tasks fit into the overall picture, and how it impacts the other business areas including customer experience. Mapping the end-to-end process allows employees to know how they can work as a team to benefit the organization.
2. Operational Excellence
Process maps include detailed information on procedures, forms, guidelines, videos, etc., that fall under the Workflow management system. So, the maps give a chance to employees to find answers to their queries themselves instead of connecting with a line manager or colleagues.
3. Risk Management and Compliance
Business process mapping is a vital tool to spot potential risks that processes may cause leaving the company vulnerable to legal or safety problems. Process mapping is a valuable source to supply evidence related to regulatory standards concerning compliance. The standards make sure that the business meets the customer's needs and comply with all regulations.
4. Enhanced Onboarding Process
Business process mapping plays a significant role in onboarding new employees. The new employees can access the new set of documented processes which shortens their transition and does not take them much time to complete training sessions. A process map ensures a consistent onboarding process and continuity between hires.
5. Effective Communication
Business mapping enables visualizing processes that make it easier to communicate within the business and other organizations. Process mapping brings uniformity in the way tasks happen in an organization and helps employees understand each process better for an efficient implementation of activities. The employees can communicate easily using the process maps and improvise tasks and activities based on team meetings and discussions.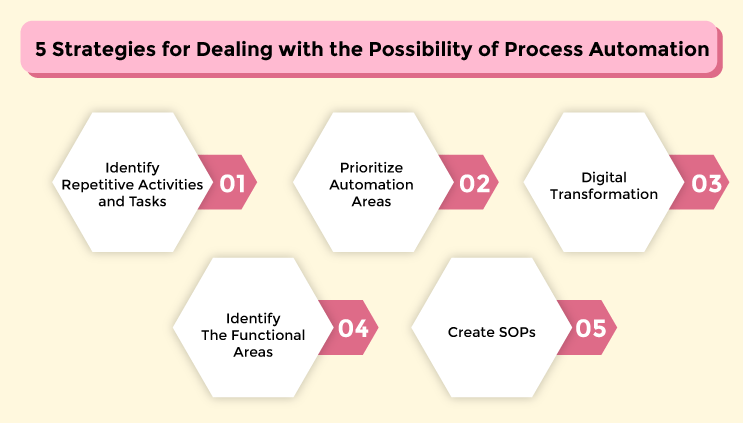 5 Strategies for Dealing with the Possibility of Process Automation
Business process mapping makes it easier for the employees of an organization to understand and improve processes for various business needs. Process automation is a vital element of business process management.
Here is a breakdown of the strategies to deal with the possibility of process automation.
1. Identify the Functional Areas
You must identify the functional areas of your business that may require further improvements as a first part of automating business processes. The functional areas may include the sales team, customer service, accounts payable, inventory management, and other business operations.
2. Create SOPs
Standard Operating Procedures (SOPs) include the required steps to complete responsibilities within a team member's role. You need to define a process clearly with steps and actions to complete automation.
3. Identify Repetitive Activities and Tasks
You can dive deeper into identifying repetitive tasks after choosing the functional areas within your business. You can gain perspective on areas that include manual and repetitive tasks exposing them to risks or operational deficiencies. You can review the employee-created SOPs to identify repetitive tasks and validate them after a proper analysis.
4. Prioritize Automation Areas
You may have a long list of tasks that may require improvement in various areas. You can prioritize the tasks in the list and allow progress through automated business processes. It is important to try thinking about the impact on customers and operational improvements when prioritizing significant tasks.
5. Digital Transformation
You can choose various Business process automation(BPA) software to design and automate processes within the organization. You can also request a demo from companies specializing in automation technologies and explore how they can support your business objectives.
How Process Mapping Tool Works for Your Business?
Process mapping tools help you create visual process maps. The graphical document showcases how a specific process works within an organizational system. Business organizations can use process mapping tools to identify the steps involved in each process, increase its efficiency, and improve the workflow. Process mapping tools provide the clarity and analytical elements to make informed decisions for saving time, decreasing costs, and enhancing customer satisfaction.
Summing it Up
Business process mapping helps an organization improve communication with clients, key stakeholders, or team members. The mapping process allows you to increase trust with investors and clients while making it easier to understand documentation processes.
Are you looking for a process management tool to design workflows and optimize business processes? Look no more as BMPApp uses a no-code BPM Software to optimize task performances within your business with visual flow assistance. The tool has multiple features that ensure efficient business process management at an affordable cost.
Discover Why BPMApp Stands Out
#1
Unlimited Process Automation
#2
No-code Process Modelling
#3
Notifications and Triggers
#4
Auto Execute Capability
#5
Integrate with over 8 Apps Including Gmail
#6
Effective Form Designer
#7
Pre-built Automated Flows
#8
Intuitive, Drag-and-Drop Process Designer
#9
Unbelievable pricing - the lowest you will ever find
#10
Everything your business needs - 50 apps, 24/5 support and 99.95% uptime
Join the SaaS Revolution
All-in-One Suite of 50 apps

Unbelievable pricing - ₹999/user

24/5 Chat, Phone and Email Support