9 Best Free Workflow Software for Your Business
Free workflow software helps you get organized, automate workflows. From project management tools to to-do lists, find the perfect solution for your business.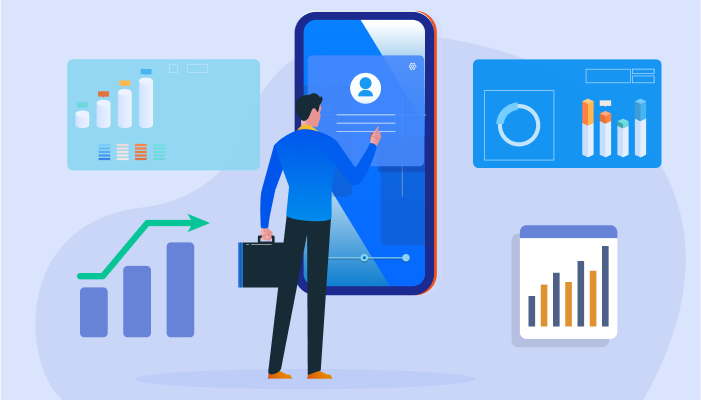 Workflow management systems can automate several tasks in business processes to increase productivity, clarity, and responsibility. Large projects can be planned and carried out using workflow management software and tailored business apps. You can begin putting your company into a methodical framework by using an efficient workflow application. Today's corporate procedures essentially demand a high level of automation. The fastest and most accurate completion of the most demanding jobs is guaranteed by workflow management software. Although free workflow software tools don't necessarily cater to your business needs, it's always a good idea to try out free trial offerings of workflow management tools before you pick the best workflow management software. Let's move on to what the best of the free workflow software tools can do for your business:-
Features to Look Out for in Free Workflow Software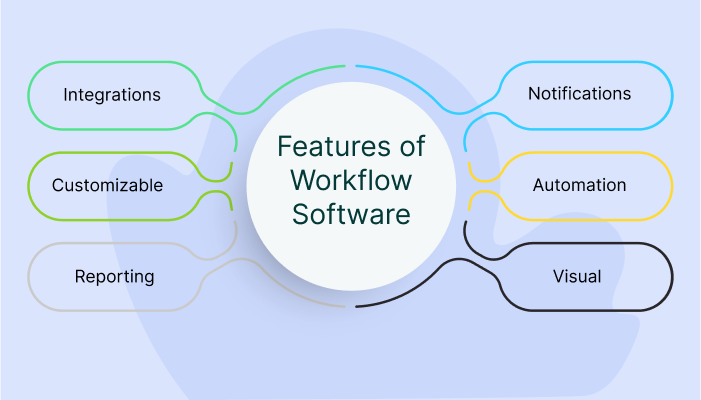 i) Integrations
Workflows work along with the rest of your business processes. Your mailbox, CMS, calendars, and other tools should all easily connect to documents, emails, contacts, and reports.
ii) Customizable
Every company has its own set of procedures and models. Free workflow software must be completely adaptable to your operations while still being simple enough to adjust without complex coding.
iii) Reporting
Your entire productivity can be evaluated with the use of detailed reporting. You can use the insights to more effectively plan and handle upcoming activities and projects.
iv) Notifications
Management of the workflow shouldn't seem manual to the core. Free workflow software automatically notifies team members of deadlines and approval procedures.
v) Automation
Your team will lose time as a result of repetitive procedures. Instead of needing to spend time emailing the person who is in charge of the next step of the task after a task is over, your software should alert them automatically. This automation and others will be present in good workflow management software.
vi) Visual
A workflow that is aesthetically appealing and color coordinated is simpler to understand, regardless of how complicated it is and how many moving pieces there are.
We've Come to the Best Part. Below Is the List of the Best Free Workflow Software Tools Available in the Market
1. BPMApp
The distinctive properties of BPMApp make it stand out as a potent business process management tool. You may speed up the workflows at your firm with this tool. You can handle your business procedures in the most productive way possible and handle business process automation. All thanks to its features.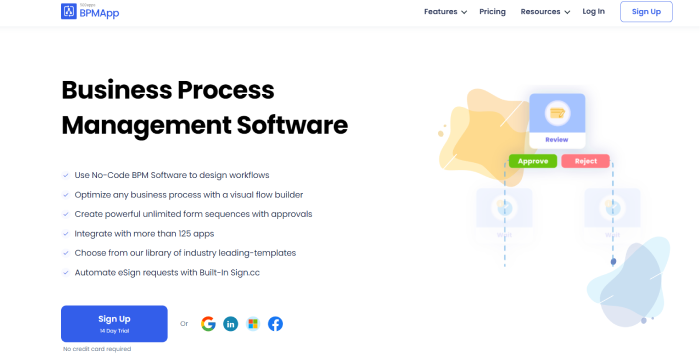 BPMApp enables you to organize and assign tasks with a few mouse clicks. The tool's drag-and-drop functionality makes workflow management simple. The nicest feature of BPMApp software is that you may use it without any coding knowledge. The cost of the software is an enticing $14.99.
With BPMApp you can,
Build flows visually to automate repetitive tasks with send-form, wait, email, review, REST, and Zapup steps
Create responsive forms using our drag-and-drop builder with Forms.io
Choose from our library of industry-leading templates and customize them as per your needs
Optimize any business process with a visual flow builder
Create powerful, unlimited form sequences with approvals
Integrate with more than 125 apps
Start Automating Your Business Processes Now in One Spot Sign Up 14 Day Trial
2. Asana
For teams seeking a user-friendly, highly flexible, and visual tool, Asana is a superb workflow management solution.
It works well for both small and large teams thanks to its team communication and collaboration features. Asana can serve as a central hub for file sharing.
Team members can consider and keep track of changes to each other's schedules using the calendars. Simple to-do lists, job delegation, and priority setting for teams.
3. Bitrix24
Free workflow software, Bitrix24, is 100% free for an infinite number of users. It is offered in both cloud and self-hosted versions and includes both pre-built and customized workflows. The web-based workflow software from Bitrix24 makes it simple for everyone involved.
Applying your abilities is simple with Bitrix24 because of its wide variety of tools and views. You gain an agile advantage that you can continuously hone as you go thanks to kanban boards and scrum methodology tools.
4. Monday.com
Monday.com is a wonderful workflow management software option for individuals wishing to switch from their Google Sheets to something more visual. It is very customizable and ultra-visual.
You can use the dashboard overview tool on Monday.com to view tasks at a high level or focus on the specifics.
5. Kissflow
Free workflow software tools like Kissflow can be used to visualize processes, assign responsibilities, and increase output.
Advanced access control is beneficial for teams who work on projects with outside contributors. For instance, you might only want a select group of team members and contributors to have access to particular portions, such as client contact information or financial information.
6. ClickUp
With the aid of the relatively new and free workflow software ClickUp, you may streamline your processes while more effectively managing the resources of your team and projects.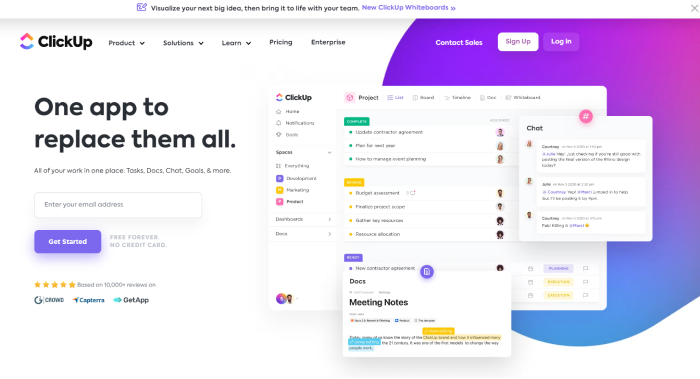 Select the board view for processes, the box view for dashboards, the list view for to-dos, and the Gantt view for project schedules. Additionally, there are table views, calendars, workflows, and mind maps.
The actual strength of ClickUp is its automation features. You can automate some processes in your workflow using automation templates.
7. Airtable
Airtable, a Free workflow software, makes it simple to navigate and create a workflow from scratch thanks to its familiar spreadsheet layout. Keep it simple with a standard grid, or develop a more complex solution to meet the precise needs of your process.
There are templates designed with product launches, content calendars, and event planners in mind if you'd prefer to start from scratch.
Aside from Slack, Stripe, and Zendesk, you can combine your workflow with hundreds of other apps.
8. Trello
Trello's 'Free, Forever' plan offers many of the fundamental cornerstones of workflow planning, including automation, but it is limited in the key area of integration. Integrations, or "Power-ups" as Trello refers to them, are a crucial component of efficient workflow solutions since they take into account the usage of various third-party applications by your partners, clients, and contractors.
Take into account the size of your project in terms of the number of external team members you plan to include. If your projects require a lot of collaboration, being limited to just one integration or 'Power-up' per board may prove to be a major obstacle.
9. Wrike
Wrike's free plan is self-described as a simple, shared task list for small teams'. It offers the following features:
A simple, shared work list for small teams is what Wrike's free plan is advertised as being. It provides the following attributes:
Wrike is more integration-friendly than Trello, so you won't have to worry about efficient teamwork.
However, they only offer their automation tool as part of the Business package, which is the third tier of their pricing structure.
Summing It Up
When it comes to creating a business, one of the most important things you need to do is be organized. Whether you're working on a small business or a large corporation, you're going to want to make sure your company is running as smoothly as possible. Businesses often use workflow software to keep track of their processes.
Get your hands on BPMApp by 500 applications to create workflows using no-code BPM software. Additionally, this software gives you a wide range of features for making responsive forms, customizing the business process by automating repetitive tasks, designing unique templates, integrating with other programs, and using cross-functional team collaboration tools to keep business operations in one location.
Discover Why BPMApp Stands Out
#1
Unlimited Process Automation
#2
No-code Process Modelling
#3
Notifications and Triggers
#4
Auto Execute Capability
#5
Integrate with over 8 Apps Including Gmail
#6
Effective Form Designer
#7
Pre-built Automated Flows
#8
Intuitive, Drag-and-Drop Process Designer
#9
Unbelievable pricing - the lowest you will ever find
#10
Everything your business needs - 50 apps, 24/5 support and 99.95% uptime
Join the SaaS Revolution
All-in-One Suite of 50 apps

Unbelievable pricing - ₹999/user

24/5 Chat, Phone and Email Support