10 Top Business Process Mapping Software for Your Business
Business process mapping is a powerful tool used in business process management (BPM) to visually display process phases and demonstrate how a process should work from beginning to end.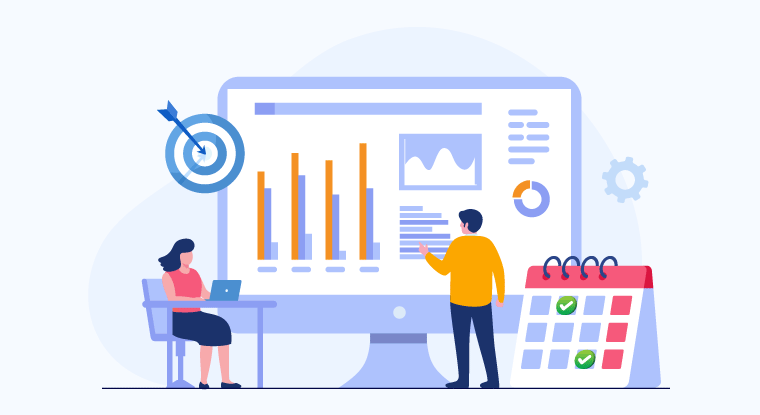 Processes are at the heart of any firm. Whether it's employee onboarding or purchase orders, data must go across the workplace in a specific order to be completed. However, do you know what the actual process flow would look like? This is where business process mapping may help.
Business process mapping is a powerful tool used in process management to visually display process phases and demonstrate how a process should work from beginning to end. This way, every stakeholder in your company understands and follows the business processes.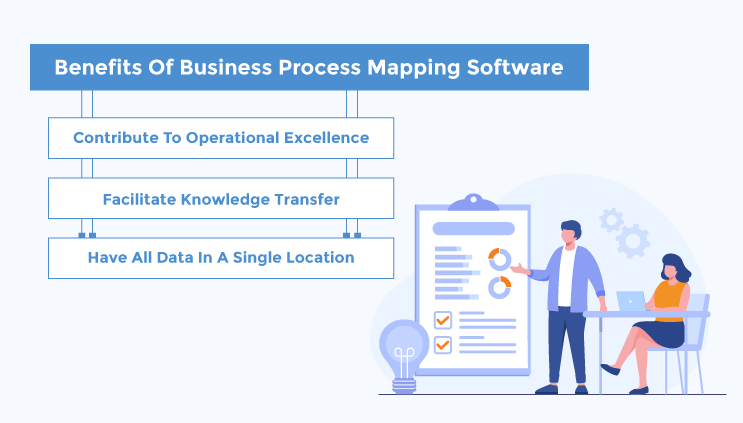 Benefits of Using a Business Process Mapping Software
Here are three key benefits of business process mapping software:
a. Contribute to Operational Excellence
Business process management software allows employees to research solutions rather than ask a coworker or line manager for them. Process maps clearly define what employees should do. Furthermore, it can link to procedures and guidance notes to give more detailed information on how to complete a task, ensuring employee productivity.
b. Facilitate Knowledge Transfer
Business maps help preserve the knowledge that may otherwise be lost when employees leave your company. Thus, making your process maps visible to everyone in the organization is a critical step. It is also a terrific tool for sharing best practices within your organization.
c. Have all data in a Single Location
Having all the data available in a single location for all the employees in the organization allows them to learn how things should be done and quickly obtain the correct, up-to-date forms and documents to support business processes. This is a fantastic way for all employees to save time, especially for new hires, where process maps may help with the induction process.
List of Top Business Process Mapping Software
1. BPMApp
BPMApp can assist you in identifying and eliminating inefficiencies, increasing productivity, and establishing a responsive, agile company environment. Using the application, you can automate processes, construct flows, and trigger actions, create new workflows using a drag-and-drop interface. The tool also offers several pre-built workflow templates that you can customize to match your specific company needs.
2. Visio by Microsoft
Visio may be the best software if you want an application with more process mapping features than Microsoft Excel but is still part of the Microsoft family of products. Microsoft Visio offers varying functionality depending on the version you buy, but they all include a large number of process map templates and comprehensive process mapping tools. It also comes with OneDrive storage, making it simple to share completed process maps and projects.
3. Drawings by Google
Since the app is connected with a well-known and intuitive brand, many professionals utilize Google Drawings. As this process mapping tool is entirely online and browser-based, it is easy to share with other team members, clients, and key stakeholders all around the world. Furthermore, the process maps you build in Google Drawings never expire, which is helpful if you want to review or update your processes frequently.
4. Canva
Canva is a web-based tool that can be used through any web browser, making it a convenient solution. It is the ideal option if you're searching for a process mapping application that gives you complete creative flexibility. This tool lets you include professional-looking images and motion graphics, which are helpful if you want to make a slideshow or presentation of your process map to share with your team, clients, or key stakeholders. Canva also allows you to easily upload your own images, which you may use to integrate logos or other crucial brand aspects.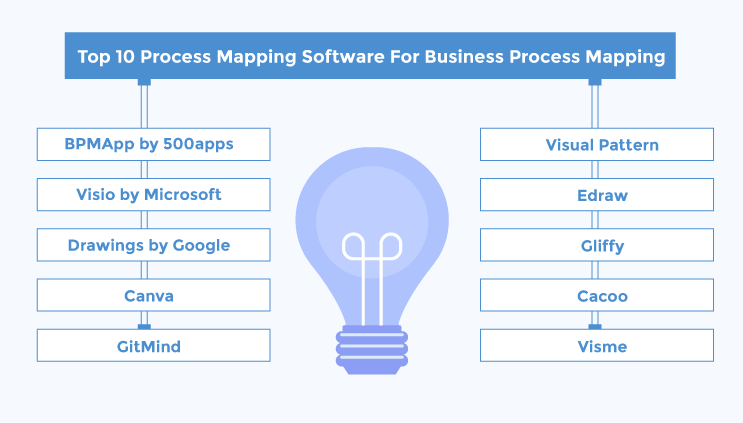 5. GitMind
GitMind is one of the most effective free business process automation software. Using this software, you can customize your process map by selecting different shapes, fonts, colors, and other components to make it easier to identify critical process aspects. It also has a large number of templates from which you can generate simple process maps, which can save you time. Once you've finished your process map, you can save it as a document or share the URL link with your clients, team, and other stakeholders.
6. Visual Pattern
This process mapping tool is popular among software development firms that use agile project management. Agile project management is a quick, flexible, iterative project management technique that divides huge projects into smaller, more manageable tasks. Visual Paradigm allows users to animate their projects, which is useful if you want to display your process map to your team, clients, or key stakeholders. It also offers an easy-to-use drag-and-drop interface and a large collection of shapes to help you create process maps.
7. Edraw
If you're searching for a process mapping tool with a lot of capabilities, Edraw is a great choice. Edraw comes with a huge collection of symbols and templates for various diagrams, including workflow diagrams, data flow diagrams, and business process diagrams. Furthermore, the UI is incredibly user-friendly and provides an automated layout for process maps to save you time. You can also customize the font style, color, shape, and size of each element in Edraw.
8. Gliffy
Gliffy is a good choice if you need a simple process mapping tool that is quick and easy to learn. Gliffy is popular among professionals since it allows you to go back to prior versions of your process map. This function guarantees that you always have access to your work. The process mapping tool also has a number of templates and themes to assist you in quickly creating professional-looking diagrams.
9. Cacoo
Cacoo is your option if you want to have numerous team members collaborate to produce a process map. This tool interfaces with various productivity programs to ensure that your team has easy access to all the information they require. This BPM system also delivers activity updates to make tracking changes and getting status updates easier, which can improve communication and cooperation.
10. Visme
If you are searching for an interactive process mapping application, Visme has a plethora of interesting features. Visme is available both online and offline. Users can also opt to encrypt their private projects with a password. It allows users to apply animations to give visual components such as shapes and text movement. You may also use transitions and pop-ups to make aesthetically beautiful and interesting presentations.
What Sets BPMApp apart from other Business Process Mapping Software?
Several features set BPM Tool apart from the other software on this list. Here are four of them:
BPMApp allows you to create a range of smart and adaptable forms to collect data and feedback, including drop-down menus, text input, radio buttons, and more with real-time previews. Furthermore, you can gather all of your form replies in one place and use the information to plan future tasks. These forms can be scaled appropriately on any screen, desktop, or mobile device.

BPMApp allows you to automate your workflows and use nodes. You can customize your environment's node selection to develop simple processes.

BPMApp can be integrated with other programs like Sendgrid, Amazon SES, and Mailjet and let automated processes do the heavy lifting.

BPMApp allows you to improve your business operations and the overall efficiency of your corporation. You can create and maintain business activities across your company's department processes from a single platform.
Summing it Up
A decent online BPM may assist you in sorting out the intricacies of your processes. As a result, you must seek high-quality business process mapping software that allows you to easily transition your analog map to a digital automated process. Once process mapping develops traction, it transforms into a journey mapping experience for your company to identify what is crucial for success.
Discover Why BPMApp Stands Out
#1
Unlimited Process Automation
#2
No-code Process Modelling
#3
Notifications and Triggers
#4
Auto Execute Capability
#5
Integrate with over 8 Apps Including Gmail
#6
Effective Form Designer
#7
Pre-built Automated Flows
#8
Intuitive, Drag-and-Drop Process Designer
#9
Unbelievable pricing - the lowest you will ever find
#10
Everything your business needs - 50 apps, 24/5 support and 99.95% uptime
Join the SaaS Revolution
All-in-One Suite of 50 apps

Unbelievable pricing - ₹999/user

24/5 Chat, Phone and Email Support