Guide to Business Process Management - Complete Detailing
This article gives you a complete guide on business process management, its importance, and why organizations have to implement them.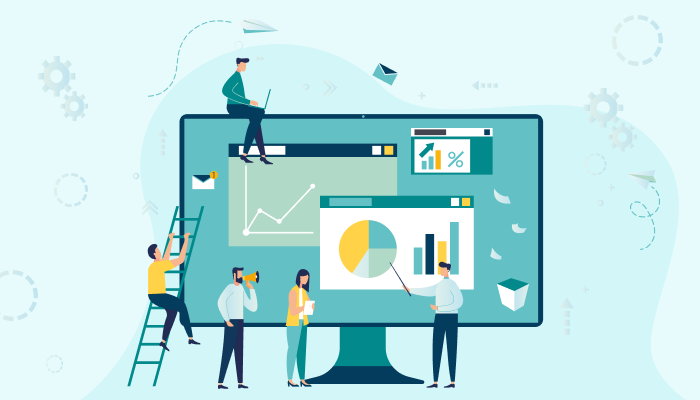 Business process management is everything about technology. Managing the overall workflow in business becomes challenging without any help from automation in the process. Many businesses have leaned on using business process management to optimize, discover, model, design, improve, analyze, monitor, and enhance the business process. BPM process has been proven an effective method to reduce wastage and boost the productivity of businesses which is why over 95 percent of 150 BPM strategies have been successful.
Businesses wanting to manage all the daily tasks with ease rely on an efficient BPM process. If the overall business processes are left unmanaged, it leads to dysfunctional outcomes. Hence, the BPM process has become an essential part of any business operation seeking for proper business process management to help the business run efficiently.
What is a Business Process Management?
Business process management (BPM) is a holistic, systematic approach used by businesses to achieve their goal of optimizing business outcomes. It is a discipline where the company steps back and lets a BPM tool take control of the organization's work processes. Business process management analyzes the current state of your business and identifies areas of improvement to bring more efficiency and productivity.
BPM system is a way for every business owner to create, edit, monitor, and analyze the various work processes. Although it can be mistaken for task management or project management that solely focuses on individual tasks and one-time projects, business project management focuses on repetitive and ongoing processes by following a predictable pattern in order to improve business efficiency.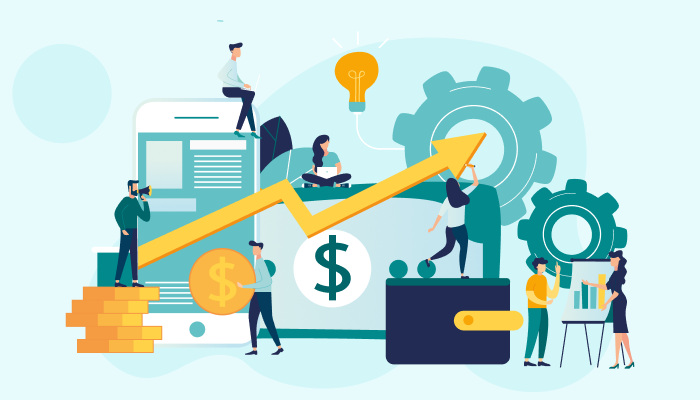 Why is BPM Process Important for Organizations?
The BPM process involves discovering, modeling, analyzing, measuring, optimizing, and automating the business processes, aiming to improve the work performance. Different business departments distribute the work into different segments. So, a business management process ensures that all the processes are well-structured, predictable, and properly managed to build up the core foundation of the business.
In order to deliver value-added products and services, your organization requires you to invest in an effective BPM process. Leaving the tasks and several processes unmanaged or unattended leads to wastage of time and manual efforts, technical errors, an increase in liability, and a lack of data integrity. However, reliable BPM software helps your business keep additional costs at bay by using the right resources and focusing on the right tools required to map out the process, materials used, and time consumed. This helps your organization keep track of processes where you can cut costs and innovate other ideas to improvise.
Business process management also adapts to new changes quickly, allowing the business team to monitor the process and take proactive actions. It enables you to test the changes thoroughly before you deploy them with automated controls. You should choose the right BPM software that guarantees you a competitive edge in the market.
BPMApp by 500apps is one such software designed to cater to all your business needs. This software enables you to automate repetitive tasks and create responsive forms using drag-and-drop features. Automation of tedious tasks increases business productivity and allows your organization to prioritize tasks that require human intervention. So, if your organization encourages innovation and seeks for a solution to tackle the business processes through automation, optimizing the BPM process should be your top priority.
What are the Key Benefits of Business Process Management?
BPM process automates the menial tasks that do not require top priority to work them manually. Inculcating business process management enables you to monitor several tasks simultaneously from one place and cuts down the costs. Here are some of the key benefits of the BPM process:
Increases business agility and efficiency
Mitigates risks
Improves organizational control
Automation provides real-time visibility to monitor processes
Optimizes the existing processes
Improves collaboration
Ensures compliance and security of data
Cost-effective solution
More space for innovations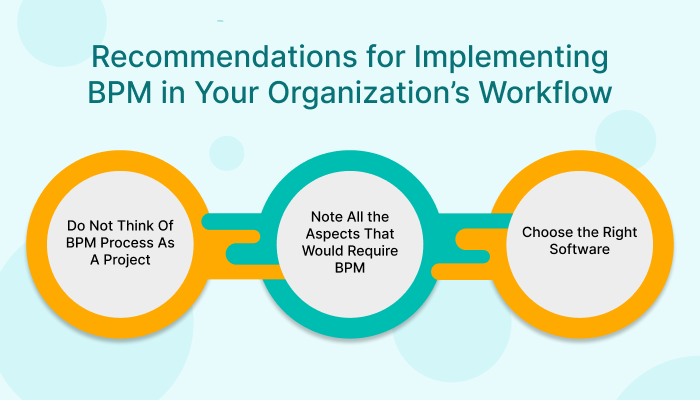 Recommendations for Implementing BPM in Your Organization's Workflow
Business process management helps your organization build a solid framework of all processes with the help of mapping, monitoring, and optimizing to initiate efficiency. With the right BPM process software, the business process management can be customized according to the business requirements. However, there are a few key aspects we recommend you keep in mind while implementing the BPM process in your organization's workflow:
1. Do Not Think of BPM Process as a Project
Planning and implementing the BPM process should not be considered a one-time project. Business process management is not a project but an entire transformational journey towards achieving your goals. Implementing the BPM process requires constant planning, consistency, hard work, communication, and creativity. This ensures that BPM has been set up in your organization's workflow just like your ideal target.
3. Note All the Aspects That Would Require BPM
Before you implement business process management in your organization, you should plan out the aspects you want your BPM process to cover. Observe what type of process you are focusing on and what requires automation to avoid human errors. This way, you get to understand your business requirements thoroughly and benefit from the BPM process that suits all your needs.
Choose the Right Software
We highly recommend you choose the best available software for this process. When you pick the right business process management software, you get to relax and benefit from the automation of critical tasks and be more productive at work by focusing on the tasks that need your utmost attention. BPMApp by 500apps can be your go-to choice as it enables you to optimize your business process using a visual flow builder and integrates over 125 applications on a single platform.
Summing It Up
Business process management is well-designed to cater to your business needs and help your organization have a competitive edge in the market. Choosing the right software for the BPM process enables your team to redefine the efficiency of the work processes while keeping the end goal in mind. BPM software includes built-in tools so that you can tailor and manage all the tasks on a single platform with ease.
BPMApp by 500 apps allows you to use the no-code BPM software to design workflows. This software also provides you with a wide variety of features to create responsive forms, customize the business flow by automating menial tasks, design customized templates, integrate with other applications, and make use of the cross-functional team collaboration features to maintain business activities at one place. To learn more about the features offered, visit the 500apps website now!
Discover Why BPMApp Stands Out
#1
Unlimited Process Automation
#2
No-code Process Modelling
#3
Notifications and Triggers
#4
Auto Execute Capability
#5
Integrate with over 8 Apps Including Gmail
#6
Effective Form Designer
#7
Pre-built Automated Flows
#8
Intuitive, Drag-and-Drop Process Designer
#9
Unbelievable pricing - the lowest you will ever find
#10
Everything your business needs - 50 apps, 24/5 support and 99.95% uptime
Join the SaaS Revolution
All-in-One Suite of 50 apps

Unbelievable pricing - ₹999/user

24/5 Chat, Phone and Email Support