An Overview of Workflow Management System for Business
A workflow management system is a system that helps to manage and automate the flow of work within an organization. It is designed to help organizations track and monitor the progress of work, and to ensure that work is being carried out efficiently and effectively.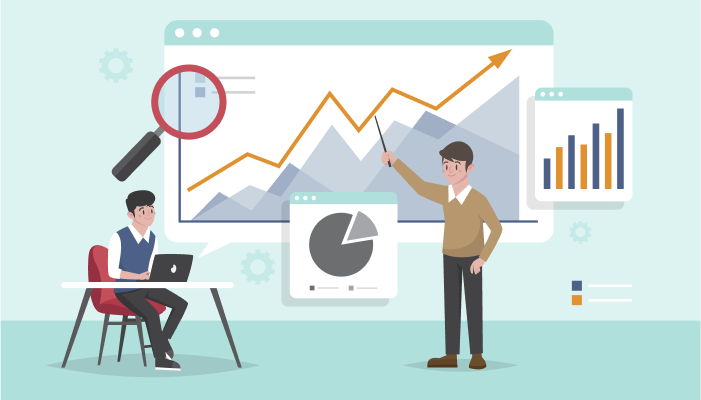 Workflow management systems can be used to manage a variety of workflows, such as those relating to finance, human resources, customer service, and manufacturing. It can be used to manage the work of a single person or a team of people. Workflow management systems can be used to track the progress of work, and to ensure that work is being done in a timely and efficient manner.
Let's get a deeper understanding of workflow management system from business perspective.
A workflow system is an application that helps to automate a series of processes by integrating several workflow tools into one platform. This can be extremely helpful for businesses as it enables them to automate both machine and human-based tasks in a linear sequence according to pre-determined rules.
Workflow management systems are created to help simplify and streamline common business processes for more optimal efficiency. The key component of these systems is the creation of a form that can capture data and then automate a sequence of tasks to process that data completely. By automating these processes, it reduces the chances for errors and increases the speed at which these tasks can be completed.
Workflows are the foundation of successful business processes. By definition, a workflow is a logical sequence of tasks or actions taken in order to achieve a specific goal. In order to streamline your workflows and make them as efficient as possible, it's important to have a clear understanding of what tasks need to be completed and in what order they need to be completed in. This will help you avoid any bottlenecks or delays in your process, and ultimately help you achieve your desired outcome more effectively.
Workflow management streamlines workflows for optimal output. That means cutting out redundant tasks, ensuring resource availability for all tasks, and streamlining task sequences.
For example, the procurement process has workflows for purchase requisition, purchase order, and invoice processing. Each workflow is made up of several tasks like creation, review, approval, and routing to the next process.
What's Wrong With a Manual Workflow Management System?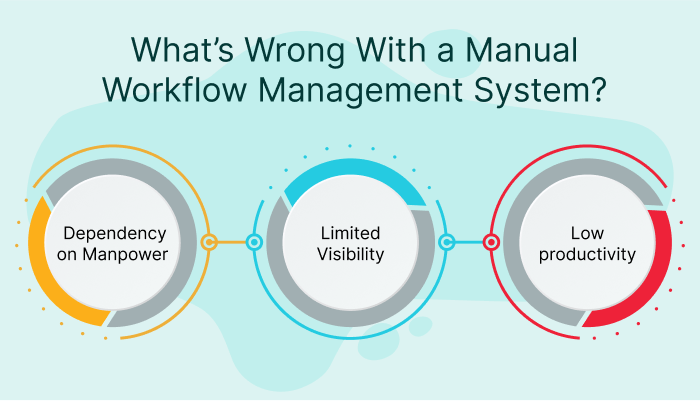 1. Dependency on Manpower
Manual processes are focused on personnel. Unintentionally, biases and human errors enter the process. It can be quite difficult for the staff to verify and correct the data produced by manual methods.
2. Limited Visibility
Manual processes run in isolated groups. Data visibility is localised as a result. Even the top leadership can only see a small portion of the vital path and cannot act right away. It's possible that the team members are unaware of the urgent tasks, which could lead to an unnecessary delay.
3. Low productivity
The majority of work hours are spent on monotonous duties, data validation, and the correction of mistakes brought on by manual processing. Productivity suffers because there is less time available for productive work.
Every firm wants its business operations to be efficient and seamless, yet manual business flows can never help you reach your goals. Automated workflows can be used to accomplish a variety of goals, including relieving personnel of tedious duties, boosting productivity, and improving process operations.
A Quick Overview of Workflow Management System Benefits
Workflow management systems are software tools that help businesses automate and manage their workflow. Some of the benefits of using a workflow management system include:
Efficiently managing business processes such as customer service, sales, marketing and more.
Providing better visibility on the progress of tasks in a project.
Helping companies to scale their operations by improving collaboration among employees.
As a Manager at a fully functional organization, here's how to make use of workflow management system for your company.
Change is something that's always happening and it can be tough to keep up, especially when it comes to the way we work. In just the last few years, we've seen a massive shift in how business is done all thanks to technology like computers, laptops, and smartphones. These days, people are using the cloud to access data on any device and they're using their smartphones for work tasks as well as personal ones.
With such wide exposure to all of these technological advancements, you'd think that more businesses would be jumping on the bandwagon when it comes to adopting a workflow management system - but that's not always the case. It's surprising how many businesses overlook the need for a BPM tool or workflow software to help streamline operations within their organization.
There are two primary workflow types:
i) Sequential Workflow:- Each task must be completed in order before the next one can begin.
ii) Parallel Workflow:- Multiple tasks are performed concurrently, with each task operating independently.
Workflow systems for business may be categorized as below:
Priority workflows (Finance, HR, IT)
Customer-facing workflows (marketing, customer service)
Employee-centered workflows (HR)
Primary workflows (sales and marketing, Finance, HR, IT)
Subsidiary workflows
And now, It's time for some practicals - Process to get your business automation with workflow management system.
If you want to implement a workflow management system, you should consider the following factors:
What kind of workflows do you need?
How will the system be integrated with other systems?
Which type of workflows will be automated?
What kind of data will be stored in the system?
What are your requirements for scalability and availability?
Take time and note down your answers.
Simple Steps to Get Started With Workflow Automation
Here are a few steps to build workflow automation for your business. Start with actions that are repeated regularly and have clear processes.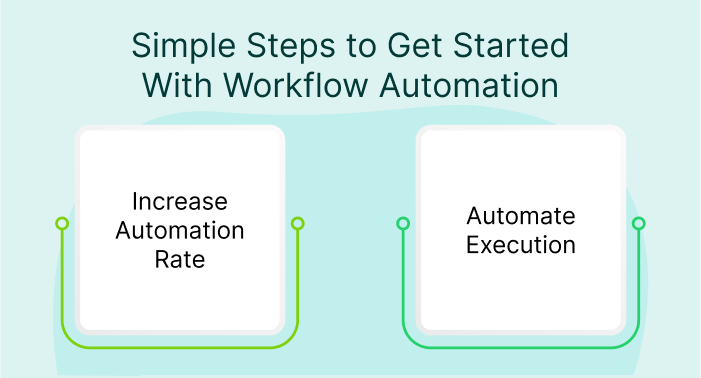 Workflows and procedures should not be put up for ad hoc or one-time tasks or activities. However, if tasks are repeated with codified processes, sequences, and rules, it assures that the workflow or business process is done correctly every time, engaging the right people, in the proper order, taking the relevant information into account, and within a predetermined time frame. A workflow or business process that has been defined and modelled is the first step to increasing efficiency by eliminating unnecessary processes and activities.
1. Increase Automation Rate
The next stage to maximize a workflow's efficiency and enhance its results is to increase the rate of automation inside the process. When a task is finished, a system is programmed to automatically handle the flow to the next task, and so on until completion. This is the most basic level of workflow automation. Consider an employee who submits a purchase request: the manager who approves it is immediately notified to examine it, and a single approval click automatically initiates the transaction in the procurement system.
2. Automate Execution
The next phase is to have the system carry out one or more jobs without any assistance from humans. This is where opportunities to raise the level of automation within a process flow have been made possible by the advent of new automation technologies in recent years and the digital transformation of industries.
The criteria and objectives for workflow and business process automation vary greatly amongst organizations. Some people simply want to expand or modify their current workflows to meet shifting needs. To remain competitive, many organizations want to raise their automation rate or adopt a strategic approach to end-to-end automation of mission-critical activities. Furthermore, market leaders use digitalization and the introduction of new technologies to their advantage by utilizing cutting-edge automation technologies to alter their industries and forge ahead.
Start Automating Your Business Processes Now in One Spot Sign Up 14 Day Trial
Final Words
Businesses around the world face the same issue, they need to organize their workflow and make sure that every step is accounted for and performed in the right order. With workflow management software, businesses can solve this issue and much more. Before the rise of workflow management software, businesses had to use pen and paper to keep track of their workflow. This meant that it was easy to lose track of things, or not organize things in the right order. This can cost a business time and money.
BPMApp by 500apps is a robust software that can help you manage your business processes with ease. This bpm software can be used to automate processes, construct flows, trigger actions, and create new workflows using a drag-and-drop interface. You can also analyze your business processes, assign tasks, and design workflows to achieve your company objectives. To learn more about the features offered by BPMApp, visit the 500apps website today!
Discover Why BPMApp Stands Out
#1
Unlimited Process Automation
#2
No-code Process Modelling
#3
Notifications and Triggers
#4
Auto Execute Capability
#5
Integrate with over 8 Apps Including Gmail
#6
Effective Form Designer
#7
Pre-built Automated Flows
#8
Intuitive, Drag-and-Drop Process Designer
#9
Unbelievable pricing - the lowest you will ever find
#10
Everything your business needs - 50 apps, 24/5 support and 99.95% uptime
Join the SaaS Revolution
All-in-One Suite of 50 apps

Unbelievable pricing - ₹999/user

24/5 Chat, Phone and Email Support