6 Important Factors to Consider During Workflow Management
This article explains the benefits and factors to consider in a workflow management platform and how BPMApp helps your business in workflow management.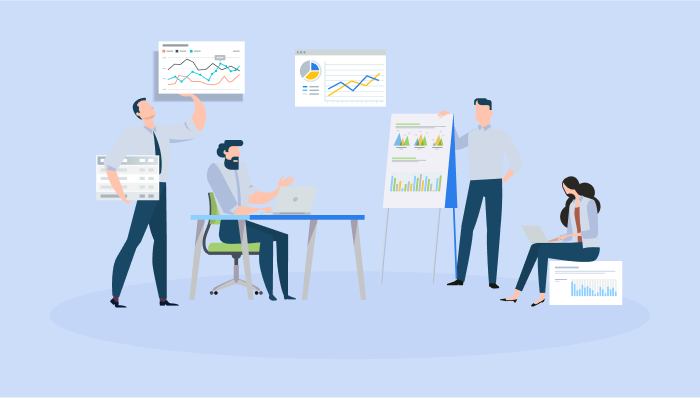 A workflow management platform is a unified system that integrates multiple workflow tools into a coordinated application. Several processes can be automated using the workflow system in a linear sequence using the platform, including both human-based and mechanized tasks.
Thus, a workflow management platform helps optimize routine business processes to ensure operational efficiency. The process helps cut out redundant tasks, ensures resource availability, and streamlines tasks that enhance business outcomes.
A workflow management platform offers the following features:
It allows individuals to automate multiple processes.
It follows up on uncompleted tasks in workflow processes.
It offers an insight into organizational workflows with performance metrics.
Benefits of Workflow Management for Your Business
A workflow management platform helps eliminate chaos in workflows so that employees can streamline all tasks to ensure operational efficiency. The system allows you to build, manage, and automate workflows so that you can understand every step clearly.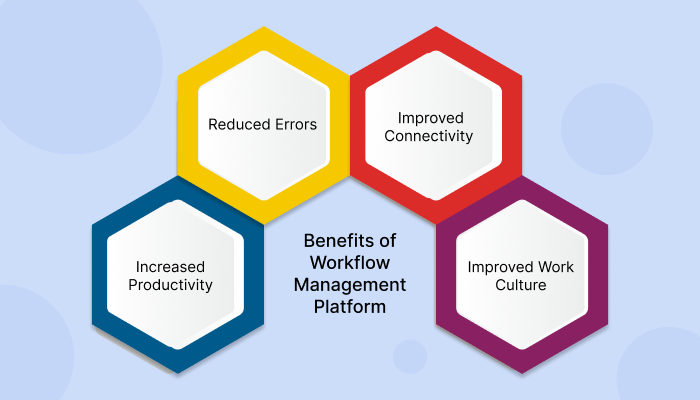 Here are the benefits of the workflow management platform.
1. Reduced Errors
Nobody can operate with zero errors in a system. However, workflow management system help prevent errors that occur in the first place. The system also pinpoints the exact location if any error happens. The process helps you work out the discrepancies and prevent the errors from happening again.
2. Improved Connectivity
Workflow management platforms help connect multiple entities, including people, work culture, and software. The system provides communication tools for employees to connect with each other. The workflow system helps draw data from multiple software tools, which can be used to improve workflows, prevent errors, and build connections between people and software.
3. Increased Productivity
The workflow platform helps automate workflows and saves time for teams to send emails and update information on multiple tools. Employees no longer have to wait for approvals for their tasks, as the managers can track the workflow progress through the system and stay in the loop regarding every organizational task, resulting in increased productivity.
4. Improved Work Culture
A business process automation keeps work organized and trackable so that the employees become goal-driven and collaborative within an organization.
Workflow management has the potential to evolve as an organization-wide practice that gets engraved in company culture. Structured and streamlined processes help improve the work culture within an organization, enabling you to fulfill your business objectives more efficiently.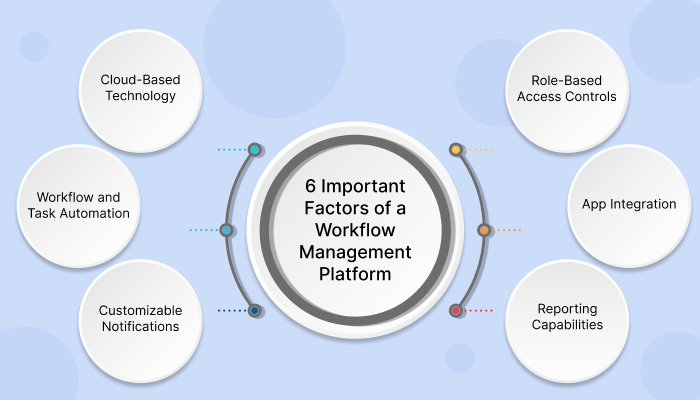 Important Factors to Consider During Workflow Management
A workflow management platform is the backbone of an organization's productivity. The system helps streamline and automate organizational tasks and makes processes easier and transparent.
Workflow management matters for creative projects because it helps reduce redundant email chains, improve project clarity, and boost productivity. The best feature of the platform is that it provides businesses with intelligent insights and allows the team members to refine the existing tasks to invest resources more efficiently. The system also helps fine-tune budgeting skills to save money and time for businesses. You can get rid of high operational costs, lengthy processing times, and continuous errors using a workflow management platform and say goodbye to inefficient workflows. Workflow platforms ensure that you get access to the best-designed workflows that can be implemented into a system and make it better.
Here are the factors of a workflow management platform you must know.
1. Cloud-Based Technology
BPM software work with cloud-based technology that has changed the ways organizations and professionals work. The technology removes the need to remain connected with the computer, which allows the team members to access their work via home, app, or other platforms.
2. Workflow and Task Automation
31% of businesses have fully automated their workflow. A workflow management platform allows you to create templates that you can reuse again for other projects. So, you need not begin a new website development process from scratch because you can automatically start the project framework using the workflow management system.
3. Customizable Notifications
Workflow management systems help upload files, update project processes, and track time. The system conducts this task by enabling customizable notifications. A flexible workflow management platform can accommodate the users' working styles and allows them to select the notification system that works the best for them.
4. Role-Based Access Controls
Different team members require different access levels to projects. So, a workflow management platform provides role-based access controls as an asset for client communications. The process allows you to strategically invite clients and customers into approval processes and tasks.
5. App Integration
Business automation software include an efficient management program that allows integration with multiple tools and apps that strengthens business processes. The integrations can help reduce redundancies and fill gaps to ensure operational efficiency within organizations.
6. Reporting Capabilities
Workflow management platforms integrate with the right KPIs and help you make smart business decisions with reporting capabilities and analytics. So, you can ditch the traditional spreadsheets and rely on the management platforms to generate reports that offer insights to grow and enhance business processes.
How BPMApp Helps Your Business in Workflow Management?
The BPMApp by 500apps is an efficient business process management software that helps design workflows and optimizes business processes. The software helps consolidate the complete workflow by providing advanced reports and insights to enhance operational efficiency.
The best part about the BPMApp is that it helps build visual business flows that enable the creation of multiple process models that suit organizational requirements.
The workflow management software lists every step involved in a business process and conducts a detailed analysis of methods to enhance the outcomes. The process includes a clear understanding of how the business systems operate in different areas of an organization.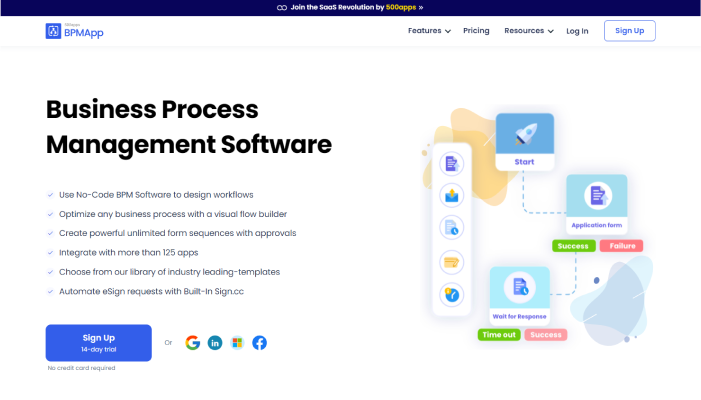 The BPMApp also helps business organizations divide multiple processes into smaller steps so you can manage all divisions efficiently. The process helps you prioritize business processes depending on their importance within the organization and rank them at your convenience.
Here are some key features of the BPMApp.
It is a no-code software that helps design workflows for organizations.
It includes a visual flow builder that can optimize all business processes.
It allows integrating workflows with multiple apps and services.
It provides multiple customizable templates to create and design workflows.
It offers insights and advanced reports on workflow processes to help enhance them for improved experiences.
Therefore, if you require a robust app to fulfill all your workflow management needs, then BPMApp by 500apps is your answer. Visit the website to learn more!
Discover Why BPMApp Stands Out
#1
Unlimited Process Automation
#2
No-code Process Modelling
#3
Notifications and Triggers
#4
Auto Execute Capability
#5
Integrate with over 8 Apps Including Gmail
#6
Effective Form Designer
#7
Pre-built Automated Flows
#8
Intuitive, Drag-and-Drop Process Designer
#9
Unbelievable pricing - the lowest you will ever find
#10
Everything your business needs - 50 apps, 24/5 support and 99.95% uptime
Join the SaaS Revolution
All-in-One Suite of 50 apps

Unbelievable pricing - ₹999/user

24/5 Chat, Phone and Email Support