Importance of Business Process Modeling for Your Business
To ensure that the organization is performing at its full capacity, you need to constantly re-evaluate, improve, and, in certain cases, entirely re-work its processes.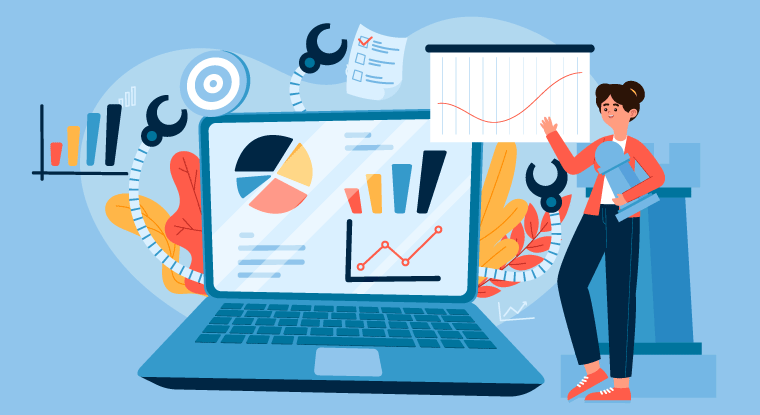 Business process modeling is an excellent place to start if you want to improve your company's overall efficiency and productivity. BPM (Business Process Modeling) is a technique for analyzing and displaying the current state of a business process as well as the anticipated future state. Business process modeling is also used to optimize a company's business processes or workflows for increased returns. It aids in the improvement of an organization's overall efficiency and quality and results in enhanced transparency, accountability, and communication.
Why Use Business Process Modeling?
Business Process Modeling software has a variety of applications. Let's take a closer look at why companies should adopt business process modeling.
1. Improves Communication
To ensure a team's smooth operation, clear communication is essential. Employees should know exactly what they're expected to accomplish, how they're intended to execute it, and what each team member's particular function is. Process modeling defines a common approach for discussing and optimizing work processes. It also enables corporate executives to communicate their thoughts simply and promptly, thus ensuring the smooth operation of the business.
2. Align Operations With the Company's Goals
When a new business model is implemented, it demands changes in operations. Business process modeling helps ensure that the operational tasks and activities of team members actually help the organization implement its goal, assist in identifying bottlenecks and inefficiencies in processes, and provide immediate solutions while keeping an eye on the firm's overall strategy.
3. Improves the Consistency
Business process modeling ensures consistent execution of a process by properly distributing tasks, eliminating guesswork, handling exceptions faster and more effectively, and empowering business leaders to ensure smooth operation.
4. Boost the Efficiency of your Business
Business process modeling helps the company identify improvements, reduce process cycle time, and increase the productivity of existing resources and staff by minimizing disruptions and improving operational efficiency. The tool also enables better resource utilization and helps managers know if there is room for further optimization and efficiencies, thus ensuring that they get the best result with the available resources. These minor but crucial improvements in the work process can give your business an edge over other competitors in the field.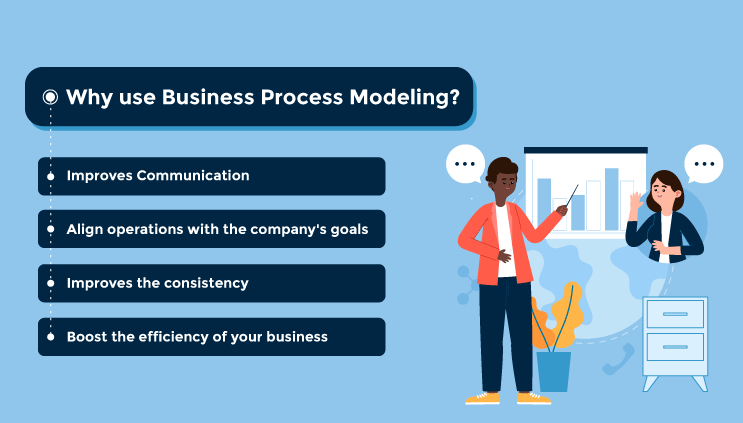 Techniques for Business Process Modeling
Flowcharts, programs, hypertext, or scripts could all be used to simulate business processes. There is no single method for implementing business process modeling. Listed below are some of the common business process modeling techniques.
1. Business Process Modeling Notation (BPMN)
BPMN stands for business process modeling notation, and it is a set of symbols that are used to denote activities and procedures. Any symbols can be used in your business process, but standardizing them makes it easier to cooperate with the outside experts and avoids the need to create your own visual language. BPMN is a simple system of lines, arrows, and geometric shapes that collectively describe the process's flow and its complexities.
Flow objects - Symbols such as circles, diamonds, and rectangles are used to depict the flow of the process.

Connecting objects - Solid or dashed lines that demonstrate how tasks are connected and in what order they occur.

Swim lanes - The departments or people that the sub-process affects, such as customer service, sales, legal, etc.

Artifacts - The additional information that isn't part of a workflow or message flow but aids in illustrating the process using dotted, square outline dots, or brackets.
2. Flowchart Technique
This is a graphical depiction of something that is manufactured or produced and serves as a single point of reference for everyone involved in the project or process. Basic shapes and arrows are used in flow charts to define relationships such as processes, decisions, and data to simplify the overall workflow.
3. Gantt Charts
Gantt charts were the global standard in the late 19th century, and they're still the go-to business process model for enterprise planning, for projects with specific timelines, or for businesses with time-sensitive operations that must be captured and tracked. Using Gantt charts, people working on different areas of a process can easily see where they should start working, when each task should be completed, and whether all of the subprocesses are on track.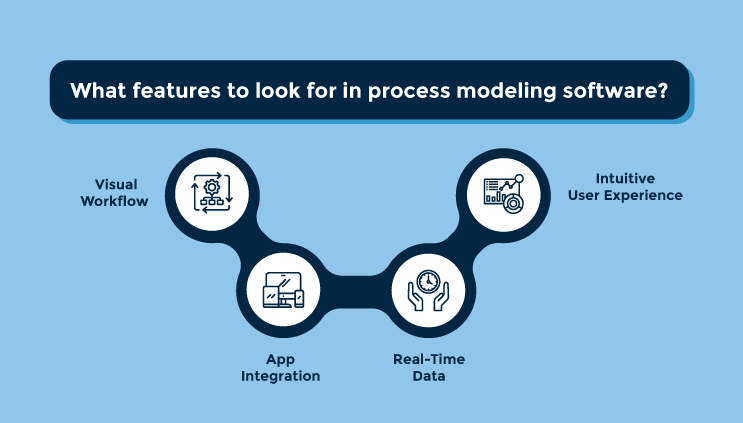 What Features to Look for in Business Process Modeling Software?
A good BPMS can help you improve your processes for maximum efficiency, but a mediocre one can be a pain to use and won't deliver the perks of business process management. Picking the correct BPM system or software might be difficult in a crowded market. Therefore, to make your job easier, let's begin by identifying the essential features that must be included in the software.
a. Visual workflow
With a visual or graphical workflow component, you can simply develop and deploy processes, giving you complete control over the process.
b. App Integration
It's pointless to have a business process management solution that doesn't integrate with your application framework or essential third-party software. To sustain the connectivity of your process architecture, your BPMS should provide key software integration approaches.
c. Intuitive User Experience
Through its user-friendly interface, business process modeling software should assist the company in achieving optimal process efficiency. One should always opt for a process modeling tool that enhances user engagement with a higher model and graphical workflow processors.
d. Real-time Data
Reports provide total visibility and allow you to spot bottlenecks, inefficiencies, and opportunities for change. A good business process modeling system should be able to provide real-time information at each stage, allowing you to make strategic business decisions instantly.
In addition to the features mentioned above, a good BPM also includes workflow templates, workflow management system, automated processes, and more. BPMApp powered by 500apps comes with all of the features an ideal business process modeling software should have in order to boost your company's prospects.
Start Automating Your Business Processes Now in One Spot Sign Up 14 Day Trial
Summing it Up
While Business process modeling approaches are important on their own, the BPMApp is the ideal way to apply them. You can use the program to design process models online, automate procedures, and ensure that business follows best practices. In fact, process modeling is a great choice for firms of all sizes and industries. We recommend signing up for BPMApp's free trial today to experience the value of modeling common operations at your firm.
Discover Why BPMApp Stands Out
#1
Unlimited Process Automation
#2
No-code Process Modelling
#3
Notifications and Triggers
#4
Auto Execute Capability
#5
Integrate with over 8 Apps Including Gmail
#6
Effective Form Designer
#7
Pre-built Automated Flows
#8
Intuitive, Drag-and-Drop Process Designer
#9
Unbelievable pricing - the lowest you will ever find
#10
Everything your business needs - 50 apps, 24/5 support and 99.95% uptime
Join the SaaS Revolution
All-in-One Suite of 50 apps

Unbelievable pricing - ₹999/user

24/5 Chat, Phone and Email Support