Increase Productivity and Reduce Costs With BPM Automation
This article explains how to implement the business processes with BPM Automation and 5 reasons that it can increase productivity and reduce costs.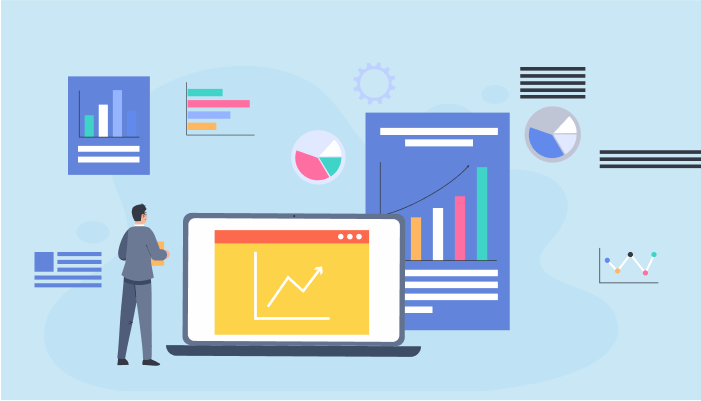 BPM automation is the use of software to automate the business processes within an organization.
BPM has been around as a concept since the mid-1990s, when it was used by organizations to help them improve their efficiency and effectiveness. However, BPM wasn't widely adopted until more recently due to the lack of tools that made it easy for businesses to implement BPM solutions on a large scale.
With cloud computing and social media, BPM has become an essential part of business strategies. The goal of BPM automation is to provide employees with real-time information about their workflows so they can make decisions based on accurate data instead of relying on gut feelings or speculation. With BPM automation, you can enhance productivity by 25 to 50%.
How to Implement Business Processes With BPM Automation?
The first step in implementing business process automation is to understand the process. You need to know where your processes are manual and where they are automated, where there's room for improvement, and where there's no need to change.
Next, you can start creating a business process model that will provide a blueprint of your current processes. This will help you identify areas that can be improved using automation tools.
After that, you can start mapping each step of your BPM model to a task in your automation tool of choice. Map out every step of each process and identify how much time each step takes and why it takes that amount of time.
Then, assign people who will be responsible for each task. You'll want someone who understands how the process works from beginning to end and knows what needs to happen at every stage. They should also be able to explain it clearly so that others can understand as well. That person should be available whenever needed and have a good grasp on deadlines — especially project deadlines — so he or she can streamline tasks accordingly if something goes wrong or take over if someone else becomes unavailable unexpectedly.
5 Reasons BPM Automation Can Increase Productivity and Reduce Costs
BPM automation helps to increase productivity, reduce the number of errors and ensure that the process is executed promptly. BPM can help organizations to streamline their processes and get the desired results.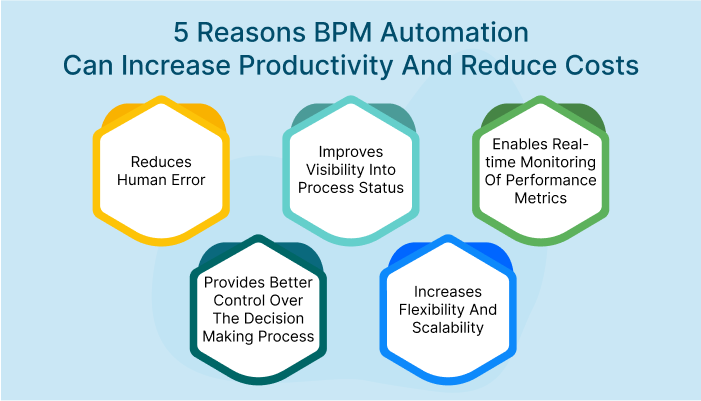 Here are five reasons how BPM automation can increase productivity and reduce costs
1. Reduces Human Error
Automated processes help minimize human error by eliminating manual tasks that could otherwise lead to mistakes. This is especially important for tasks that require high accuracies, such as data entry or calculations. Eliminating the need to manually perform tasks allows them more time to focus on other projects that need their attention and expertise.
2. Improves Visibility Into Process Status
With traditional manual process management, it's difficult to get a clear picture of what's happening across your organization because there are no real-time dashboards or reporting tools that provide visibility into each step of the process. BPM automation will provide this visibility by providing real-time updates on each step of the process so you can see where any bottlenecks or delays may be occurring.
BPM makes it possible to easily track the status of every step in your business process. You can see what's going on with each stage at any time. As a result, you can respond quickly to changes and resolve problems before they become serious issues.
3. Enables Real-time Monitoring Of Performance Metrics
Automated tasks enable real-time monitoring of performance metrics like lead generation rate, sales conversion rate, customer satisfaction, etc., which helps in taking timely corrective measures if necessary. This not only increases productivity but also helps in improving customer satisfaction levels as well as employee morale within your organization.
With real-time monitoring of performance metrics, managers and supervisors can now get a clear picture of what's happening in the organization at any given time. This will help them make timely decisions based on current market conditions and needs.
4. Provides Better Control Over The Decision Making Process
When you automate a business process, you're able to make decisions faster and more accurately. It's not uncommon for a single problem or question to spark multiple conversations, which can create delays in getting an answer back to the customer. Automation helps eliminate this issue by providing a clear path for decision-making-no-more-waiting on hold or bouncing between people just to get an answer!
Business process management software helps you make smarter decisions by providing better data and statistics on your business processes. This allows you to understand where bottlenecks occur in each step of your process, which will allow you to improve and optimize each step individually. This information allows you to make better decisions about how to proceed with future projects or expansions within your organization.
5. Increases Flexibility And Scalability
When you have a system that allows you to scale, you can grow your business without having to hire more people. This is the most important benefit of BPM automation. You can add more clients or projects with ease and speed, and the work will be done efficiently by the systems you've already set up. You won't need to hire experts for every new project; instead, you can just add another step in your workflow and let the software do its thing.
Wrapping Up
BPMApp is a powerful business process management software that allows you to automate your business processes with ease while saving time and money. If you're looking to improve your business processes and reduce costs, then BPMApp should definitely be on your radar.
BPMApp by 500Apps offers a suite of powerful tools that help you automate your business processes. These tools help you save time and money by eliminating the need for manually-intensive tasks, such as data entry and reporting. With BPMApp, you can quickly and easily create automated processes that meet your unique needs.
It's easy to use and comes with a host of features that make it perfect for any company in any industry. The software has been designed by experts who know exactly what they're doing. They've made sure that the product is user-friendly so that even non-technical users can work with it without any problems. To know more about the app, visit the 500apps website today.
Discover Why BPMApp Stands Out
#1
Unlimited Process Automation
#2
No-code Process Modelling
#3
Notifications and Triggers
#4
Auto Execute Capability
#5
Integrate with over 8 Apps Including Gmail
#6
Effective Form Designer
#7
Pre-built Automated Flows
#8
Intuitive, Drag-and-Drop Process Designer
#9
Unbelievable pricing - the lowest you will ever find
#10
Everything your business needs - 50 apps, 24/5 support and 99.95% uptime
Join the SaaS Revolution
All-in-One Suite of 50 apps

Unbelievable pricing - ₹999/user

24/5 Chat, Phone and Email Support