6 Ways Business Process Automation Improves Productivity
Business Process Automation (BPA) eliminates obstructions that lead to the loss of revenue and time. The process assures improvement and efficiency in every organizational aspect – from better compliance and increased productivity.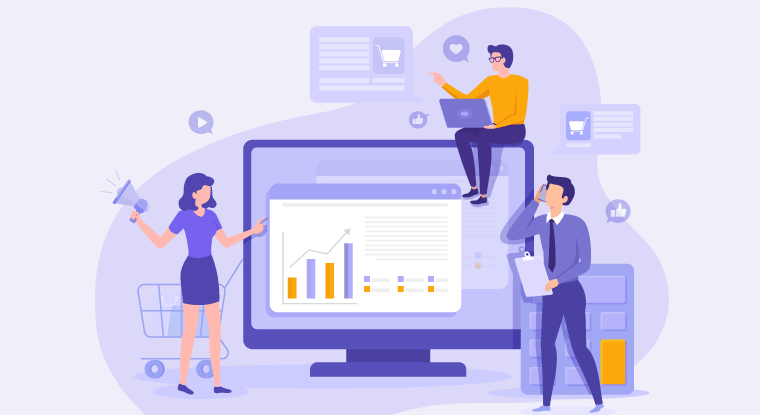 Business Process Automation (BPA) is a methodology that uses superior technology to automate daily repeatable tasks. The process helps execute the recurring activities in an organization by replacing manual efforts. Organizations adopt BPA to increase efficiency, minimize costs and streamline workflows. It routes information to the correct person at the right time through user-defined actions and rules to accelerate how work gets done within an organization.
Use Cases of Business Process Automation for Improved Productivity
BPA takes a better approach to improve the business efficiencies of organizations by letting them streamline processes to reduce the complexities of managing multiple tasks. Here are examples of automation to show how various organizations use BPA to their advantage.
1. Management of Customer Service Requests
Customer service must be flawless as it is the centerpiece of a business organization's customer experience. Sorting customer queries, assigning them to the representatives, and responding to customer messages and emails are the tasks involved in managing customer requests. However, such task requirements can be multi-layered and complex, and they need simplification for better service and understanding. Process automation automates and simplifies the tasks to ensure that the customers get speedy solutions. Any organization can accelerate and improve customer service processes with automation in place.
2. Data Extraction
Data extraction is a crucial process that takes a lot of time and effort from the employees. However, every organization will want to invest this intelligence and team efforts in other tasks instead of clerical work. BPA helps automate the data extracting process from various sources in unique formats. Automating data extraction is the best initiative for organizations that want to increase efficiency and ensure maximum employee productivity.
3. Invoice Processing
Employees find it exhausting to keep track of numerous invoices every day, week, or month, because it may cause errors if handled manually. BPA automates the invoice processes and ensures timely payments for all the vendors. Automation helps eliminate human dependency on invoice processing and reduces the chances of errors and discrepancies during payments.
4. HR Recruitment
Business Process Automation has become a powerful tool in developing and supporting a successful workforce across organizations. Benefits of BPA apply across various teams like the HR professionals who want to ensure an efficient onboarding process and revenue-generating tasks. HR teams turn to automation to ensure that their employee data syncs with various applications without logging tasks.
Many organizations have adopted Human Resource (HR) automation to enhance accuracy and benefit each individual involved in the recruitment processes. HR automation involves multiple activities that help reduce the HR department's workload while striving to increase its productivity and efficiency. Automation is a strategic administrative tool for the HR recruitment team that gives the organization a competitive edge. The following activities get prioritized for HR automation.
Screening and recruitment
Onboarding and offboarding processes
Time management and scheduling
Employee requests and queries
Record management
5. Education Scholarship Eligibility
Strategically planned educational processes provide quality education and enable the leaders to guide an institution towards better vision and productivity. Technology has changed how educational institutions operate by bringing various innovative and operational methods. One such method is education workflow automation tools. It ensures accountability and accuracy in processes. The automation process has eliminated the drawbacks of manual processes by introducing creative and innovative administrative methods to manage the workflows efficiently.
Automation helps improve the efficiency of various day-to-day processes in educational institutions like operational requests, granting proposals, budget allocation, student enrolment, scholarship eligibility, etc.
Checking the eligibility for scholarships and applying online has become easier with automation. Students can log in to automated systems and register through apps to check various scholarship opportunities. They can also clarify their doubts with chatbots which are an integral part of systems. Documents and information get easily exchanged among digital systems without human intervention. Anyone can find information on documentation related to students, academic courses, affiliation, and accreditation in neatly organized digital cabinets.
Admissions and financial aid applications for scholarship eligibility get processed within minutes through automation. Moreover, the authorities find it easy to verify the information on scholarship applications and evaluate them through the automated workflows.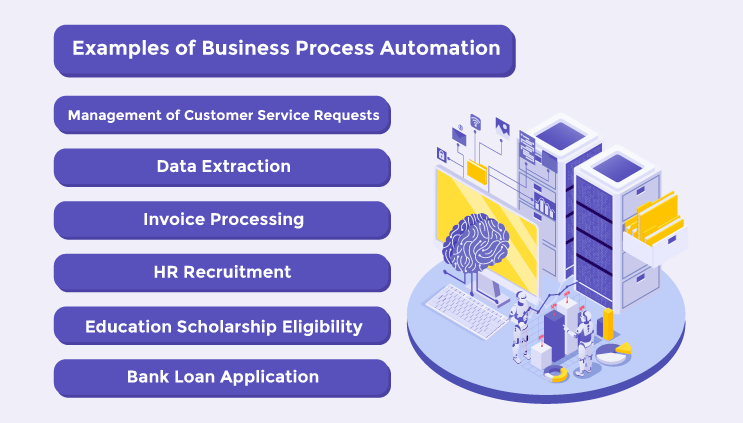 6. Bank Loan Application
BPA has brought efficiency to the banking sector and its high-volume processes. The automation has brought speed and accuracy to credit card applications, loan applications, account openings, closures, etc. The loan origination process has transformed due to automation with better quality, consistency, and lower processing costs with minimal risks. Here is how BPA has benefited the process of bank loan applications.
Automation has enabled paperless, mobile loan applications that can get approved and processed within minutes. Digital loan origination gets optimized to capture the required data and supporting documentation. BPA has replaced critical and repetitive decisions by underwriters and uses decision rules to bring speed and consistency to loan application processes. This eliminates inconsistencies in evaluating applications and improves service quality.
BPA includes fully integrated analytics that helps identify process inefficiencies in loan applications and origination solutions. The analytics help lending professionals identify potential process improvements and analyze every aspect of a loan application before processing the amount.
Why Should You Automate Business Processes?
BPA incorporates technology to perform tasks with minimal human intervention. The automation process can reap various benefits for an organization. Here are the reasons why organizations must automate their business process.
a. Increased Productivity
Process automation leads to boosted productivity because it simplifies tasks. The employees can complete more activities within a limited time because they do not have to handle all processes manually. It also helps optimize performance by providing faster access to critical information, allowing employees to make quick decisions and meet deadlines.
b. Reduced Operational Costs and Increased Efficiency
BPA helps an organization lower operational costs and improve customer experience by replacing manual intervention with automated solutions to increase responsiveness. Moreover, automation eliminates the possibility of human errors and discrepancies in tasks to increase the reliability of business processes.
Benefits of Using Business Process Automation Tools
BPA tools provide various benefits to help optimize business operations. Here is a breakdown of the benefits of using BPA tools in workflow processes.
1. Quality and Consistency
The BPA tools help deliver high-quality products and ensure efficient customer service resulting in long-term, happier customers. Automation allows every action to happen identically to get reliable and consistent results while maintaining competitive advantages. Organizations can develop high-quality and feature-filled products with zero increase in costs and production time.
2. Time-saving
BPA tools reduce the number of tasks employees perform manually and free their time for more crucial work in the organization. Ruling out monotonous tasks with the help of automation motivates the employees to become more innovative in tasks that can add genuine value to your business.
3. Metric Visibility
Automation provides the metrics for measurement of billing, collections, sales, financing, etc. This ensures defined workflow processes that operate accurately within a decided timeline.
4. Operational Efficiency
BPA tools reduce the time taken to complete a task, the effort required, and the cost of completing the task successfully.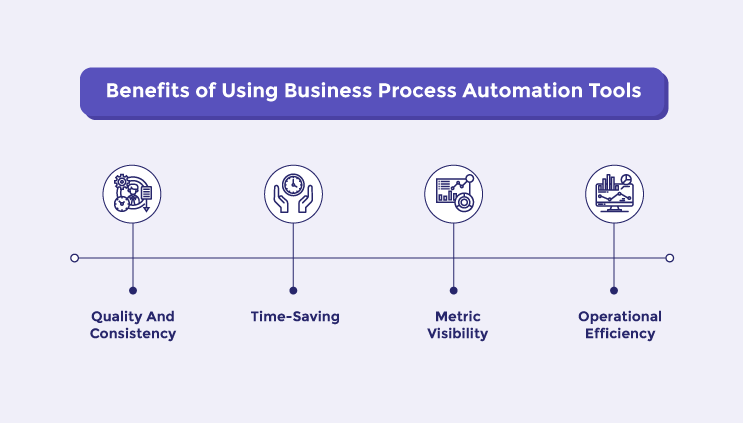 Have You Tried the BPMApp Automation Process?
BPMApp is a Business Process Management software that helps design the best workflows without manual intervention. If you have not tried the BMPApp automation process yet, you can use it once to take advantage of the following features:
It has a visual flow builder that automates business processes.
It creates form sequences for business approvals.
The software can integrate with around 125 apps.
It has a library with multiple industry-leading templates.
The software has a built-in Sign.cc to help automate eSign requests.
Summing it Up
Business Process Automation (BPA) is the best way to automate multi-step, repeatable business transactions without the possibility of inaccuracies and discrepancies. Most BPA solutions get connected to information technology (IT) systems and specifically meet the needs of a particular organization. Automation helps streamline processes, increase service quality, improve product delivery, and reduce the expenditure of various business organizations.
Discover Why BPMApp Stands Out
#1
Unlimited Process Automation
#2
No-code Process Modelling
#3
Notifications and Triggers
#4
Auto Execute Capability
#5
Integrate with over 8 Apps Including Gmail
#6
Effective Form Designer
#7
Pre-built Automated Flows
#8
Intuitive, Drag-and-Drop Process Designer
#9
Unbelievable pricing - the lowest you will ever find
#10
Everything your business needs - 50 apps, 24/5 support and 99.95% uptime
Join the SaaS Revolution
All-in-One Suite of 50 apps

Unbelievable pricing - ₹999/user

24/5 Chat, Phone and Email Support