Best Workflow Software for Your Business
This article will help you understand the importance of the best workflow software and the tools that help your organization succeed.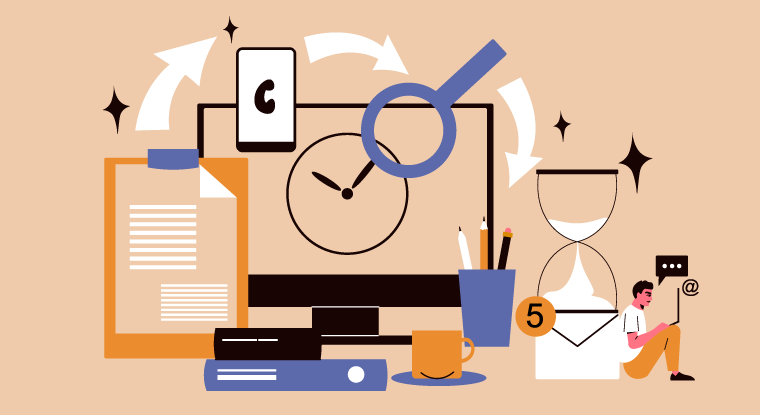 Workflow management systems are designed to automate corporate procedures. By eliminating human mistakes, they improve overall efficiency. This can be done either by using automation or by ensuring that everyone is aware of what needs to be done and that nothing is overlooked. Automated tools are capable of carrying out numerous monotonous, menial jobs repeatedly without error—improving labor efficiency.
Workflows are also worth briefly discussing here. There are workflows in place to make sure that certain activities are completed. In the past, many of these duties would have needed a lot of human involvement to ensure that personnel completed them, whether in the form of calls, meetings, emails, Slack messages, and so forth.
The handling of many of these tasks, including timesheets, employee onboarding, payroll, and many others, can now be greatly improved or even totally automated thanks to the development of the best workflow software. As a result, streamlining company procedures is made simpler and may be tailored to the requirements of various enterprises and different divisions.
Significance of the Best Workflow Software
Thanks to the best workflow software, you can clearly see how each moving part of your company is interacting with one another. If you want to see the big picture, zoom out. If you want to see the details, dig down to the specific interactions that make up your bigger work processes.
Finding chances for automation and bottlenecks. Your firm can run more quickly without making employees work harder. Instead of yelling at people, find ways to improve things.
I'm looking closely at the most popular choices to assist you in finding the best workflow software. You'll discover a brief buyer's guide to aid in your decision-making after in-depth reviews of my best recommendations.
Here's the List of Best Workflow Software
1. BPMApp
BPMApp is the best workflow software that accelerates and saves time in business operations by automating repetitive actions. Workflows are tools you can use to handle recurring tasks, keep track of events, and communicate with other departments. Depending on the necessity to automate your business activities, create distinctive workflows.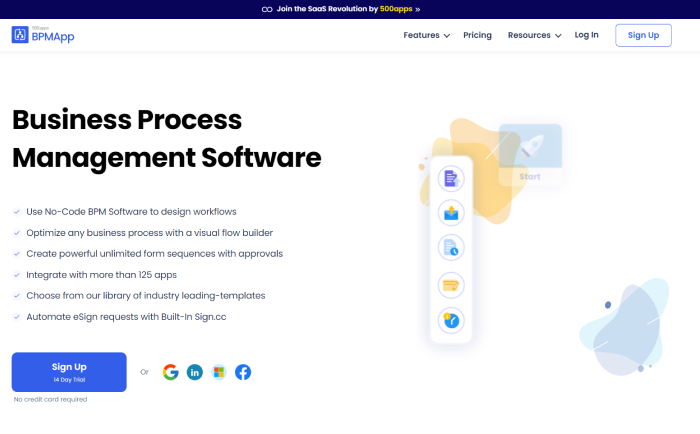 i) Responsive Forms: Organize all of your form submissions in one location, then use the information to organize the next tasks.
ii) Visual Flow Builder: With a simple drag-and-drop interface, create new workflows to automate operations, construct processes, and initiate actions.
iii) Workflow Templates: To quickly personalize forms, choose from a choice of workflow templates for human resources, finance, sales, marketing, and more.
iv) Automated Workflows: Use nodes to automate your workflows. Make your environment's node selections to your specifications to design workflows that are simple to use.
v) Advanced Reports: To assist you in better planning and operations management, obtain real-time data analytics.
Start Automating Your Business Processes Now in One Spot Sign Up 14 Day Trial
2. ProcessMaker
An open source, low-code best workflow software called ProccessMaker is renowned for its simplicity of use and affordable price. You may create approval-based workflows using visual flowcharts, and every step includes notifications. The entire system is web-based and uses WYSIWYG features (what-you-see-is-what-you-get) to lower entry barriers for users in any sector, including manufacturing, education, healthcare, or telecommunications. ProcessMaker charges an extra fee per user, every month, in addition to a set price for the platform. The best workflow software may now be customized for larger businesses and more complicated processes thanks to API access for developers.
3. ClickUp
The goal of ClickUp is to make it simple to visualise and then develop workflow automation. In addition to making it simple and intuitive to define goals using ClickUp, this also makes it simple to track KPIs inside the application. Once a metric has been established, ClickUp creates a meter with a friendly appearance that fills when objectives are completed and updated, making it simple to quickly assess progress. Additionally, ClickUp is made to smoothly work with the majority of well-liked productivity, scheduling, and collaboration tools.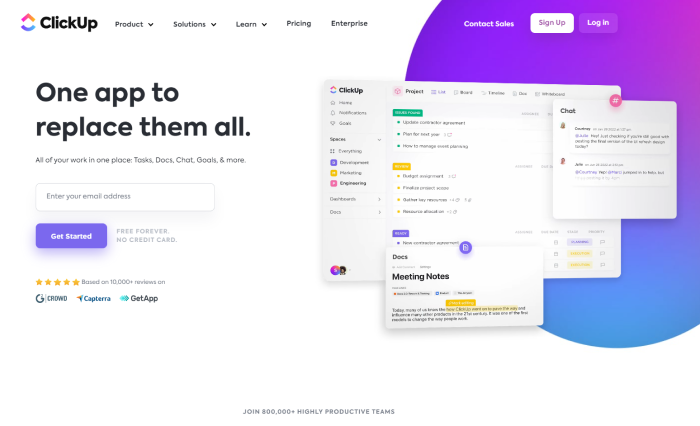 4. Integrify
Integrify is a service-based methodology that includes assistance and advice for best practices and operational enhancements. The software was created to be simple to use, and the majority of workflows use a drag-and-drop editor. Every tool is web-based and accessible on any mobile device. According to their service-oriented business strategy, the website offers thorough user documentation and helpful workflow examples. Enterprise upgrades are accessible to companies with complex or specialized requirements.
5. Zapier
Because to its straightforward UI and simple app connection, Zapier is a fantastic option for project management and marketing users. The platform introduced multi-step Zaps in February 2016, allowing you to create whole workflows using more than 500 interfaces, ranging from social media and project management to email marketing and document sharing. Zapier offers a "free forever" option with 100 tasks per month and access to already-existing applications. There are different pricing plans for starters, professionals, teams, and companies. When a stage in your workflow is finished, notifications let you know, or Zapier can run silently in the background for otherwise "noisy" activities like lead collection and email sign-up.
6. KissFlow
The affordability and simplicity of Kissflow make it one of the most widely used best workflow software available. The workflow management software is simple to use and has drag-and-drop editing and straightforward workflow visualisation. Integrations using API, WebHooks, and Zapier bring all your technologies together and enable you to monitor your processes through notifications. You can create permissions for various user levels and generate in-depth reports depending on the metrics that are important to your team with the correct customizations. Kissflow's responsive design helps e-commerce companies and organisations that depend on mobile devices.
7. Gravity Flow
The workflow management system, Gravity Flow, integrates both internal and external workflows into your WordPress.org site. Although you must already have a Gravity Forms membership in order to use the plugin, you can add licenses either individually or in bulk for numerous WordPress sites. A top-level update to the WordPress admin interface's point-and-click integration feature makes it simple for users with little WordPress expertise to create custom workflows. Thanks to open-source coding, developers have the option to create a configuration that suits the unique requirements of their site. Stripe, PDF Generator, and Flowchart are just a few of the extensions available, but they come at a cost because they are not included in any of the four pricing levels but are the most expensive ones.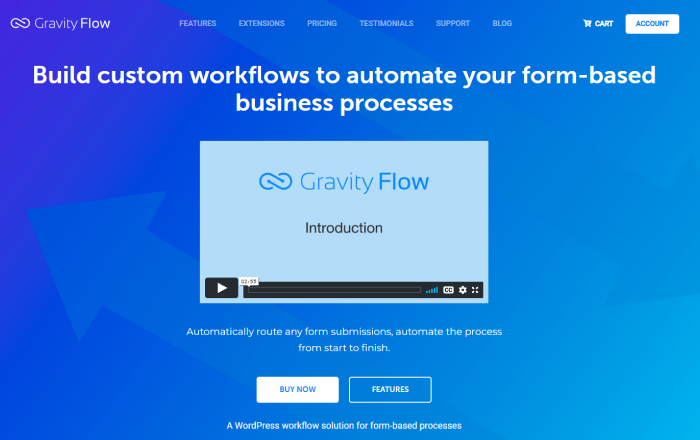 8. TrackVia
The cloud-based best workflow software visualizations from TrackVia make it easier to automate utilizing programmes that you've already incorporated into your warehousing and production procedures. By creating links between currently isolated apps, the workflow management tool enables them to speak with one another and notify the proper parties. Sensitive information is secure on the TrackVia cloud servers thanks to end-to-end data encryption. Despite their focus on manufacturing, the low code design of the web and mobile-ready interface makes it a practical option for a wide range of use cases. Developers have access to TrackVia's API, but they may also choose from hundreds of pre-built connectors, one of which is for Zapier.
9. Process Director
Process Director, which is based on BP Logix's Process Timeline software, combines the power of BPM with document sharing, notifications, visual workflows, and reporting. This innovative, "predictive" approach lacks flowcharts and coding and has a design akin to Microsoft Project. In any process you're managing, optional notifications can keep stakeholders informed at every stage. While the Process Timeline programme makes suggestions for changes based on predictive modeling using historical data obtained during the execution of workflows, customer-facing forms, and backend processes linked with analytics and reporting.
Final Words
Remember that software for business process automation is frequently connected with BPM tools or may be included in a bigger software package, such as CRM or marketing automation. While having access to numerous skills at once can be useful, certain customers might prefer a best-of-breed solution.
These tools are the best and are a wonderful place to start. Visit 500apps now and avail yourself of the best workflow software, BPMApp.
Discover Why BPMApp Stands Out
#1
Unlimited Process Automation
#2
No-code Process Modelling
#3
Notifications and Triggers
#4
Auto Execute Capability
#5
Integrate with over 8 Apps Including Gmail
#6
Effective Form Designer
#7
Pre-built Automated Flows
#8
Intuitive, Drag-and-Drop Process Designer
#9
Unbelievable pricing - the lowest you will ever find
#10
Everything your business needs - 50 apps, 24/5 support and 99.95% uptime
Join the SaaS Revolution
All-in-One Suite of 50 apps

Unbelievable pricing - ₹999/user

24/5 Chat, Phone and Email Support