Streamline Business With Workflow Management Tool
Let's understand workflow management first, the practice of designing, documenting, monitoring, and refining the sequence of actions, or workflow, needed to execute a particular task is known as workflow management.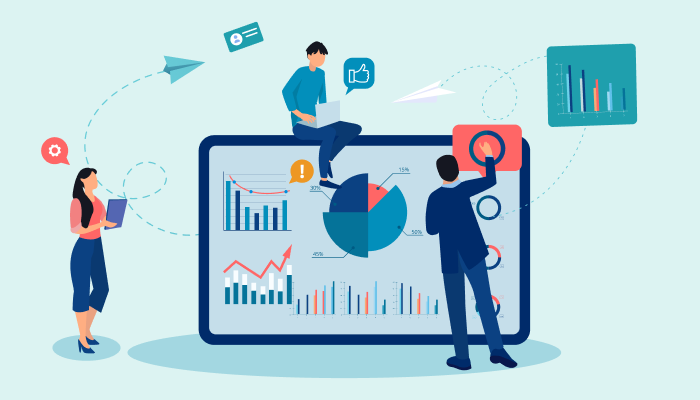 Workflow management's goal is to streamline each stage in the process so that it is carried out accurately, consistently, and effectively.
A trigger in the context of workflow management initiates a process that is determined by the steps necessary to produce the result or outcome. An employee, vendor, consumer, or company partner may act as the catalyst.
A workflow management tool is made for organizing and keeping track of a specific set of tasks and their sequential order. Users can define distinct workflows for various processes and apps as well as collaborate on processes and automate operations with their assistance. Automation of unnecessary processes and the reduction of human labor are two additional benefits of workflow management tools.
Introduction to Workflow Management Tool
BPM, or business process management, refers to the techniques used to identify, model, analyze, measure, improve, and optimize corporate strategy and processes. BPM is a piece of software that aids in streamlining company procedures and workflows to increase efficiency and adapt them to different business contexts. Creating and maintaining standard practices, procedures, and protocols in their processes, helps organizations of all sizes carefully execute their whole business process.
Boost the productivity of the workflows at your firm. Enhance your management abilities by streamlining business processes and providing all of the equipment required to increase the effectiveness of your operations.
Our game-changing workflow management tool, BPMApp is made to guarantee your company's long-term viability.
Stand Alone Functionalities of Workflow Management Tool BPMApp Include:-
Create workflows with No-Code BPM Software.
Utilize a visual flow builder to improve any company procedure.
Powerful, limitless form sequences with approvals can be created.
Integrate with more than 125 apps
Pick from our library of templates that are industry leaders.
Built-In Sign.cc.
Why Choose Our Workflow Management Tool, BPMApp?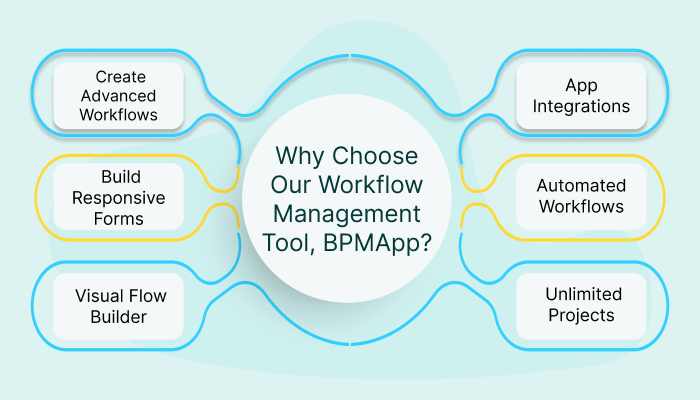 i) Create Advanced Workflows: Create visual flows using send-form, wait, email, review, REST, and ZapUp phases to automate repetitive processes.
ii) Build Responsive Forms: Organize all of your form submissions in one location, then use the information to organize the next tasks.
iii) Start with Industry-leading Templates: Select a template from our collection of the best in the business and modify it to suit your needs.
iv) Visual Flow Builder: With a simple drag-and-drop interface, you can create new workflows to automate operations, construct processes, and initiate actions with the workflow management system BPMApp.
Customize the Flow and Automate Tasks
Define KPIs and Triggering Actions
Drag and Drop Flows
Omnichannel Workflows
v) App Integrations: Our workflow management tool, BPMApp, connects to other applications, then let automation workflows do the job for you.
Sendgrid Integration
Amazon SES Integration
SMTP Integration
Mailjet Integration
vi) Automated Workflows: BPMApp's workflow management software allows you to use nodes to automate your workflows. Make your environment's node selections to your specifications to design workflows that are simple to use.
Create Workflow
Search and Filter
Workflow Nodes
vii) Unlimited Projects: Work together across numerous teams and create as many projects as you need with a workflow management system to meet your company's needs.
Cross-functional Team Collaboration
Plan Your Projects Better
Simplify Your Project Management Process
viii) Business Process Modeling: Learn how BPMApp's Process Modeler can increase productivity, help you find and eliminate inefficiencies, and help you establish a flexible, responsive work environment.
UML Diagrams
Flowcharts
Gantt Charts
ix) Advanced Reports: To assist you in better planning and operations management, obtain real-time data analytics.
Performance Reports
Track Tasks
Status Reports
Workflow Performance Report
Start Automating Your Business Processes Now in One Spot Sign Up 14 Day Trial
How Does BPMApp Help Your Business?
Workflow management software does it all to increase productivity. Analytics is integrated to speed up team projects and task completion. You may organize and keep track of the things you need to focus on in order to be responsive and on schedule with the aid of workflow.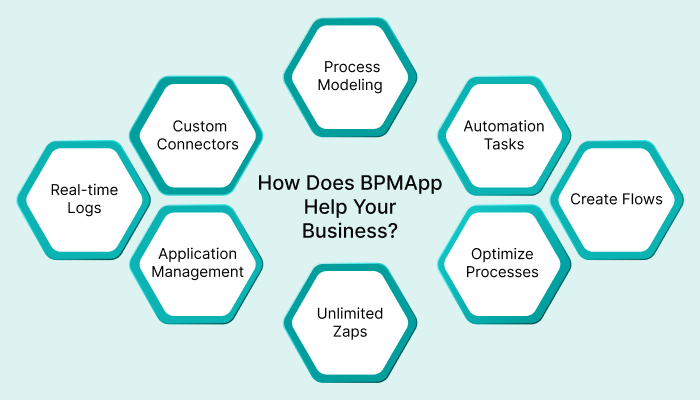 (a) Process Modeling: Make a flowchart outlining the positions and activities that your company offers. Obtain a visual representation of the interaction between tasks and the entire workflow.
(b) Automation Tasks: Reduce the tasks and duties of your staff while increasing accuracy and timeliness.
(c) Create Flows: This simple workflow software allows you to organize projects, create checklists, and keep track of anything. Boost the productivity of your procedures.
(d) Optimize Processes: BPMApp can help you reduce errors, boost productivity, and foster a flexible, responsive work environment.
(e) Unlimited Zaps: Create as many zaps as you like to boost productivity and collaboration throughout your organization and automate never-ending workflows.
(f) Application Management: To simplify your procedures, add numerous accounts to customize and administer several apps from a single dashboard. This enables quicker app integration across the company and operational control.
(g) Real-time Logs: To give thorough monitoring of your workspaces, get real-time insights into the usage of your workspaces, task progress, and zap logs.
(h) Custom Connectors: You can save time and avoid having to redo work each time a change in the data is needed by creating a custom flow that automates a number of stages.
(i) Role-based Task Allocation: Create straightforward workflows via which processes can be optimized by eliminating redundant steps and monitoring process flow.
(j) Drag and Drop Workflow Designs: By completing projects on time and distributing less work to your teammates, you can improve your performance.
(k) Collaboration: You may manage tasks, change processes, and monitor anything you require with the aid of these straightforward managed services. You can increase the efficiency of your procedures and accomplish more with the help of this service.
Summing It Up
With the help of BPMApp, a potent workflow management tool, you can easily automate your business procedures and save time and money. BPMApp should be high on your list of priorities if you want to streamline company operations while cutting costs.
You may automate your business processes with the help of various powerful tools provided by the workflow management tool, BPMApp by 500Apps. By removing the need for labor-intensive manual operations like data entry and reporting, these technologies enable you to save time and money. You can quickly and easily design automated processes using BPMApp that satisfy your particular requirements.
It is easy to use and has many features that make it ideal for any business in any industry. This workflow management tool was created by professionals with extensive experience. The product has been designed to be user-friendly so that even non-technical users may use it without any issues.
To learn more about the workflow management tool, BPMApp, visit the 500apps website today.
Discover Why BPMApp Stands Out
#1
Unlimited Process Automation
#2
No-code Process Modelling
#3
Notifications and Triggers
#4
Auto Execute Capability
#5
Integrate with over 8 Apps Including Gmail
#6
Effective Form Designer
#7
Pre-built Automated Flows
#8
Intuitive, Drag-and-Drop Process Designer
#9
Unbelievable pricing - the lowest you will ever find
#10
Everything your business needs - 50 apps, 24/5 support and 99.95% uptime
Join the SaaS Revolution
All-in-One Suite of 50 apps

Unbelievable pricing - ₹999/user

24/5 Chat, Phone and Email Support