Three D's to Transform Business Process Using BPM Tool
The best BPM tools that can be integrated into the work process and can be used in digital transformation and ensure the entire digitization process becomes a success is the BPMapps developed by 500apps.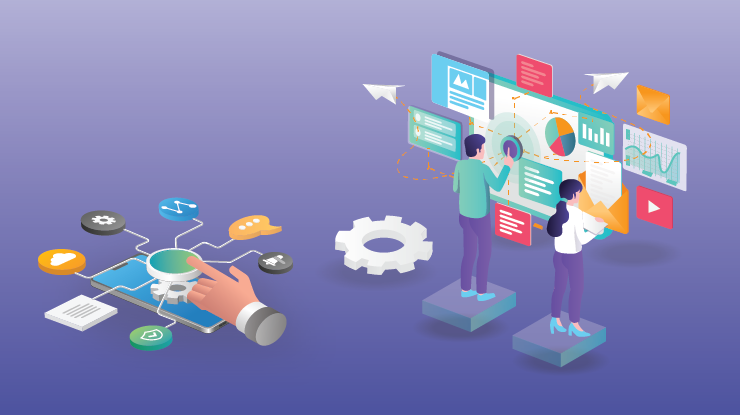 "Amit Zavery said, "Think of digital transformation less as a technology project to be finished than as a state of perpetual agility, always ready to evolve for whatever customers want next, and you'll be pointed down the right path."
The vocabulary of digitization, digitalization, and digital transformation is used interchangeably. As similar as they are, they are not the same but closely related. Digitization and digitalization are processes involved in digital transformation.
To have a better understanding of how the three terms work and a deep knowledge of them, we will delve into it shortly.
3 D's to Transform Your Business Process
1. Digital Transformation
Digital transformation means substituting the manual ways of handling tasks and activities with the use of technologies. In broad terms, digital transformation consists of a change in leadership style, general thinking, the introduction of innovation and advanced business models, incorporating digitization of assets, working tools, and increased use of technology to improve the experience and work process of your organization's employees, customers, business partners, and stakeholders.
Digital transformation is a continuous and gradual process that involves a strategic, coordinated effort geared towards leveraging the opportunities provided by digital technologies for value proposition in business activities, tasks, and models.
2. Digitization
Digitization, on the other hand, involves converting data or information from analog/ manual form to digital form. Digitization involves changing a document or file in a paper form to a soft copy, electronic, or online form. It also includes converting texts, sounds, or pictures into a digital or electronic format that the computer system can process.
3. Digitalization
Digitalization is transforming from a manual to a digital way of doing things or handling tasks. We literally digitalize processes. Digitalization means converting business activities or processes from analogue methods to the use of digital technologies. For example, a business organization can digitalize its payroll, administrative operations, or other day-to-day activities.
Furthermore, the digitization process and digitalization of the work process are geared towards ensuring digital transformation can be achieved faster and with ease using BPM tools and business process management software.
What are BPM Tools?
For the sake of this research, BPM tool help to accelerate digital transformation. The BPM tools are already developed in digital or electronic format. They are adopted in a business organization to transform the manual way of carrying out tasks and business activities into digital forms.
The BPM tools have been developed to discover, model, analyze, measure, optimize, improve, and digitize business processes and activities. This means that the best BPM tool has been integrated into the work process to provide business solutions or is programmed to carry out series and sequences of tasks and activities for a business to operate. One of the best BPM tools is BPMapp.com, developed by project500apps.
Start Automating Your Business Processes Now in One Spot Sign Up 14 Day Trial
Asides from the fact that digital transformation involves digitizing records and digitalizing operations, it also entails how technology equips business organizations for the modern business landscape. From a holistic view, digital transformation also includes;
Shift in thinking
Changes in organizational leadership and structure
Embracing technology
Digitizing resources (human and capital)
Embracing innovation
You can't delegate digital transformation for your company… You and your executives have to own it! Executives need to engage, embrace, and adopt new ways of working with the latest and emerging technologies."  — Barry Ross
In ensuring digital transformation, some workforce would be needed to man and monitor the digitization processes and safeguard the digitalization of operations is successful. They, therefore, need to identify the following prerequisite and work towards it to achieve complete digital transformation. They are;
Digital Proficiency
Data Proficiency
Design Proficiency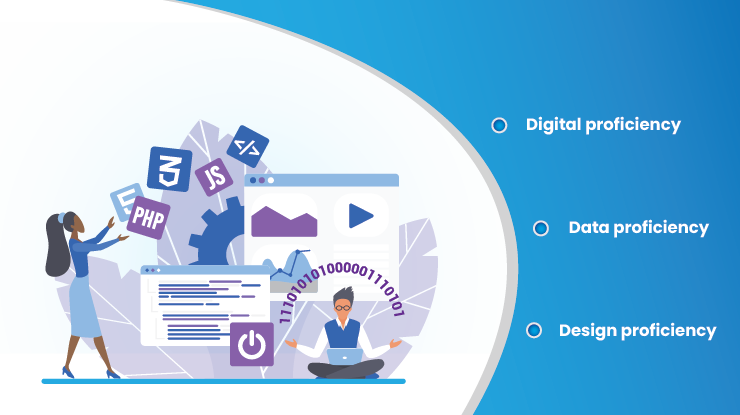 Digital Proficiency
The first challenge in automating business procedures would be identifying what processes, functions, and data can be digitized and operations to be digitalized and transformed to a digital format in a business organization. Choosing the right tool, software, and technological process for the digitization process becomes problematic if the existing workforce lacks digital proficiency or literacy. It is therefore essential to equip the workforce with the prerequisite knowledge to carry out the digital transformation. This also extends to the use of BPM tools, even though BPM tools such as BPMapps are easy to use.
In some cases, the workforce has outdated knowledge in using the technologies; these sets of employees are different from those who have no technological knowledge. The former employees fail to move with technological trends as the technology landscape continues to evolve with innovations.
Data Proficiency
Data proficiency is also an essential prerequisite in digital transformation. Decision-making, policy formulation, and uncovering strategies based on intuition instead of data analysis are bad for the digitization process. Meaningful, accurate data insights fuel effective decision-making. The employees are the digital transformation drivers. Their ability to analyze crucial data, disregard vanity metrics, and draw meaningful insights to be acted upon is essential in the entire digital transformation process. The data proficiency skill is vital to communicate and manage expectations for digital transformation initiatives within the company and to external partners.
Design Proficiency
While the integration of technology is at the center of digital transformation, there are other prerequisites involved. One of them is adopting a strategy to innovate business processes and reevaluate the value delivered to customers. Design literacy and proficiency can significantly contribute to the advancement of digital transformation.
Business organizations interested in driving digital transformation have to prioritize design proficiency because it has action-oriented processes and collaborative techniques to help understand market signals and get valuable insights about changing customer preferences. Design proficiency entails empathizing, defining, ideating, prototype, and test.
How BPM Tools Come in Handy in Digital Transformation?
1. Improved Organizational Control
The BPM tools help to improve administrative and management control. The BPM tool allows defining the processes and activities to be followed by all employees and members of staff in their day-to-day activities. This makes it easy for the management and senior management officers to control the actions and processes involved in carrying out the tasks assigned to every employee. Also, the BPM tool enables the management to have better knowledge of what procedure works best for the business organization.
Duplication of function and lackadaisical attitude of the staff has characterized the manual way of running business activities. The top hierarchy of the business organization has little or no knowledge of how the subordinates handle their individual tasks. However, with the digital transformation that involves BPM tools, functions and functions are now spelled out and monitored across the board. The strict control and monitoring tool embedded in the BPM tool has made every staff from top to bottom have a better attitude towards their job and assured efficiency.
2. Improved Collaboration and Communication
In this tweet by Aria Lee, the BPM tool is integrated with project management features that improve communication while accurately recording and analyzing data for more effective decision-making.
For large business organizations, effective communication and collaboration between different departments, units, and persons are critical. And with the use of BPM tools, collaboration among teams is easier and faster. Transferring files and documents, meetings, briefings, and other collaborative activities in an organization has been made seamless, and communications within & outside the business organization are digitized using BPM tools.
Also, clear communication is ensured, the sender sends the message, and the receiver accesses it on a single platform; this eliminates ambiguity.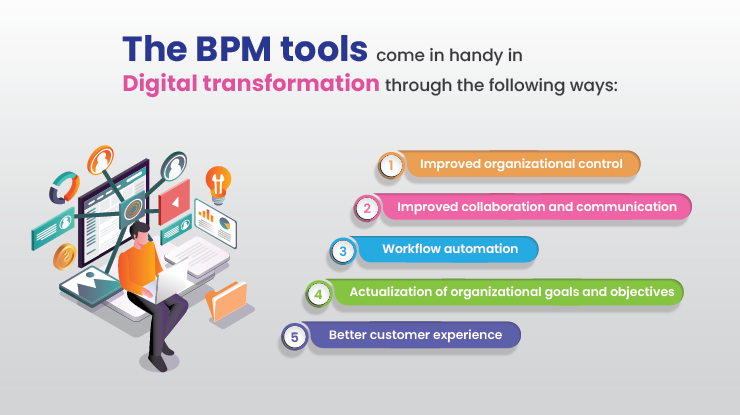 3. Workflow Automation
One core importance of BPM tools in digitalizing operations in an organization is that this software is designed to automate the entire working process in your business organization. As a manager, you can automate all the tasks and activities in an organization or those prone to human error. This brings about effectiveness and efficiency.
The best BPM tool enables the organization to digitize its entire workflow, lets you decide which activities should be digitized, cuts the cost of unnecessary protocols, and reduces manual processes.
Workflow automation is at the center of digital transformation. The processes involved in workflow automation are the same in the digitization process. Therefore, the gradual switch from manual to digital workflow is made easy with the integration of BPM tools in the business organization.
4. Actualization of Organizational Goals and Objectives
For BPM tools such as BPMApp, you can highlight the goals and objectives which the organization set to achieve and how to actualize the goals and objectives. Most times, employees do not understand what they are charged to accomplish in an organization; they are confined to short-term goals and do not necessarily have a mechanism to check and guide them towards those goals. However, with the BPM tools, every employee, department, and unit has their tasks spelled out, the procedures, and the goals they tend to achieve by completing that task. This brings about improved productivity in the business organization.
5. Better Customer Experience
All business organizations have their customers, and customer satisfaction is paramount. These customers expect a better experience from the business organizations, and one of the main reasons for digital transformation is to serve the customers better. BPM tools help you boost customer interaction–where tasks work dependent on each other–and make the customer experience a satisfactory one.
For customer service delivery that used to be done manually, such as resolving complaints by the customer service and responding to calls and queries lodged by the customer, the BPM tool has made the digitalization easier by substituting that process with chatbots and other digitized processes with little or no human interaction. With this, the customer complaints get solved in real-time and seamlessly.
Conclusion
Business process management is at the center of digital transformation.
According to a BPTrend report, "The total value of the Business Process Management market is expected to rise above the $13 billion marks by 2021, and 86% of companies have shown some commitment to BPM since 2016, and that number will continue to grow."
Furthermore, Digitization is necessary for the strategy adopted or plans to move forward. At the same time, digitalization shows commercial impact with process automation and operational efficiency, finally reaching the ultimate stage of digital transformation at the organization level.
The best BPM tools that can be integrated into the work process and can be used in digital transformation and ensure the entire digitization process becomes a success is the BPMapps developed by project500apps'.
Discover Why BPMApp Stands Out
#1
Unlimited Process Automation
#2
No-code Process Modelling
#3
Notifications and Triggers
#4
Auto Execute Capability
#5
Integrate with over 8 Apps Including Gmail
#6
Effective Form Designer
#7
Pre-built Automated Flows
#8
Intuitive, Drag-and-Drop Process Designer
#9
Unbelievable pricing - the lowest you will ever find
#10
Everything your business needs - 50 apps, 24/5 support and 99.95% uptime
Join the SaaS Revolution
All-in-One Suite of 50 apps

Unbelievable pricing - ₹999/user

24/5 Chat, Phone and Email Support