How to Streamline Your Hiring Process with BPM Software?
Business process management (BPM) can help businesses evolve by coordinating business processes(including people, technologies, and information) to achieve better strategic business results.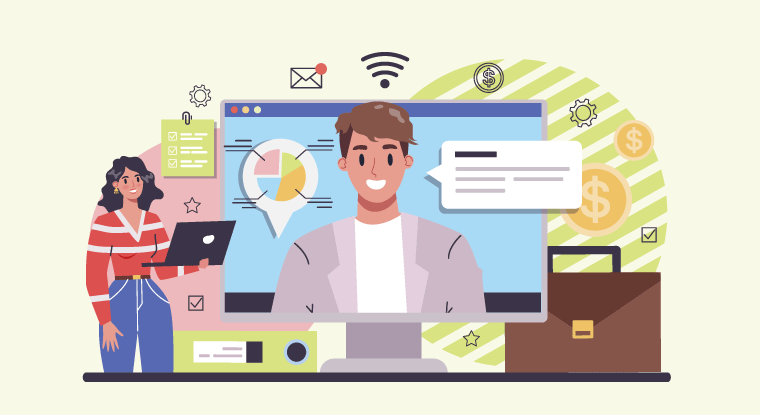 Unfortunately, BPM may frequently seem like a burden for many expanding firms. They may be inclined to dismiss it or postpone it until they have stable circumstances. More established firms also face difficulties with some areas of their operations, such as onboarding, recruiting, or sales, especially when the process crosses divisions.
Fortunately, BPM software can help such firms improve process management and expand their business.
This article will discuss business process management software in depth and how you can use it in your recruitment process.
What is Business Process Management - BPM Software?
BPM software (BPMS) assists in mapping out daily processes to identify and eliminate bottlenecks, regulating the company's expenses, making daily procedures as efficient as possible, and ensuring the efficacy of the employees engaged in business processes. By ensuring that work is handled consistently and tasks are delivered to the right people at the right time, business process automation frees up workers to focus on higher-value work and exception instances.
BPMS is also used to automate procedures like interview scheduling to free up your calendar for more important operations. Business management solutions can handle everything from job advertising to keeping candidates connected and engaged throughout your company's recruiting process. Furthermore, it provides job searchers with a one-stop application procedure.
You can also tweak a business management solution to include procedures specific to your company's hiring process, such as psychometric exams, many rounds of interviews, and technical examinations.
7 Benefits of Using a BPM Software in Business
1. Automation of Workflow
The advantages of process automation are numerous. Not only can the operations you're automating be better, but your overall productivity may also rise. You'll be able to focus more on creative, high-level activities that demand more human attention if you spend less time manually entering and verifying data sets.
This applies to the recruitment process as well. Once automated, the recruitment process, from candidate monitoring to the candidate's joining, can be completed with minimal human intervention.
2. Cost-effective
One of the most significant advantages of an all-in-one business management software is cost reduction. Paying a fixed monthly fee for a single piece of software Leads to you spending less money on many other unrelated software solutions.
Furthermore, a BMPS significantly minimizes the overhead expenditures of the recruiting process, resulting in the firm saving money.
3. Better Decision Making
BPMS creates specialized reports on current inventory levels, real-time customer/vendor transaction history, and the current job status of staff out in the field. Using the data generated, you can make smarter decisions for your company to reap tangible benefits.
An online applicant monitoring system boosts the vacancy closure rate by filling the post in a quicker time frame.
4. Saves Time
Without software, it takes a long time to connect the many processes of a firm. Often, the data provided is outdated or irrelevant to what your organization is doing right now. This can lead to erroneous business outcomes. Business process management software can assure accuracy. The software displays data for each period, allowing you to know everything that happens in your company in real time.
Furthermore, BPMS can help you save time during the recruitment process. Normally, the recruiter must spend a significant amount of time scanning CVs, shortlisting profiles, and scheduling candidates for interviews, among other things. These procedures take up a lot of time that could be spent on strategic work or making the process more efficient. Therefore having a BPMS complete these tasks helps the recruitment staff a lot of time.
5. Increases the Recruiting Team's Flexibility
An automated procedure can be managed centrally. This is one of the most significant advantages of using BPMS. With this facility in place, the recruiter may even operate from a location other than the office.
6. Tool Integration
BPMS enables businesses to create unique workflows to access numerous databases. You can undertake collaborative recruitment and social media integration via a BPMS.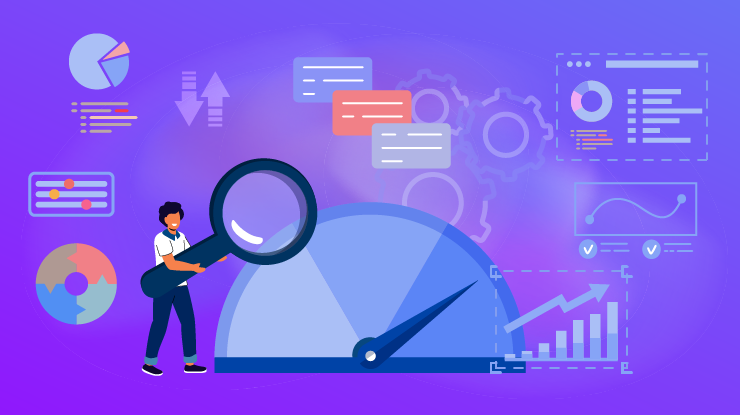 Types of Business Process Management (BPM) Software
Choosing BPMS for your business or organization is not always a simple undertaking because there are several types of business software used for various objectives. The following are examples of 4 essential software in business:
1. Business Invoicing Software
Invoicing software allows you to produce and send invoices to your clients directly. In addition, they provide a selection of tools that streamline the payment and business management process. You can also create proposals, track time and expenditures, and integrate different payment channels on a business invoicing software.
2. Asset Administration Software (AMS)
Asset management software gives a comprehensive perspective of an asset's lifespan, from acquisition and deployment to renewal and disposal. While a corporation might track its assets with a basic spreadsheet, adopting AMS allows them to evaluate data relevant to each asset and make better educated decisions regarding asset management.
3. Customer Relationship Management (CRM) Software
A customer relationship management software is intended to eliminate silos in customer information by centralizing it in order to give a 360-degree view of all your customer data. Details such as the customer's name, email, phone number, communication preferences, and interaction and purchase history may be made available to assist your teams in reaching out to consumers.
4. Database Software
Database software is used to construct databases as well as store, manage, search, and retrieve information from them. Aside from standard data management and database administration, this program allows users additional control over rights and access. Database software also assists your team with multi-user access control, security management, and database communication, making it simpler to maintain data and tightly secure user access and rights.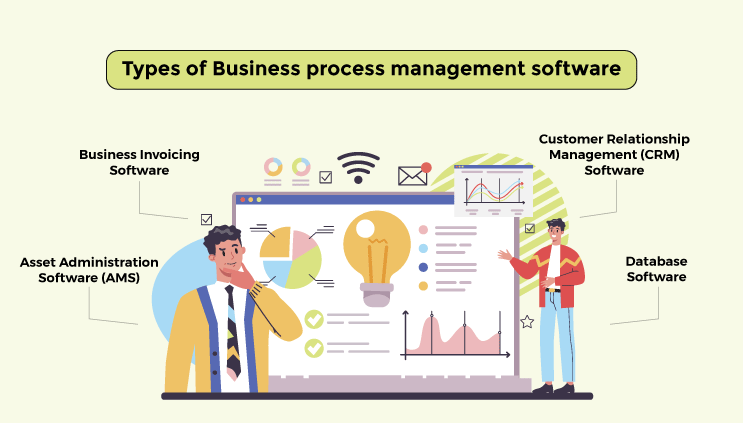 How to Select the Appropriate BPM Software?
Here are a few key features to look for when you are selecting a BPM software:
Potential Software Providers: It is essential to ensure that any software you acquire is the best match for your company. Paying for extra features that you do not require now or in the future is poor business practice.
Budget: When selecting software, consider not just the current cost of the product but also extra expenditures such as training, onboarding, and installation. You should ensure that the program is compatible with your goals.
Scalability: If you intend to develop and expand must choose business solutions that allow for future scalability.
Hosting Options: The program may be hosted on your firm's servers or a cloud-based server. It is preferable to employ on-premise software if you have the human and technological resources to handle in-house hosting.
Business Objectives: Before selecting a BPM software, you should define what you expect to achieve with it. This can help you decide what features you require in the application.
The Perfect BPM Software For Your Business
Automate your daily procedures to finish jobs faster and work more effectively with the business process management software, BPMApps by 500apps. With this application, you can choose from numerous pre-built templates and adjust them to meet your specific business requirements. Simply drag the components and fields you want to add to your form and drop them there. Furthermore, you can integrate several other applications like Form.io, email, REST, and ZapUp steps to automate and refine your workflow completely.
Summing it Up
Regardless of whether your company is in manufacturing, field services, or another industry, you can always consistently profit from using business management software, especially for the recruitment process.
For the best results, opt for BPMApp, an excellent BPM software on the market. Click here to explore its features further, purchase the application, and obtain a chance to expand your brand.
Discover Why BPMApp Stands Out
#1
Unlimited Process Automation
#2
No-code Process Modelling
#3
Notifications and Triggers
#4
Auto Execute Capability
#5
Integrate with over 8 Apps Including Gmail
#6
Effective Form Designer
#7
Pre-built Automated Flows
#8
Intuitive, Drag-and-Drop Process Designer
#9
Unbelievable pricing - the lowest you will ever find
#10
Everything your business needs - 50 apps, 24/5 support and 99.95% uptime
Join the SaaS Revolution
All-in-One Suite of 50 apps

Unbelievable pricing - ₹999/user

24/5 Chat, Phone and Email Support