Why to Use Workflow Software in Business Process Automation?
Workflows refer to a series of tasks that your company does on a regular basis. This can include things like onboarding a new customer or approving a paper.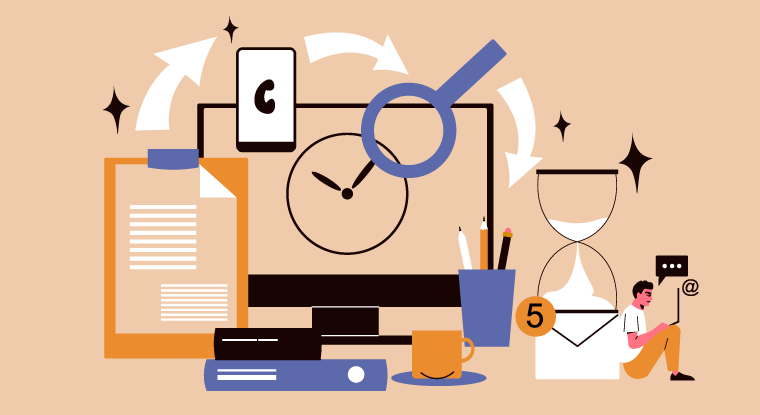 On the other hand, workflow software is a technology that assists in entirely or partially automating the process. This article will go into the nitty-gritty of workflow software, describing how it works and how it might help your organization.
Workflow software is a program used to set up and monitor a predefined set of tasks and their sequence. It enables users to collaborate, automate tasks, and define distinct workflows for various activities and apps. Workflow management software also aids in decreasing manual labor and automating duplicate operations in business process management.
How to Use Workflow Software to Automate Business Processes?
Automation of enterprise workflows does not have to be complicated. In most situations, the process is demonstrated statically and evaluated for correctness by all stakeholders. Once the static design is complete, development on the actual process, which includes forms, tasks, recipients, alerts/notifications, and so on, begins. This is accomplished by using workflow automation software, which provides pre-built activities that may be structured and connected as needed.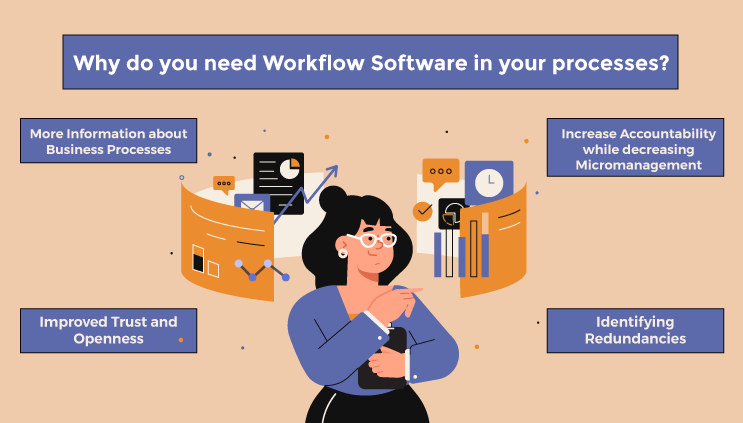 Here's a quick overview of how simple it is to create an automated task.
Step 1: Configure the management software after installing it. Begin with the automatic form. You may collect practically any form of data you need using the drag-and-drop interface and different types of fields.
Step 2: The workflow is the next stage in customizing your automation. Set deadlines, establish constraints, and model your process here. Depending on the nature of the process, workflow software allows you to construct basic or complicated workflows.
Step 3: At this point, you can strengthen the security of your data by configuring role-based access. You may specify whether particular fields should be editable, read-only, or hidden for each job, or you can establish permissions for individual tasks.
Step 4: Start the workflow by publishing your task. You can easily control your workflow regardless of the device you use. Furthermore, you can regulate the rollout and pick which people have access to the task.
Why do You need Workflow Software to Run Your Business Processes?
Here are three reasons why workflows are essential for day-to-day activities in any company.
1. More Information about Business Processes
Using a workflow to map out your operations helps you acquire a more precise, top-level perspective of your business. You can then apply the insights you gained to optimize your operations and boost your company's revenue.
2. Identifying Redundancies
Hundreds of useless and duplicate actions are performed in many firms every day. Your company might be one of them. Therefore, once you have a better understanding of your processes, you can assess which actions are genuinely necessary.
Identifying and reducing unnecessary work has several advantages, the primary one being that it adds value to your company. Instead of wasting time on pointless work, your staff will be free to focus on vital tasks and contribute to the business.
3. Increase Accountability While Decreasing Micromanagement
Micromanagement may create a slew of problems in the workplace. In fact, according to studies, one of the most common reasons for leaving a job is micromanagement.
However, sometimes there is no other option than Micromanagement. Significant work may need to be done, but not everyone is as enthusiastic about it. By explicitly outlining your workflow, everyone can understand what tasks to perform, who will execute them, and when they must be completed. Therefore, managers can spend less time micromanaging their staff when the workflow process is clearly spelled out in this manner.
As a result, everyone involved will be happier at work, and the relationship between management and employees will most likely improve.
4. Improved Trust and Openness
Workflow automation eliminates shadow duties. Everything takes place in the open, with greater control over data accessibility. For example, admins can select whether or not to display sensitive information to specified job roles or teams.
What to Look for while Choosing Workflow Software?
It is essential to choose BPM software that is functional for your business. While some small firms may be satisfied with document management software, larger and more complicated enterprises might benefit from having a complete workflow program.
What to Look for While Choosing a Workflow Software
1. Alerts for Approval Processes
Almost every company can improve approval processes by notifying the appropriate stakeholders of manual input or review requirements.
2. Automation without Coding
Leading workflow solutions to enable non-technical users to automate portions of workflows, such as auto-filling forms and setting up triggers and replies, as well as scheduling activities and procedures.
3. Cloud-connected
Authorized personnel may utilize cloud-connected workflow management software everywhere there is an internet connection, while offline access facilitates processes in the field where internet connections may not be accessible.
4. Exchange of Documents
Workflow software facilitates the sale of documents with stakeholders through access, authorization, and version control.
5. Capabilities for Signature Collection
The correct corporate workflow management tool may help speed up the process of acquiring legally binding signatures on documents.
The Right Choice for a Workflow Software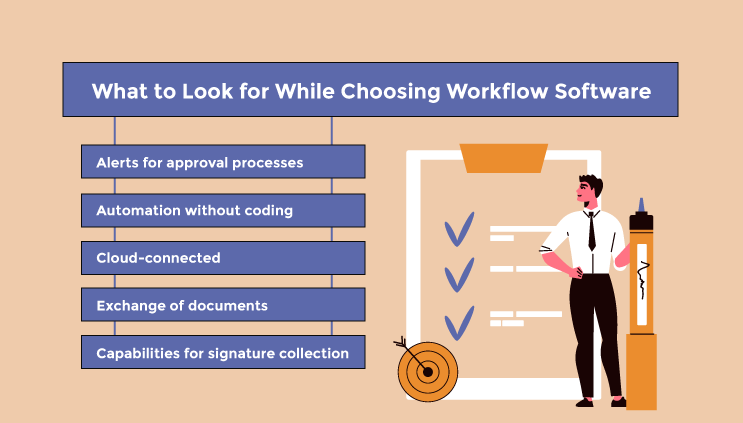 BPMApp is an excellent all-in-one workflow software to boost productivity. Via the app, you can assist your team in accomplishing tasks and projects as swiftly as possible. Furthermore, you can utilize role-based task assignments to create efficient pathways through a workflow, which involves removing repeated operations and tracking process flow.
In addition, using workflow software, you can improve your performance by finishing tasks on schedule and reducing the amount of work assigned to your collaborators.
Summing it Up
The workflow management system you pick must be a sophisticated platform that will assist you in improving the way you operate. It enables you to design and optimize your work processes, uncover duplicate activities and obstacles, identify potential areas for improvement, and attain new levels of efficiency.
Furthermore, workflow software allows businesses to account for all parts of their operations in a centralized system. The capacity to do so greatly reduces the likelihood of segregating vital data or documents.
These are only a few reasons that make a compelling argument on why you should join the rising number of companies leasing workflow software, like BMPApps by 500apps. Visit the website now to learn more about its vast features, which are sure to meet all your requirements!
Discover Why BPMApp Stands Out
#1
Unlimited Process Automation
#2
No-code Process Modelling
#3
Notifications and Triggers
#4
Auto Execute Capability
#5
Integrate with over 8 Apps Including Gmail
#6
Effective Form Designer
#7
Pre-built Automated Flows
#8
Intuitive, Drag-and-Drop Process Designer
#9
Unbelievable pricing - the lowest you will ever find
#10
Everything your business needs - 50 apps, 24/5 support and 99.95% uptime
Join the SaaS Revolution
All-in-One Suite of 50 apps

Unbelievable pricing - ₹999/user

24/5 Chat, Phone and Email Support