5 Effective Tips to Simplify Workflow Management
Workflow management software helps consolidate the entire workflow in a given team. Keeping it short to monitor and facilitate all the group members.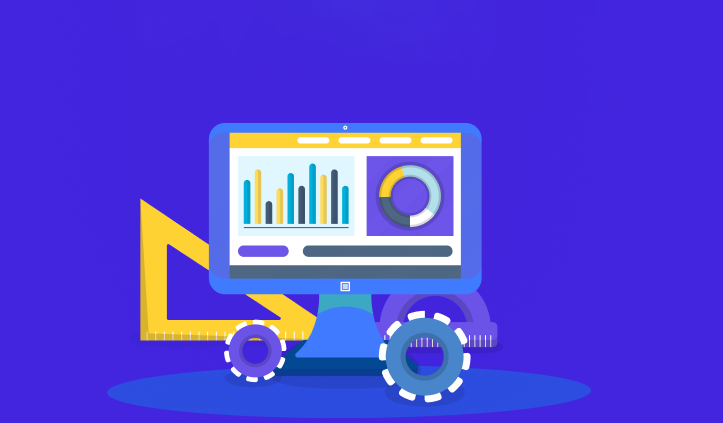 In any organization, if you wish to enhance your staff's overall morale and productivity, the key is to manage your workflow. Organizational heads use a wide range of techniques to smoothen the workflow of their employees.
However, they do not get the reward they had expected all the time. As a result, some wise leaders switch to technology for necessary help. This is where reliable and effective workflow management software comes into the picture.
A workflow management software helps consolidate the entire workflow of a given team. Keeping it short and straightforward helps to monitor and facilitate all the group members. With the help of such software, global leaders can sync automated and human tasks together. This helps in better output and enhanced productivity.
If you do not use workflow management software in your organization, it is high time you think about investing in such software. It can quickly transform the way people carry out work in your office. However, you may probably feel a bit reluctant initially. This is a common sight since many people feel doubtful about introducing a digital transformation at work.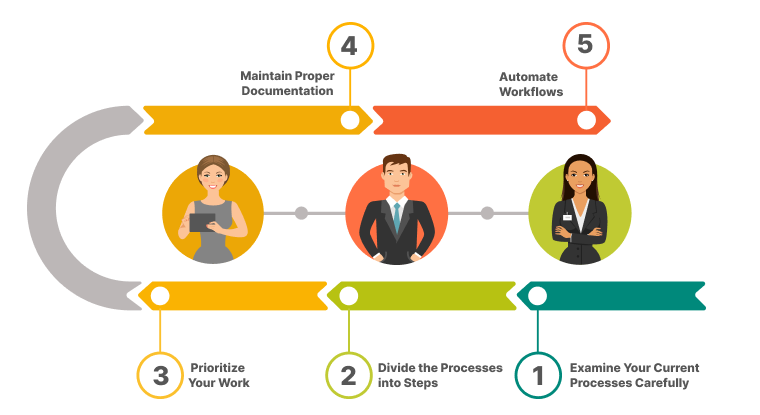 Use These Tips to Simplify Workflow Management in Your Business
The internet is practically flooded with several types of workflow management tools. However, it is always better to remember that despite the effectiveness of workflow management software, using it may not be as simple as you think. Nonetheless, here are some tips to help you simplify workflow management for your employees.
1. Examine Your Current Processes Carefully
When you decide to simplify your workflow management system at work, the first step involves listing the steps in each of your business processes and carrying out a detailed analysis of each method. This will include a clear understanding of how various business processes operate in the different areas of your organization.
When you try and dig deep into your current business operations, you will find it simple to understand the key areas where you may be going wrong. In other words, it will highlight various areas of improvement. Next, you need to speak with respective process heads and employees responsible for those tasks. Please note their feedback and implement them to improve the processes.
2. Divide the Different Processes into Smaller Steps
After getting a clear understanding of the various business functions, you have the option of breaking them down into more manageable divisions. It is easy to understand that further simplifications of your business workflow will enhance the possibility of streamlining the whole process. You may keep on dividing the techniques until you achieve the necessary results.
3. Prioritize Your Work
You can prioritize the different business processes based on their importance to the organization. You can rank the methods with those with the most significant importance. This will help you maintain a proper workflow and witness valid results consistently.
4. Maintain Proper Documentation
Irrespective of their level of understanding or experience, nobody can remember the procedures of each process workflow. This makes it very important for you to lay out each step necessary to carry out a work effectively within a business workflow.
It would help if you recorded everything taking place and proper evidence of the occurrence. This will help you ensure that streamlined workflows work as they should without any unnecessary problems popping up.
5. Automate Workflows
After successfully capturing every step required to carry out business processes, you need to automate them with the help of workflow management software. After automation of the business workflow, it will be better to test them out to assess the effectiveness of the refinement.
Start Automating Your Business Processes Now in One Spot Sign Up 14 Day Trial
What is Business Process Management Software (BPM)?
Business Process Management software (BPM) is an efficient and user-friendly tool that helps you supercharge your business workflows. The software has everything necessary to operate your business efficiently and effortlessly. In addition, it helps you with custom-made processes to streamline your business. As a result, enhance the productivity and efficiency of your teams.
Top Features of BPM Software
The Best Business Process Management software comes loaded with features that can help any business operate smoothly with streamlined processes. Some of these features are discussed below.
1. Automated Workflows
This feature helps you automate your business workflows by using nodes. You can customize any nodes of your choice within your environment. This will help you create problem-free workflows. In addition, drag-and-drop various nodes within the software will let you design workflows as per your business needs.
You can choose from tons of nodes to design tailor-made workflows which will work for you. In addition, there is a Search and Filter option on this software which can help you filter various workflows based on the type of team or project.
2. Business Process Modelling
The Process Modeler feature of the BPMApp helps you identify and get rid of slackness and boost productivity. It can also help you design an agile and responsive business environment. UML diagrams within this feature are a standard Business Process modelling language, useful in various development processes and programming languages.
3. Visual Business Flow Builder
You can easily create forms with this feature and reduce data-entry time with visual flow builder. In addition, this feature helps to sync new data to your existing account automatically. This analyzes data much more straightforward. You can easily accomplish advanced workflows with the help of this feature. There are drag-and-drop options, pre-designed templates, and several other benefits.
This feature has a dynamic design and comprehensive information tools to help you design various responsive and intelligent shapes. This enables accurate scales and beautiful shapes to appear on all devices, such as desktops, mobile devices, and any other screens.
4. Process Automation
This excellent feature helps you complete various tasks on time, enhance accuracy, and decrease the workloads of your staff with the help of the BPMApp. Automate any repetitive process with the use of this software. This makes the automation of different workflow processes organized and simple.
Standardize your business operations and decrease errors notably to reduce your time. As a result, process results will improve, and there will be a decrease in delivery time. This will automatically enhance customer satisfaction.
Streamlining your business workflows will not just help you improve the overall productivity of your employees; it will also help you gain the trust of your customers. Once your customers start trusting your organization, your customer base will also increase with time.
Conclusion
Simplifying your business workflows is not as easy as it may seem to you. It is time-consuming because it takes time to observe the various business processes and note down the steps for careful analysis. The BPMApp software helps you automate your business process workflows in several ways. It is one of the most useful and effortless apps on the market.
Discover Why BPMApp Stands Out
#1
Unlimited Process Automation
#2
No-code Process Modelling
#3
Notifications and Triggers
#4
Auto Execute Capability
#5
Integrate with over 8 Apps Including Gmail
#6
Effective Form Designer
#7
Pre-built Automated Flows
#8
Intuitive, Drag-and-Drop Process Designer
#9
Unbelievable pricing - the lowest you will ever find
#10
Everything your business needs - 50 apps, 24/5 support and 99.95% uptime
Join the SaaS Revolution
All-in-One Suite of 50 apps

Unbelievable pricing - ₹999/user

24/5 Chat, Phone and Email Support