Comparison on the Best Business Process Management Tools
Business process management (BPM) holds undeniable significance in today's automation-centric corporate economy. Organizations find it chaotic to manage business processes without an efficient bpm software or tool.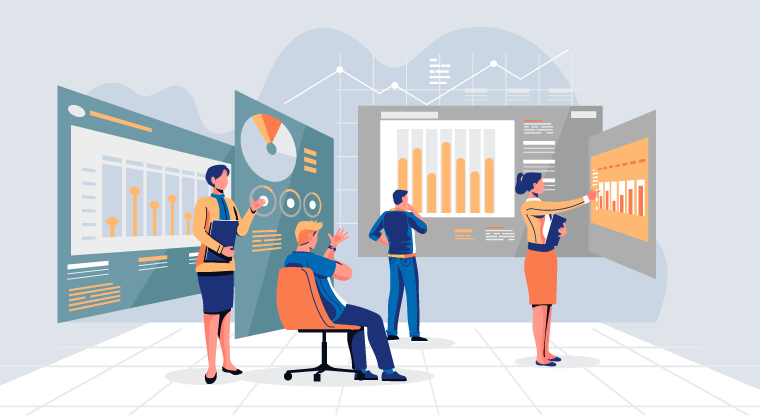 Business process tools help design a systematic approach to optimize business processes. The tools help implement, model, and automate business workflows to improve corporate performance. BPM tools are the best way to minimize inefficiencies, errors, and miscommunication. You can take advantage of the benefits of BPM by using various tools to enable reduced errors, cost savings, and fast processing time.
Compare the 5 Best Business Process Management Tools
The business process management (BPM) tool is the best software solution to help you design, monitor, execute, and optimize various processes within the organization. However, how do you know which BPM tool works the best for your business? We have curated the top five business process tools below for your understanding.
1. BPMApp
The BPMApp helps automate repetitive tasks to speed up processes and save time. The tool helps create efficient workflows to manage recurring tasks, track occurrences, and send notifications across teams.
Here are the features of BPMApp:
It has a visual flow builder to help optimize business processes.
You can create unlimited form sequences using this tool.
It can easily integrate with other apps and third-party services to enhance business processes.
It includes multiple customizable templates for process automation.
It allows you to create process models and streamline workflows.
Pricing: $14.99 /month
2. Appian
The Appian tool enables automation and optimization to ensure a unified, rapid approach for workflows to automate businesses. The tool helps accelerate business processes through the following features.
It helps simplify complex workflows within a short period.
It maximizes resources by combining all data and technologies in a single workflow software.
It can arrange your existing data, bots, systems, AI, etc., on a single platform.
You can track and analyze your organizational inefficiencies, needs, trends, regulatory changes, etc., through this tool.
It helps you automate collaborative tasks and increase user engagement in business processes.
Pricing: Not available
3. Nintex Process Platform
If you want to build digital workflows and apps faster, the Nintex Process Platform is a good solution. The next-generation automation platform helps advance your automation journey by providing various initiatives and features mentioned below.
It includes pre-built maps, RPA bot templates, and workflows across various departments and industries.
It helps simplify complex workflows by streamlining processes for execution.
It includes drag-and-drop visual design tools to automate sophisticated processes.
You can deploy workflows across various systems and communication channels using this tool.
Pricing: $910/ month Enterprise: $1400/ month
4. ProcessMaker
ProcessMaker is a powerful aid that helps in the digital transformation of businesses to ensure the highest levels of efficiency in process automation. The tool helps boost process optimization strategies so that the business organizations in various industries can reach their organizational potential.
Here are the features of ProcessMaker:
It allows you to build your custom automation depending on the business needs.
It includes robust integrations to enable you to use all tools in a single system without abandoning any one of them.
It has a reporting feature to help you analyze the processes and supervise your teams effectively.
It enables an increased information flow and data transparency for better streamlining business processes.
Pricing: $1,495/year
5. Intalio
Intalio is a BPM tool that provides various digital transformation solutions for process automation to enhance business strategies and tasks. The tool offers innovative solutions and high-quality services to organizations across industries to optimize their business processes.
It helps you automate workflow for the entire organization in a single platform.
It can streamline your business processes, leverage collaboration, and reduce manual tasks.
It offers you effective workflow optimization solutions to enhance communications and business processes.
It helps accelerate productivity and reduce your labor costs.
Pricing: Not available
Importance of Business Process Management Software
Business process management is a holistic approach to help organizations achieve optimized business processes. A BPM software business functions depending on customer needs. This way, by incorporating business process management software into their system, organizations can have sound financial management while gaining the ability to monitor, deploy, and measure various company resources to streamline the work process for better outcomes.
BPMS, if executed properly, enhances productivity and efficiency, minimizes errors and risks, and reduces costs to optimize results.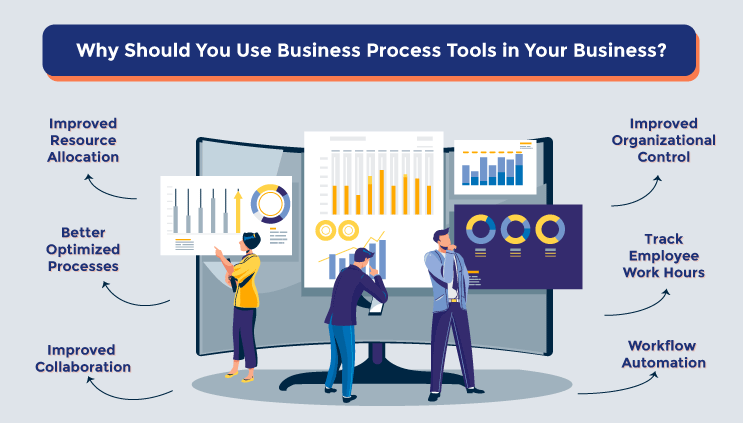 Key Features of Business Process Management Tools
Business process tools include a systematic approach to analyzing, improving, and mapping various organizational processes. Organizations use the BPM tools to improve their business processes to adapt to the digital system and the changing work environment. If you are still skeptical about using business operation management tools in your business, you must check out the benefits below.
1. Improved Resource Allocation
A BPM tool allows the organization to monitor its resource utilization strategies and the workflow for different processes. The tool helps them spot inefficiencies during this process and helps reduce costs or improve resource allocation strategies for future purposes.
2. Improved Organizational Control
BPM tools reduce the risk of errors or discrepancies by streamlining and automating workflows and other system procedures. Reduced risks improve control and make the processes manageable for employers and employees.
3. Better Optimized Processes
Organizations can get an overview of all tasks and processes using a BPM tool. The insights and overview allow the organizations to optimize outdated or inefficient processes. So, BPM tools help create new processes and tasks and improve the existing ones via their unique features.
4. Improved Collaboration
Most organizations find it tough to communicate processes across teams or departments that impact the collaboration. Organizations can send messages across departments using BPM software as the visualizations are available for everyone, allowing them to contribute to the team at appropriate times.
4. Workflow Automation
BPM tools are the best platforms to simplify complex workflows within a short period. You can manage multiple workflows using the tools and decide the ones you wish to automate for your business. The process helps reduce manual efforts and boost the organization's productivity by increasing system efficiency.
5. Track Employee Work Hours
Organizations indulge in employee monitoring to understand how the workforce performs the tasks, where are the loopholes or discrepancies, and which areas need further improvement. The BPM tools give you a better view of the various processes and tasks within the organization and the employee working hours data to help improve the system later.
Summing it Up
The benefits and features of BPMS can be applied across your entire organization across all departments. BPM, as part of a centralized information platform, optimizes document lifecycle processes by adding business rules and logic to projects and solutions while also providing tracking to enable visibility into changes and ownership at every step of its journey.
Almost all businesses now face intense competition in the marketplace. Globalization drives increased competition for some businesses; for others, weakness in their local market economies drives increased competition. As competitors' barriers to entry become lower, businesses must fight harder than ever to maintain and grow their market share in an uncertain economy. To compete successfully in today's environment, businesses must find ways to reap the benefits that BPM provides. Otherwise, they may lose profits at best and risk being overrun by competitors at worst.
Innovation and transformation in today's hyper-intense environment have become critical, and BPM provides a path to achieve that agility. A robust BPM approach can assist a business in innovating and transforming its way to greater business value and streamline workflow management system.
Discover Why BPMApp Stands Out
#1
Unlimited Process Automation
#2
No-code Process Modelling
#3
Notifications and Triggers
#4
Auto Execute Capability
#5
Integrate with over 8 Apps Including Gmail
#6
Effective Form Designer
#7
Pre-built Automated Flows
#8
Intuitive, Drag-and-Drop Process Designer
#9
Unbelievable pricing - the lowest you will ever find
#10
Everything your business needs - 50 apps, 24/5 support and 99.95% uptime
Join the SaaS Revolution
All-in-One Suite of 50 apps

Unbelievable pricing - ₹999/user

24/5 Chat, Phone and Email Support