7 Insights About How BPM Software Can Accelerate Digital Transformation
This article highlights the seven main insights about how BPM software can accelerate digital transformation. Learn how BPMapp by 500apps has numerous advantages over other BPM solutions.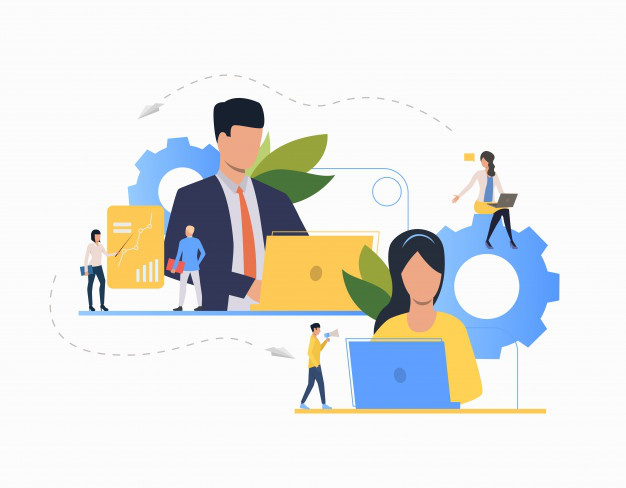 According to a BPTrend report, "The total value of the Business Process Management market is expected to rise above the $13 billion marks by 2021, and 86% of companies have shown some commitment to BPM since 2016, and that number will continue to grow."
Business Process Management (BPM) can be summarized as all the processes involved in managing a business or the business solution to organizational tasks. However, for this article, there is the need to give a broad explanation of what Business Process Management involves.
BPM is regarded as an organizational discipline or field where such an organization reflects and analyzes its activities and processes involved in these activities in the past. After that, analyze the present situation and map out areas of improvement for effective and efficient (future) best practices in the organization.
Business process management entails task and project management in an organization. It, however, focuses more on repetitive and day-to-day organizational processes and activities that occur in a predictable direction. It also provides business solutions that have already been foreseen.
Having explained the definition of business process management, it is essential to state that tools and software provide business solutions in an organization. They are called the Business Process Management software.
The Business Process Management software has been developed to discover, model, analyze, measure, optimize, improve, and digitize business processes and activities. This means that the best BPM software is programmed to carry out series and sequences of tasks and activities for a business to operate or integrated into the work process to provide business solutions.
Before delving into how the best BPM software, BPMapp developed by project500apps, can accelerate digital transformation, it is essential to highlight the concept of digital transformation and why every business organization should embrace it.
Digital transformation involves substituting the manual or old ways of handling tasks and activities for technologies. In broad terms, digital transformation consists of a change in leadership style, general thinking, the introduction of innovation and advanced business models, incorporating digitization of assets, working tools, and increased use of technology to improve the experience and work process of your organization's employees, customers, business partners, and stakeholders.
Start Automating Your Business Processes Now in One Spot Sign Up FREE for 10 users
Furthermore, we can now delve into the seven insights about how BPM software can accelerate digital transformation.
1. Think Long Term
Digital transformation is gradual and continuous; the BPM solution should be adopted to give room for long-term and constant innovation and implementation of new models and upgrades of the BPM software. BPM solutions should also be part of a continuous digital business transformation journey. The business organization should ensure a permanent tool for achieving progressive business goals and customer success. The first insight can be summarily put that BPM solution should not be short-term or temporary. Instead, it should be long-term and permanent.
2. Select The Best BPM Software / BPM Solution
Another insight into how BPM software can accelerate digital transformation is to ensure that the best BPM software is integrated into the organization process. There are numerous BPM solutions in the market; however, choose the best BPM software to enable your business organization to achieve core digital transformation goals.
There is no point choosing just any BPM solution, and at the end of the day, it does not support or work with your existing or proposed digital transformation strategy. This could lead to the total collapse of the entire digital transformation process and a waste of time, energy, and resources because the organization will eventually have to source the best BPM software. It is essential to know that the best BPM software available is the BPMapp developed by project500apps. Irrespective of your digital transformation strategy, this BPM solution works effectively and is easy to use.
3. Flexibility And Mobility Of BPM Solution
The best BPM software is considered a BPM solution that is mobile and flexible. The BPM solution should be accessible from anywhere and with any device. The BPM solution should have its software that can run on personal computers, mobile telephone and tablets. Employees and users of the organization's BMP software should have authorized access to it from any location and at any time without limit.
Also, the subscription-based Business Process Management models or BPM on-demand services can be adopted by the business organization to reduce the initial IT investment.
4. Continuous Improvement And Innovation
Another insight about how BPM software can accelerate digital transformation is to ensure that the BPM solution in which a business organization adopts digital transformation should give room for improvement and innovation. As a business organization, you should improve the business processes and activities to edge out your competitors and move with the global trend. To achieve this critical goal, the BPM solution should ensure continuous improvement and unstoppable innovation.
As the business organization's internal and external environment grows, the BPM solution should also be improving. The best BPM software is that which ensures improvement and innovation.
5. Flexibility And Simplicity
While ensuring that the organization adopts the best BPM software, ensure the BPM solution is flexible and straightforward to use by your employees. In choosing a BPM solution that will accelerate digital transformation, the design, development, testing, and delivery is essential to successful deployment in the organizational process and user acceptance among employees. Once the BPM solution is hard and stressful to use, the digital transformation suffers a setback. Therefore, the best BPM software should be flexible and straightforward to use.
6. Functional Depth
Like every other software, the functional depth of the BPM software goes a long way in accelerating digital transformation. The tools and functionalities of a BPM solution should be robust and advanced. Irrespective of the work processes, activities, and tasks to be transformed into digital form, the business organization needs to go for the best BPM software with high and reliable functional depth that will stand the test of time.
There are BPM solutions that have minimal or relatively weak functional depth, they can be used in small business organizations, but as the business keeps expanding and improving, there will be an urgent need to substitute the BPM solution for those with reliable, functional depth such as BPMapps. Instead of this long and tortuous change, it is better to go for the best BPM software that is reliable, strong, durable, and can carry out several functions simultaneously.
7. BPM Center of Excellence
There is the need to establish a BPMcenter of excellence. This center of excellence should be set to bring together experts, industry players, and professionals in process management, customer relationship management, and the business field, equipped with the best BPM tools and knowledge about global best practices associated with BPM.
The purpose of establishing the BPM center of excellence is to curate ideas and innovations on business process management and how other business organizations in the past have adopted it to accelerate digital transformation without blemish. Also, to empower enterprises to get the most out of BPM solutions and embrace the best BPM software across the entire organization.
A well-mapped-out center of Excellence links your long and short-term strategy with your day-to-day operations, documents lessons learned and best practices, and makes it easier and available for different groups to reuse and adapt proven solutions. A CoE is essential in accelerating your organization's digital transformation journey. It brings together intelligent people and cutting-edge technology to provide proven solutions and procedures on the usage of BPM solutions and step by step guide to achieve complete digital transformation.
These insights are paramount to accelerate digital transformation and should be taken cognizance of.
General Benefits of BPM Solution to an Organization.
1. Improved Organizational Control
The BPM solution helps to improve administrative and management control. The BPM software allows you to define the processes and activities to be followed by all employees and members of staff in their day-to-day activities. This makes it easy for the management and senior management officers to control the actions and processes involved in carrying out the tasks assigned to every employee. Also, the BPM software enables the management to have better knowledge of what works for the company.
2. Improved Collaboration And Communication
In this tweet by Aria Lee, BPM software is integrated with project management features that improve communication while also accurately recording and analyzing data for more effective decision-making.
For large business organizations, effective communication and collaboration between different departments, units, and persons are essential. And with the use of BPM software, collaboration among teams is easier and faster. Transferring files and documents, meetings, briefings and other collaborative activities in an organization has been made seamless, and communications within & outside the business organization are automated by business project management.
Also, there is clear communication, the sender sends the message, and the receiver accesses it on a single platform; this eliminates ambiguity.
3. Workflow Automation
One core importance of BPM solutions in an organization is that BPM software is designed to automate the entire working process in your business organization. As a manager, you can automate all the tasks and activities in an organization or those prone to human error. This brings about effectiveness and efficiency.
The best BPM software; BPMapp enables the organization to automate its entire workflow, lets you decide which activities should be automated, cuts the cost of unnecessary protocols, and reduce manual processes.
4. Actualization Of Organizational Goals And Objectives
For BPM software such as BPMapp, you can highlight the goals and objectives which the organization set to achieve and how to actualize the goals and objectives. Most times, employees do not understand what they are charged to accomplish in an organization; they are confined to short-term goals and do not necessarily have a mechanism to check and guide them towards those goals. However, with the BPM solution, every employee, department, and unit has their tasks spelled out, the procedures, duration, and the goals they tend to achieve by completing that task. This brings about improved productivity in the business organization.
Conclusion
According to Samantha Searle, "Organizations adopting BPM are much more likely to achieve their desired business outcomes." This statement emphasizes the importance of BPM in an organization.
Also, having highlighted the seven main insights about how BPM software can accelerate digital transformation, BPMapps developed by is the best BPM software that enables seamless digital transformation. It also has numerous benefits compared to other BPM solutions.
Discover Why BPMApp Stands Out
#1
Unlimited Process Automation
#2
No-code Process Modelling
#3
Notifications and Triggers
#4
Auto Execute Capability
#5
Integrate with over 8 Apps Including Gmail
#6
Effective Form Designer
#7
Pre-built Automated Flows
#8
Intuitive, Drag-and-Drop Process Designer
#9
Unbelievable pricing - the lowest you will ever find
#10
Everything your business needs - 50 apps, 24/5 support and 99.95% uptime
Join the SaaS Revolution
All-in-One Suite of 50 apps

Unbelievable pricing - ₹999/user

24/5 Chat, Phone and Email Support