What is Business Process Management?
As the name suggests, Business Process Management, or simply BPM, is the act of synchronizing activities that help achieve organizational goals. To put it into perspective, consider a business entity that has different departments that must all work in harmony if they are to accomplish the business's objectives. With BPM, you can harmonize all these activities to ensure a smooth flow of work. Here's everything you need to know about BPM and the top software solutions such as BPMApp that will help you streamline your business processes.
There are many definitions of business process management as there are experts in the field. Workflow Management Coalition which has been working to standardize terminology for process-oriented thinking, defines BPM as, "Business Process Management (BPM) is a discipline involving any combination of modeling, automation, execution, control, measurement and optimization of business activity flows, in support of enterprise goals, spanning systems, employees, customers, and partners within and beyond the enterprise boundaries."
From the above definition, we can deduce that business process management is a process in itself that involves designing, executing, monitoring, and optimizing business processes. It is imperative to note that BPM is not a one-time activity; rather, it is a continuous process aimed at ensuring that the wheels of the organization are turning smoothly. Each evaluation is meant to improve how things run and that is why experts recommend that we look at BPM as a means to improve processes and achieve efficiency gains.
Examples of business processes that can benefit from BPM
Frankly speaking, numerous paperwork and repetitive tasks prevent your team from performing optimally hence the need for automating these processes.
According to Forbes, processes kill morale, passion, and productivity of a company, "The impact for businesses using antiquated business process solutions or, even worse, no solutions at all, can be multi-faceted and ultimately damage their bottom line."
But BPM sounds like such a tedious activity that companies would rather stick with the same old, same old means of doing things. After all, if it isn't broken, why fix it? However, in this age and time where business efficiency almost always equals profitability, companies need to rethink and reimagine how their systems work. And since we are right in the middle of the Fourth Industrial Revolution or Industry 4.0 - the automation of traditional business practices - there's an app or software solution to automate BPM.
Business coach and author Raymond Huan argues that "software tools make design and implementation of Business Process Management easier, cheaper, and more efficient." twitter
A tool such as BPMApp, for example, allows you to automate daily tasks from start to finish to make your workday easier so you can focus on more important tasks.
It is not for naught that BPM has gained traction across businesses. Businesses that have adopted this new way of doing things have experienced a reduction in the time needed to carry out daily tasks, their managers can make informed decisions at a much faster pace, eliminate barriers that negatively impacted productivity, and accelerated digital transformation.
Processes are the core of every business and are crucial to getting work done. For the sales and marketing department, this might involve contract generation and content approvals. A good BPM system can help automate the processes involved in onboarding new clients including moving them up the sales funnel. The tool will then store the data for safekeeping.
When it comes to customer support, it is almost impossible to manually collate the inquiries coming in from clients, who now have so many touchpoints with your business. In this day and age of the Internet of things, customers submit queries through online chatbots, websites, WhatsApp, emails, and social media platforms such as Twitter, Instagram, and Facebook. However, a BPM solution can help you aggregate all these inquiries. What's more, the solution allows you to automate triggers that will not only direct questions to the right department but also assign tasks and track their progress.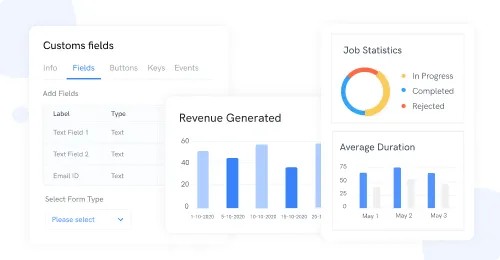 In accounting, we have paper-invoice processing that is not only expensive but also takes a significant amount of time to complete. Then we have the human resource department where HR professionals have to sift through thousands of applications to get their preferred candidate. The work-from-home advisory to help curb the spread of COVID-19 hasn't made things easier for HR professionals who now have to handle documents remotely. A BPM solution is thus a saving-grace to the HR professionals as they can now get alerts on scheduled online meetings and thanks to automated workflows, HR professionals can now pass on resources and receive internal permissions. They can also quickly approve timesheets for employees.
BPM can additionally help businesses stay on top with compliance standards. The norm is for businesses to store these documents in a filing cabinet where it will gather dust until regulators knock on their doors to remind them to meet their compliance needs. With BPM, compliance, security, and safety standards are not only transparent but shared widely so everyone on the team has access to it. The notification feature that comes with BPM solutions can be used to set reminders on when these standards are to be updated or renewed.
Equally important, most business process automation software features a visual dashboard that allows you to view all the processes and their progress in one place.
Types of BPM
BPM solutions serve different purposes. It's advisable to know the different categories and match these against your organizational goals. There are BPM solutions that offer all three existing types as one package.
Human-centric BPM: This is customized for processes that require a human to execute them such as approvals. They are user friendly, offer fast-tracking, and come with notifications.
Integration-centric BPM: Some processes operate between existing systems such as HRM, ERP, and CRM with little to no human interaction. Integration-based BPM handles such processes.
Document-centric BPM: As the name suggests these type of BPM solutions works well when documents such agreements, are at the core of the process. They allow for routing, editing, verification, and signing of the documents.
The steps involved in successful BPM execution
Successful application of BPM involves a series of steps and as mentioned earlier, this should be a continuous process especially since your business evolves per market demands. Let us now look at the five universally accepted procedures when employing BPM.
Design: The design stage entails looking at the processes that exist in the business and breaking them down into tasks. For start-ups, this could mean creating a whole new process as the business evolves. Think of design as creating a flowchart of the process from start to finish. It is during this stage that you get to identify the loopholes and areas that need improvement. For example, you might notice that there is an overlap of duties in the accounting department, which could provide a clue to the inefficiencies in the department. Remember, a business is as strong as its weakest link; designing helps you identify these weak links.
Model: Process modeling is an analytical illustration of the business processes identified in the design stage. This stage is best carried out with modeling software that enables you to view the process as it is and contrasts it with the best-case scenario for making the process more efficient. Why conduct a process modeling? The benefits that come with this exercise include making everyone aware of how the process works, picking out redundancies and inefficiencies while eliminating them, and showing a clear start to the end of a process. The bottom line of this step is to demonstrate how things are done at the moment and act out how they should be done if you are to get better results.
Execute: After getting an idea of how things work, it is now time to put a system in place and this is the execution stage. This stage can be done manually or through automation. Being in the aforementioned Fourth Industrial Revolution, it would be foolhardy to manually carry out tasks that can be automated. There are specific computer languages that have been developed to help business people design and execute processes, making them move much faster. When executing a process for the first time, it is recommended that you test it out with a small group of trusted employees before rolling it out to the rest of the staff.
Monitor: This step involves keeping an eye on the processes to track their performance. Here, you will be able to identify red flags such as processes that are serving as barriers or are underperforming. Ideally, a process needs to achieve its purpose efficiently. Gather as much information about the process during this stage. You will need this information to improve the process during the next stage.
There are different aspects of business process monitoring and they include functional monitoring (reviewing how a business process is performing its role), technical monitoring (performance analysis of particular software, systems, or equipment), and process monitoring (compares the output of software, equipment and systems and how they work with the business ecosystem). While this stage sounds like such a chore, there are BPM solutions that continuously do the monitoring for you. BPMApp, for instance, allows you to view task progress throughout each process to keep you apprised of the status of your business process.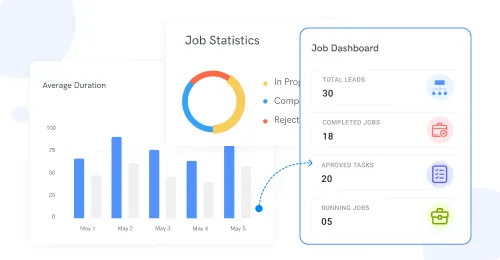 Optimize: Remember the notes you have been taking in the previous steps? You will need it in this step as it is here that you make necessary changes to improve the process. Optimization includes finding ways to speed up slow processes and cutting costs where there's a need. However, when it comes to the latter, be careful not to compromise on the process in the name of reducing costs.
What to consider when choosing the right BPM software for your business
User-friendliness: Technology should be hassle-free and the norm applies to BPM solutions. Go for a low-code solution that has drag-and-drop functionality to be used by anyone within the company regardless of the IT know-how.
Affordability: Times are hard and businesses are feeling the heat of the economic recession that has been compounded by the COVID-19 pandemic. Be that as it may, be, go for a solution that gives your value for your money. In this regard, when purchasing a BPM solution, consider additional paywalls for useful features. Be sure to have understood the solution's pricing structure.
Cloud accessibility: The COVID-19 pandemic has reminded us of the need for systems that can be accessed on all devices. Thus, a great BPM solution should enable you to manage your processes on the go.
24/7 Customer support: Go for one that has 24/7 customer service including an online chat to help troubleshoot processes as you need not wait till business operating hours for you to be sorted.
Accurate reporting tools: Besides streamlining processes, business process management should equip managers with data to enable them to make informed decisions. And as mentioned earlier, BMP is not a one-time practice as you will need to refine and finetune processes hence you need a solution that will give you insights about the performance of the processes.
Conclusion
Since business processes are at the core of every enterprise, we must streamline these processes to optimize the tools and resources that go into accomplishing tasks. With this in mind, it is important that the BPM solution you choose is user friendly, captures big data, and offers real-time monitoring of this data. It is also vital to have your BPM combine key parameter indication measurements and can produce custom reports with extensive graphs and heatmaps to enable you to make sense of the information you gather.