A Comprehensive Guide to Low Code No Code Platforms
Low-code platforms, which need less programming than typical software development methods, can be used to create applications.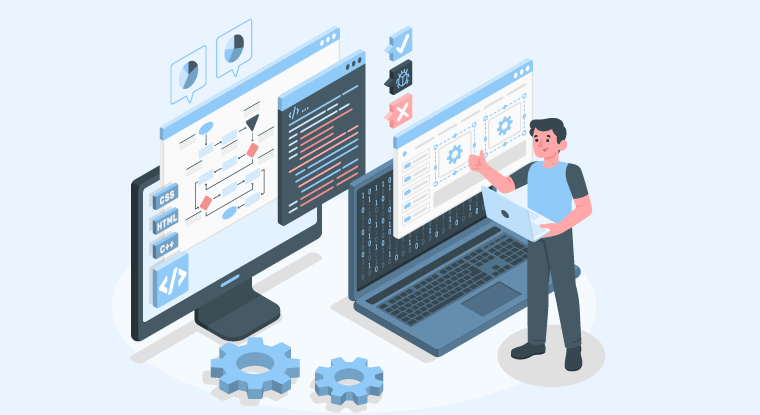 Using GUIs, simple logic, and drag-and-drop operations, low-code development accelerates application development by reducing time spent coding. As a result, it drastically decreases the initial implementation and maintenance costs. Technical developers can use a low-code framework to build various applications to meet market demands for growth, simplify procedures, and enable digital transformation.
Meanwhile, No-code Development enables the creation of programs without the requirement for any coding. As a result, BPM software development is possible for both programmers and non-programmers. This makes it a programming platform that allows non-technical people to construct applications by dragging and dropping software components to create a complete app. Due to its enhanced efficiency and versatility, no-code development has become increasingly popular among businesses.
What are the Key Differences Between Low Code and No Code Platforms?
1. The Demographics of the Intended Audience: Platforms with low code are geared toward programmers. These platforms necessitate a high level of coding expertise, but they also speed up the work of skilled coders. As a result, developers are better suited to use powerful tools for speeding up the development of technical products.
On the other hand, no-code platforms are aimed at business users. They do not require coding knowledge. Manual code editing is impossible on these platforms because it provides an optimal user experience, not revealing any technical details.
2. High Demanded Apps: Internal business apps can be built with either low-code or no-code development platforms. Using low-code platforms, creating high-demand apps that aid in essential business processes is possible. A no-code platform is ideal for independently developing applications that solve minor business problems.
3. Application Integration: The adaptability of low-code platforms to system integration is often better than that of no-code media. No code could lead to programs without proper oversight or scrutiny. There may be security, regulatory, and integration issues along with applications that use more resources than necessary.
4. A Closed System: A system must allow for user-initiated changes to its functionality to be open. This is accomplished in low-code platforms by enabling users to edit or add code to the application. As a result, the system is more flexible and can be used in more scenarios. However, there is a disadvantage. If the changes are not compatible with an upcoming update, the users would have to edit their code accordingly before upgrading their platform.
In no-code platforms, there is only one version at a time. Customers don't have to worry about making changes when a no-code platform gets an update because it's a closed system.
5. Training Requirements:
Anyone can use platforms that don't require any coding knowledge. On the other hand, low-code platforms necessitate programming expertise due to the more advanced tools and features. As a result, low-code training for employees is an option.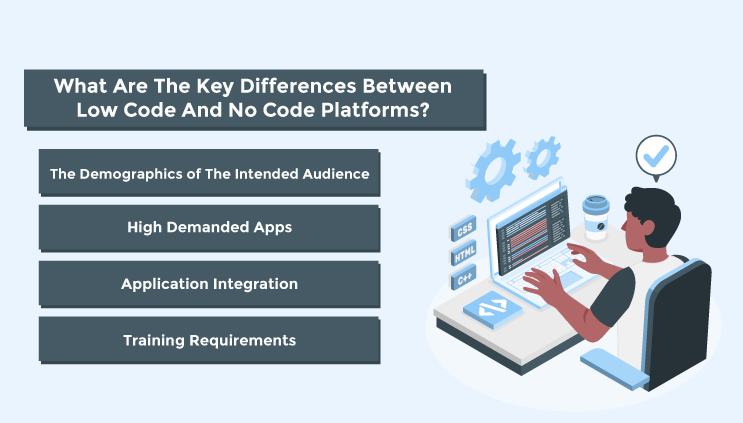 What are the examples of no-code platforms?
BPM (Business Process Management): Business Process Management App allows you to design workflows and optimize any business process using No-Code BPM Software with a visual flow builder. It is a handy application that creates powerful complete form sequences with approval and integrates with more than 125 other apps. It's easy for users to create visual workflows to automate repetitive tasks, such as sending forms, waiting for responses, emailing a reply to a reviewer, etc.
Forms.io's drag-and-and-drop builder can be used with BPM apps to create responsive forms. In addition, BPM includes a library of industry-leading templates, which you can adapt to your specific requirements.
Visual Lansa: Visual Lansa enables extensive testing, deployment, and integration controls to make it possible to build apps faster, easier, and at a lesser cost. As a result, professional developers may construct apps considerably more quickly and with greater control with Visual LANSA than they can with traditional coding.
Retool: When it comes to developing internal apps, Retool is an excellent choice. With 50+ drag and drop components, it can easily design frontends and integrate with a wide range of familiar data sources. It may be developed in JavaScript and connected to anything via a REST or GraphQL API, allowing complete customization. Secure apps can also be protected with SAML SSO, 2FA, and fine-grained access controls.
Quixey: Using an intuitive visual builder, Quixey can model and create complex processes of any type, including sequential, parallel, and conditional workflows. Furthermore, Quixey uses ready-to-use webhooks, API integrations, and ready-to-use connectors for notifications, reminders, and escalations. As a result, workflows can be seamlessly integrated with 3rd party applications. In addition, Quixey deploys programs with a single click and makes modifications quickly with no downtime.
Creatio: The dashboards and visualizations provided by Creatio speed up many of the daily tasks. The system can keep track of various situations and adhere to strict deadlines with its support. In addition, it has a unique BPM engine that allows you to easily manage both organized and unstructured processes.
Creation has AI/Machine Learning tools that can speed up corporate processes, generate data-backed decisions, and simplify analytical labor, making it the leading UI for visual modeling. The Creatio platform also provides tools for ensuring data privacy and security, streamlining client interactions, and speeding up service delivery.
GeneXus: It provides a unique platform that captures user needs and develops applications for present and future technologies without the need to master each new technology. It facilitates the rapid adaptation of pragmatic developers to market and technology change. Interoperability capabilities and the ability to evolve systems over long periods are essential for system integrations. Integrated BPM modeling is used to carry out this digital process automation.
What are the Reasons To Use a No Code Platform?
1. Utilization of In-House Resources:
Without in-house developers, companies tend to outsource development, which has the disadvantage of being prohibitively expensive and posing problems such as time sinks and unexpected expenses. Instead, companies can enable their business users and citizen developers to easily create business apps based on their requirements using a No-code platform.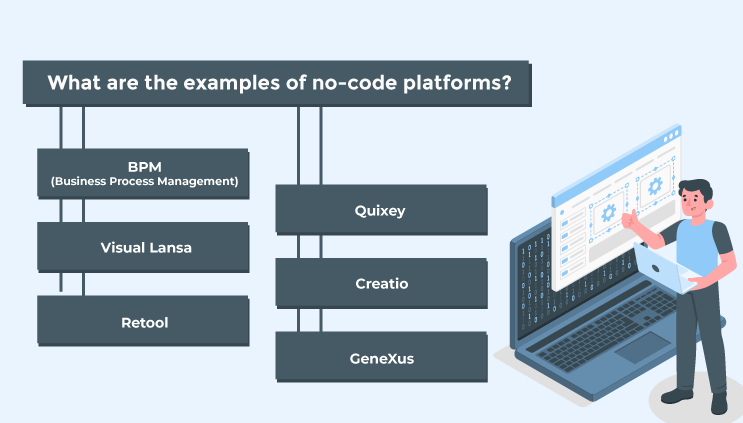 2. Change Management Response:
No-code platforms make it far easier to make updates to apps or add new features than traditional application development methods. In addition, streamlining the development process using no-code media reduces the backlog of applications and speeds time-to-market. This results in real-time customization, efficiency tracking, and the preservation of pre-existing workflows.
3. Fast Applications:
No-code platforms drastically decrease development time compared to traditional ways and deliver apps faster. With No-code platforms, citizen developers/business users employ an intuitive drag-and-drop functionality for designing, setting, and customizing industry-wide business applications.
4. Decrease the Total Cost of Ownership (TCO):
No-code platforms dramatically cut development time and efforts resulting in a cheaper cost of ownership. Hence, it is a cost-effective option for outsourcing services and enables firms to decrease the pressure on their IT employees and keep up with the expectations for digital innovation.
5. Lower Risk & Higher ROI
No-Code platforms assist in bridging talent gaps and minimize the corporate risk of catastrophic failure, resulting in higher ROIs.
How to Create a Perfect Workflow Without Coding Expo Using BPMApp?
Using the Following features can assist you in creating a perfect workflow using BPM:
Forms That Adapt to Different Screen Sizes: You can use dynamic layout features to make your forms fit on any screen, whether it is a desktop, phone, or tablet.
Builder of Business Flows Visually: It is simple to create new workflows by automating tasks, defining flows, and triggering actions using a drag-and-drop interface.
Templates for Industry: Automating user requests can improve all reasonable department procedures and corporate productivity.
Integrating Apps: A powerful workflow automation solution, BPMApp Integration allows you to merge your favorite BPMApp applications and third-party services to automate your businesses using workflow software.
No End to the Tasks: It is possible to create as many projects as you need for your business by working with colleagues from other departments.
Management of the Workflow: Workflow management system can aid in ensuring that protocols are followed to the letter and that more work is done in less time.
Automated Processes (ARPs): Several nodes are available in automated workflows, so you can construct your workflow with a few clicks and drags.
Summing It Up:
Creating software has been a long, drawn-out process that involves numerous steps. However, the introduction of No-code and Low-code development platforms has reduced the load and complexity of producing the apps, allowing software creation to become easier and more accessible. Application development is on the rise as a result of these features. It also facilitates the Graphical User Interface (GUI), allowing third-party applications and components to be connected and tested. To put it all together, Low Code and No-code platforms are gaining ground in every industry because of these advantages.
If you wish to flexibly design workflows for your company without using any sort of coding, we recommend getting the "BPM(Business Process Management)" by "500 Apps". The app uses your business knowledge to model your software solution, independent of technology, to increase your company's productivity while securing your digital assets.
Discover Why BPMApp Stands Out
#1
Transform Business Operations
#2
Streamline Business Activities
#3
Automate Repetative Tasks
#4
Make Business Processes Faster
#5
More than 125 Integrations
#6
Create Unlimited Forms
#7
Pre-built Automated Flows
#9
39+ Apps for just $14.99
#10
24/5 Support and 99.5% Uptime Guarantee